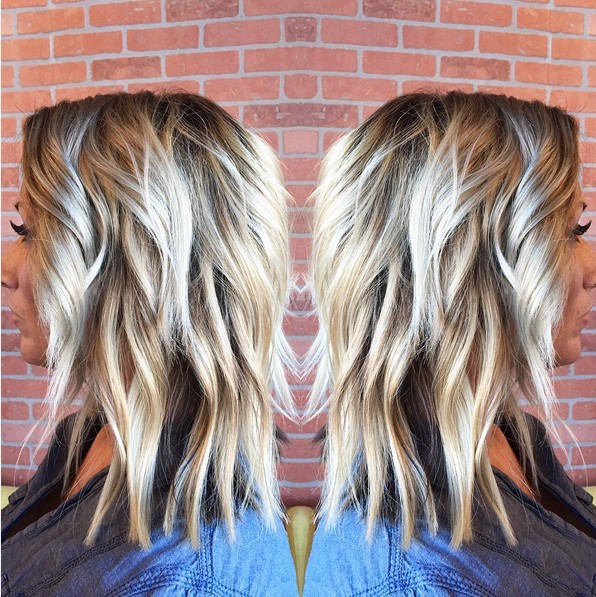 10 Medium Length Styles Perfect for Thin Hair
Thin hair needs a style that will give it more bulk and fullness. These lovely hairstyles ensure even the thinnest manes are given an ample boost of body in a trendy, subtle way.
Layered and Highlighted
An easy way to add dimension and fullness to your locks is to simply toss in some highlights and lowlights. The contrast is not only pleasing to the eye, but creates the illusion of thicker tresses. Subtle layers towards the ends and a flawless, casual wave finishes off this amped up style.
Peek-A-Boo Violet Highlights: Balayage Hairstyle with Straight Hair
Leaving your locks all one color can be detrimental for ladies with thin, fine strands. Create some dimension and add some stylish hues to your hair by indulging in the ever-popular peek-a-boo trend. We're loving the edgy violet shade paired with a striking platinum for an intense, look-at-me finish.
Asymmetrical Lob: Wavy Shoulder Length Hairstyle
Take the attention OFF the thinness of your mane, and let the focus be on the unique, unbelievably feminine asymmetrical cut. The asymmetry causes the hair to appear more full and fun, with a playful bounce that's undoubtedly elegant thanks to romantic waves.
Platinum Highlights with Waves: Messy Layered Hairstyle
With a cut right past the shoulders, there's plenty of room for contrast and styling! This luscious look features platinum highlights against deep, rich Browns for a very intruiging style. Loose curls throughout offer the colors to blend freely and create an effortless, coy appearance.
Natural Blonde Balayage with Subtle Angle
Don't leave thin hair with a blunt cut- it can make things look worse than they truly are. Style it up and add some trendy bulk with a slight angle from front to back. Balayage blonde highlights offer a bright, Sunkissed style that's great for the warmer seasons.
Highlighted Ombre Lob
Everyone loves a good lob- they're effortless, highly feminine, and simple to style. This classic girly 'do is filled with natural-looking highlights and a subtle ombré to brighten and enhance her roots. Throw in some unkempt waves for an everyday style that rocks.
Curly Lob Hair Styles
This chick has that innocent farmer-girl style that's super sweet! Her luscious blonde locks is subtly highlighted with some lowlight blondes for a natural looking contrast that's quickly enhanced with some cutesy curls. Wear it with your denim and cowboy boots, with pink lips to tie it all together!
Voluminous Braided Crown
Take those tresses away from the face in a trendy and feminine way- with a voluminous braid at the crown! This dashing style gives your platinum hair a bit of saucy attitude while letting your best facial features come to life. Don't forget to tease your crown before incorporating this updo to increase overall volume!
Classic Blonde Lob
You simply can't go wrong with this classic, chic lob. A beauteous blend of blondes showcases a bright, youthful appearance, while an angular cut defines the tresses magnificently. To make your classic lob bounce, add in some traditional waves- which are both elegant and sweet simultaneously.
Golden Ringlets
The simplest way to add volume to even the thinnest manes is to curl it up into some flirty ringlets. These lovely ringlets let the colors pop and shimmer beautifully- make sure to add some shining product before you start curling to really enhance those golden and blonde hues.  Pophaircuts.com medium length hairstyles which one is your favorite?