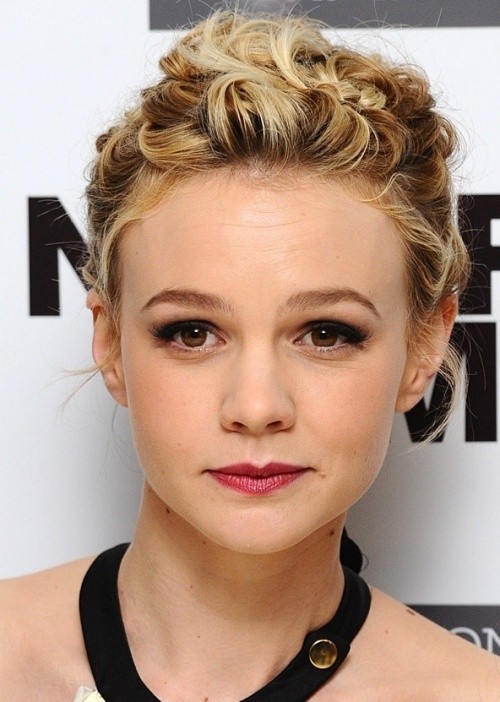 18 Pretty Updos for Short Hair: Clever Tricks with a Handful of Hairgrips!
Now so many of us have pixie cuts and bobs, we need some way of creating easy updos for short hair for a formal or semi-formal social event. Although updos for short hair seems to be a contradiction in terms, it's actually very simple to get the illusion of an upstyle with the aid of a few hairgrips and a pretty hair accessory or two!
Easy updos for curly short hair
Curly hair is perfect for doing easy updos for short hair as all you need to do is wind the curls around your finger and pin it in place with a hairgrip to make a 'rolled' section.
You can just make curled rolls at the back of the head, and brush back the sides to be flat, (like when you've got a ponytail) to copy a classic updo!
Pretty Updo Hairstyle for Short Curly Hair: Prom Hairstyle Ideas /Via
Braided updos for short hair
Braiding the hair along the nape of the neck to form a horizontal band is a trendy way to create a decorative border at the back above which you can arrange your hair to look like an upstyle.
Depending on the length of your hair, you can brush the back upwards for textured or curled volume for all sorts of easy updos for short hair that are quick to do at home!
Scarlett Johansson Hairstyle: Milkmaid Braid Updo for Short Hair /Getty Images
Daisy chain hair accessories
I've seen this done with the elastics covered by brightly-coloured wool or cotton thread, and with the strings of tiny daisies you can get in any hair accessory shop these days. It looks fabulous and it's a totally new and unique take on the easy updos for short hair that are so popular this season!
Kirsten Dunst Short Hair Style: Loose Crown Braid Updo with Headband /Getty Images
If you need some fresh and attractive ideas for upstyles on your short hair, take a look at our Pophaircuts.com up-to-the-minute Inspiration Gallery of the cutest and smartest easy updos for short hair right now!
Evan Rachel Wood Short Hairstyle: Twists Updo /Getty Images
Messy Braided Updo Hairstyle for Short Hair: Carey Mulligan Short Hairstyles /Getty Images
Julianne Hough Short Hair Style: Subtle Faux Hawk Updo Hairstyle /Getty Images
Perfect Updo Hairstyles for Short Hair: Scarlett Johansson Short Hair Style /Getty Images
Roll Back Updo Hairstyle for Short Hair /Via
Braided Crown Updo Hairstyle for Short Hair /Via
Messy Top Knot Bun Updos for Short Hair /Via
Updo Hairstyle Ideas for Short Hair /Via
Low Rolled Updo Hairstyles /Via
Perfect Short Updo Hairstyle Tutorials /Via
Short Updo Hairstyle Ideas /Via
Formal, Short Curly Updo Hairstyle /Via
Chic Short Updos /Via
Easy Short Updos /Via
Short Updo Hairstyle with Curly Hair /Via