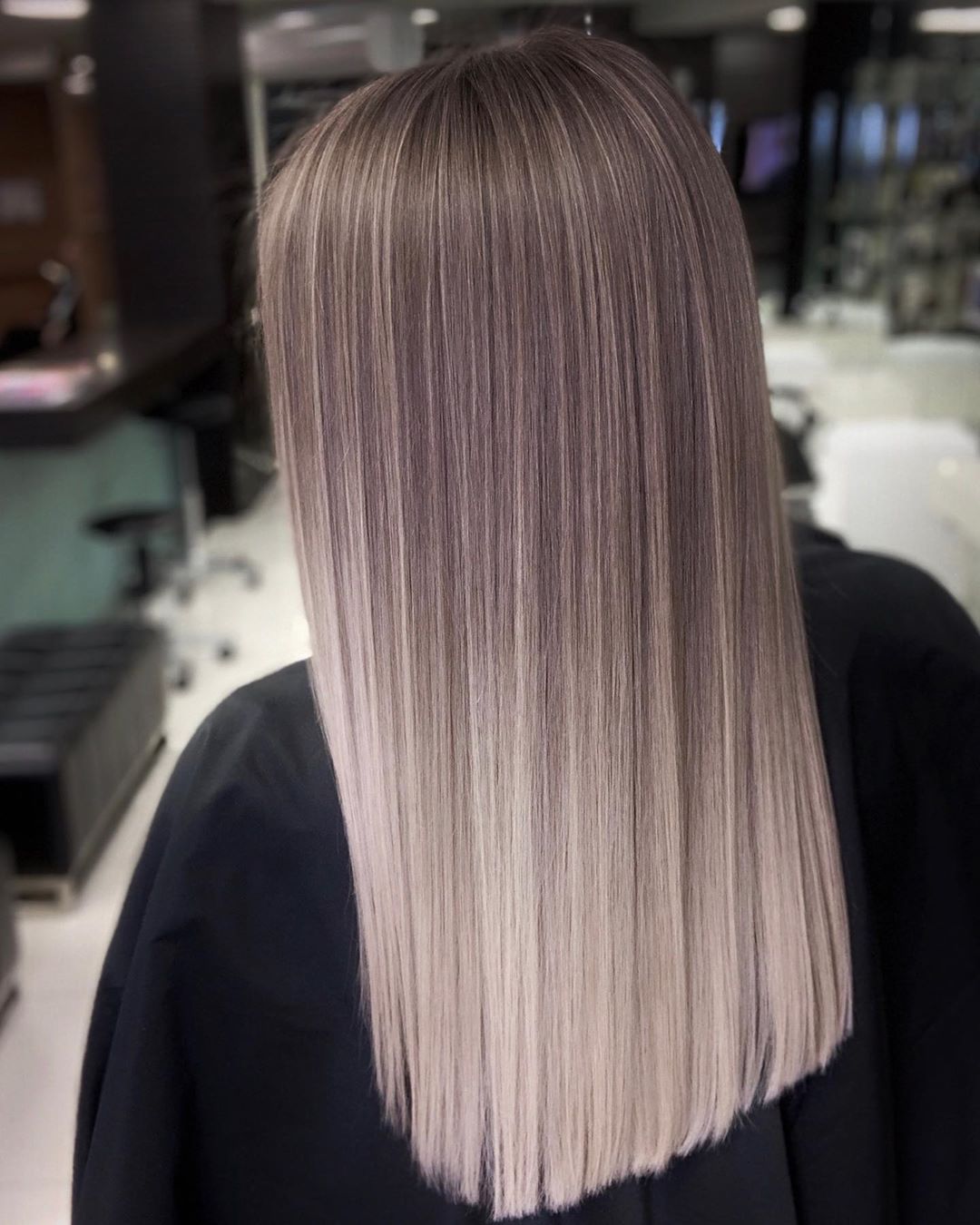 10 Medium Length Hairstyles and Color Switch-ups
Are you ready for a change? Yes . . . of course you are, we can't wait to try new hairstyles, can we? And why not, we are hard-wired to love new fashions and keep improving our beauty look! Today's gorgeous gallery of medium-length hairstyles and color switch-ups has several exciting makeovers. And they are amazing!
1. Yellow-blonde ombré to muted copper-brown – medium length hairstyles and color switch-ups
The trouble with long straight hair is that if it just lies flat around your head, it's not always your most flattering look. But when you cut a few inches off and add some volume and shape, you instantly look a lot more attractive and interesting. This totally natural-looking copper-brown really brings out lovely brown eyes. And the parting now has a flattering V-shape that softens the forehead and enhances the model's face shape!
2. Taupe roots & natural-blonde balayage – medium length hairstyles and color switch-ups
Neutral blonde balayage over taupe roots has a cool color look, but there's a tiny touch of beige in the blend to make it complement the model's skin undertones perfectly. The asymmetric side-part also a section from under the part, and this changes the shape of a high, or broad, forehead to a more flattering look. Soft, casual waves create a relaxed look. And lightly textured tips add a touch of wispy contrast at the ends.
3. Glamorous full-head waves on pink-beige blonde – medium length hairstyles and color switch-ups
I love the understated glamor of this cute style. The beige-pale-pink blonde color, plus a little golden-blondfe balayage is very feminine and alluring. And the all-over waves add extra texture and lots of movement. The stylist has tapered the ends to give a wispy, soft finish that looks tousled and relaxed. And the absence of dark roots makes it a gentler and more romantic look!
4. Precision-cut pin straight bob with fine vertical highlights & ombré – medium length hairstyles and color switch-ups
This hairstyle is best for thick or medium textured hair, as fine hair could look too thin in a dead-straight, long style. The main color design is a pinkish, light-brown taupe down to chin-level, gently changing to a warm ash-blonde ombré below. The weight of thick hair with no layers helps it stay totally straight. And the ends are gently graduated down to the back, which is cut straight across to complete the clean lines.
5. Warm-neutral beige blonde balayage over light-brown roots
The most outstanding feature of this fabulous medium length hairstyle is the 3-D color depth. The stylist has blended and contrasted several light- and dark-blonde colors in the expertly applied balayage. And then they have styled the hair into lots of tousled, defined waves. The effect is that both the light and the dark colors are displayed and the overall contrast makes hair seem a lot thicker.
6. Makeover from blonde to light-brown with fine balayage
Light-brown is a very attractive hair color that has been largely ignored for the last few years. It has an appealing, natural look and this version has subtle, neutral blonde balayage to complete a trendy, classy hair color design. The roots look like the model's natural hair color and those lighter blonde highlights framing her face are so cute and flattering!
7. Avant-garde vivid citrus-yellow color on windswept hair with straight bangs
I love seeing the extreme color, fantasy hairstyles and this one is delightfully 'shocking' and makes the model seem like such an interesting person! Canary yellow is a popular new season color, but this is a shade or two lighter making it even edgier! There's a hint of shadow roots with an orange tint and a subtle orange line across the ends of the full, straight across bangs. Long layers and tapered tips complete this retro, 'beatnik' look!
8. Gentle gray-blonde with white ombré-balayage color on medium bob straight haircut
This is a 'Swedish' cool-blonde hair color design with extra-trendy choppy, point-cut tips for an edgy contrast to the smooth, straight finish. You can see that the gray is soft and there are noticeable beige sections, which tells us that this model has warm or neutral skin undertones. So cool gray and white would be too harsh for her coloring. The long, side-swept bangs create a cute feature and volume above the forehead.
9. Beautifully blended medium-brown with mid-blonde balayage on medium bob
Here's another of the discreet looks that many women prefer, because they look more natural. It's always a good idea to keep up-to-date with hair fashion, because it helps tremendously in projecting a youthful image. But not everyone wants to be bright-blonde. This mid-length haircut with a blend of medium – light-blonde balayage is subtle and classy!
10. Going gray gracefully with a super-trendy makeover
This is another suberb makeover idea, that works perfectly and goes against the old idea that gray hair is ageing! This young mid-age model is going gray prematurely and so the stylist has decided to turn that to her fashion advantage! And instead of the yellow-blonde color constantly being undermined by gray roots, they have created a glorious blend of dark and light gray balayage that's more flattering and a real trend-setting haircut!