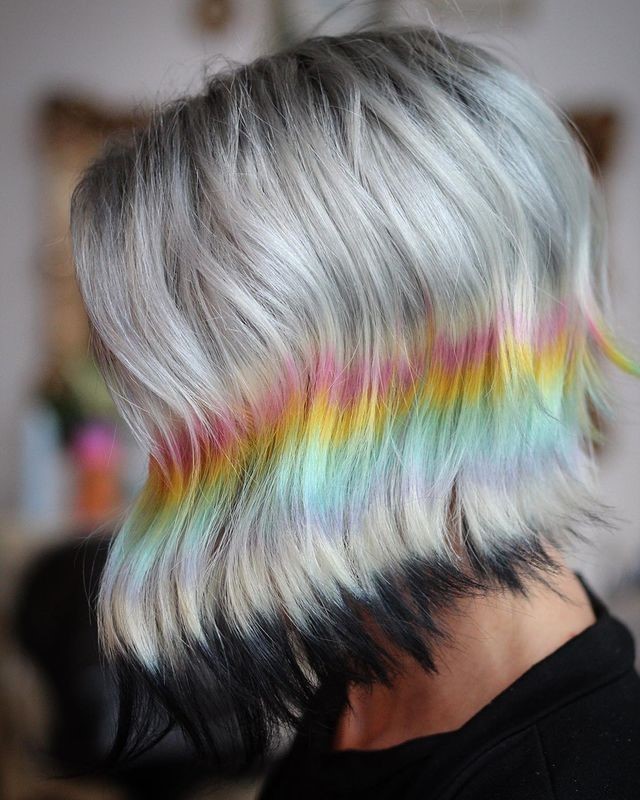 10 Easy Sleek Long Bob Hairstyles for Thick Hair & Super Color Innovations!
Long bob hairstyles are definitely a high-fashion choice this season! They are incredibly versatile, as you'll see from today's fabulous gallery, and can be colored with subtle shades, or bright and unusual new patterns!
Easy-style
Thick hair can be difficult to manage, unless you get the right cut. But a sleek, long bob haircut with sliced or converse layers at the tips, will behave perfectly. There's no easier long hairstyle to manage than a sleek bob.
Versatile
And it's always been a great way to have reasonably long hair, but in a professional, classic, trendy or fun cut and color. Go wavy for a temporary change, mess it up for a night out or wear up-do's whenever you fancy.
Perfect
A new lob haircut is ready to show off your lovely, healthy hair in lots of different, flattering styles! So find your perfect cut and color right here:-
1. Soft gray crimps with black border – easy sleek long bob hairstyles for thick hair
Show off your individuality with this unusual look that will fit in with lots of different fashion 'tribes'! The soft gray-blonde shade has lighter balayage from the forehead to nose level, which is flattering for upper face.
And there are extra touches of light balayage that look like reflected light dotted around the head. The crimped wave and dark roots add depth and the wonderful black border at the ends is fabulously trendy!
2. Ash-blonde top with rainbow bands – easy sleek long bob hairstyles for thick hair
Rainbow stripes have now evolved into more classy, rainbow bands. Horizontal bands are total trendsetters for this season and create a completely original look to a slightly waved bob.
Neutral ash-blonde is the perfect background color to a full, seven bands of brightness, completed beautifully with a black border. This beautiful angled bob is full of lively movement, texture and eye-catching color!
3. Sexy tousled brunette – easy sleek long bob hairstyles for thick hair
The color matching on this sexy, peek-a-boo long bob haircut is expertly done to add flattering warmth to the face and neck. And the balayage-ombré effect is a fantastic trick to brighten dark hair, without losing your brunette identity!
Thick hair looks very attractive when styled over the head from a side parting – appearing even more abundant and healthy. And concave layering makes the tips curve under naturally and wispy tips soften the ends perfectly!
4. Wavy white-blonde & ash balayage – easy sleek long bob hairstyles for thick hair
This color design has reversed the usual method and instead of having the lightest blonde framing the face, the colorist has placed ash-blonde around the face. And with lovely touches of cool, lavender-pink around the face, the blue of the model's eyes is beautifully accentuated.
The single, broken wave and straightened ends with an uneven texture, mark this as a gorgeous, ultra-modern long bob style!
5. Bold brunette center-part lob with face-framing gold balayage
This center-part long bob hairstyle shows off extremely healthy hair in a classy and professional style. And healthy looking hair is very attractive at any age. Dark hair sometimes needs a little color to brighten the look.
And you can do this without having complicated balayage, with simple border highlights that reflect flattering light onto the face. The golden-blonde shade matches beautifully with the model's warm complexion. And this is a style that always looks great on thick hair!
6. Fun asymmetrical wavy medium bob in blonde copper coral
This is style that makes the model look full of fun and cheerfulness! Asymmetrical styles always create a jaunty, lively look and especially if they have such a bright and modern hair-color design as this one. You can see from the natural roots that her original color is a little nondescript.
But with the blonde-copper-coral shades the look is lifted and made far more eye-catching. And the side-parting allows a stylist to adjust the location to flatter your individual face shape!
7. Sleek mid-beige angled lob with subtle ombré
There is angular drama here, but it is also a modern, minimalist hairstyle. So this stylist has added a very subtle, golden-beige ombré to emphasise the extra-long layers reaching down to brush the collar-bones.
And with the lovely bump of volume at the back, perfectly in line with the model's nose, this is a beautifully balanced look. Light brown shades are often ignored in hair styling, but they are very easy to achieve on fair hair colors. And the look extremely natural and attractive for those who don't like an artificial look.
8. Pretty pearl-white & beige-blonde straight haircut with center-part
Choppy tips always add a touch of youthful rebellion to hair and look great on simple bob haircuts. When the stylist and colorist to do their job well, you don't need to do much more than wash and dry your hair for a trendy look!
This blonde hair color with its subtle mix of beige and white balayage has a center-part to show off a lovely oval shaped face.
9. Trendsetting pale-blond underlayers on dark brown medium bob
I absolutely love this new idea of coloring the underlayers! It means you can cover a contrasting color or show it off by styling your hair behind your ears. And this is a fabulous way to add some light and brightness to a simple, brunette cut.
The three subtle tones added to the soft blonde are pink, golden and white balayage. And as you can see, this is another eye-catching style that simple to manage but very striking!
10. Classy glamor of golden balayage on sultry curved lob
This long angled bob is a masterclass in producing a seductive hairstyle! LOL! The parting is slightly off-center to flatter an oval, or slightly round face. The little extra height created by the stylist helps to lengthen a round face. And so does the way they have styled the hair over one side of the face.
This naturally reduces the width of a broad face. In addition, this gorgeous brown and gold balayaged long layered bob accentuates bare shoulders, red lips and creates a peek-a-boo mysterious look around the eyes!
What's next?
So if you've been asked to go back to work, but weren't looking forward to it, why not get yourself a fabulous makeover look and knock everybody's socks off when you return!
Which is your favorite style? And what do you think of the latest colors and pattern trends? Let us know what you love, or hate! We love hearing all your thoughts and opinions!