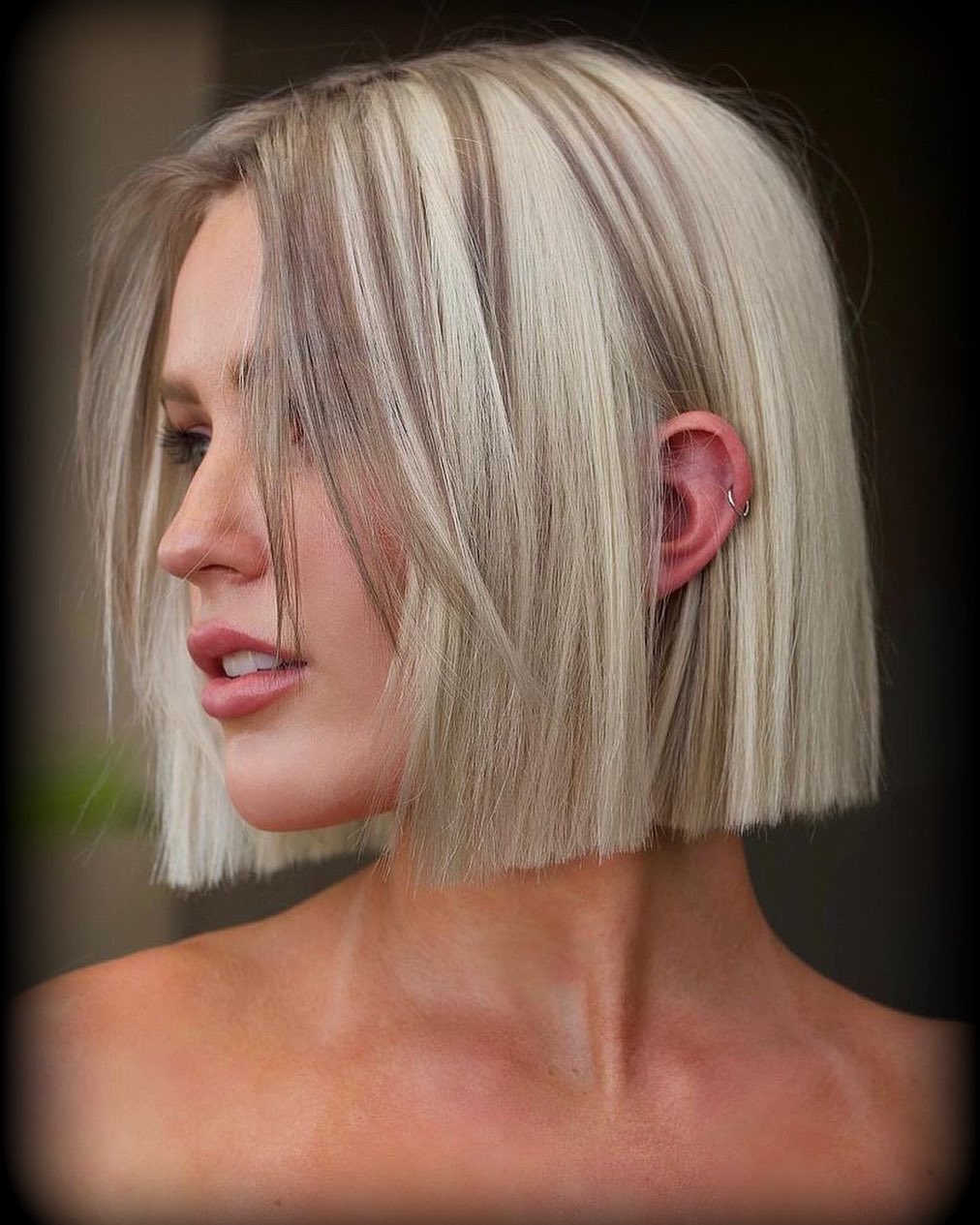 10 Cute Short Haircuts for Thick Hair in Groovy Blonde & Copper Colors
Short haircuts for thick hair are always the trendiest way to update your look for a special occasion, or just to start a new season feeling fashionable. The short cuts are hairstyle/color designers' fave starting point for new techniques and colors each year. And their hard work is obviously paying off, because more women than ever are choosing a cute short haircut!
So here's our latest gallery of short hairstyles showing how varied and versatile they can be!
1. Rich copper steep-angled bob – cute short haircuts for thick hair
This haircut and color was first made famous by British singer, and friend of The Beatles, Cilla Black in the 1960's! And it still looks fresh and contemporary! To update the look, the A-style bob is cut at a much sharper angle than the original, with the front layers reaching down past the collar-bone.
But the back will just brush your shirt collar. Concave layering gives the back a lovely curved volume. And you can vary the parting to suit your face shape. Bright copper is the perfect color for this easy-care, simple cut!
2. Shaggy bob with defined waves – cute short haircuts for thick hair
Sliced layers on thick hair are a great way to remove those awful, bulky ends and give your hairdo lots of curvy shape. This trendy bob is an A-line cut with balayage in vertical strands of caramel, honey and pale golden blonde.
The tips are nicely tapered to create an attractive, wispy look. And the defined strands are styled in a tousled finish that fits in well with the fashion for shaggy cuts this season!
3. Soft fantasy lob with blue roots & green balayage – cute short haircuts for thick hair
This plain style is anything but plain with the fabulous color effects created by a talented colorist! Gorgeous, electric-blue roots fade beautifully into neutral blonde. And then the color shifts gradually to a fabulous blue-green ombré down to the choppy, textured tips.
The center parting is perfect for an oval face and the separated strands over the eyes, call attention to the model's cute, blue-green eyes. If your colorist can match your hair color and balayage so perfectly to your eye color, you've found a true expert!
4. Urban-style long pixie with side-swept bangs – cute short haircuts for thick hair
The overall theme is urban and contrasts, with black roots and platinum-blonde setting the scene. And the styling is edgy, with sharp, half-waved strands and a long fringe draped over one side. This ultra-casual look even has an unglamorous hair-grip to help keep the shorter side tucked behind the ear.
So you get asymmetry, strong color contrasts and street glamor/dressed down all rolled into one youthful cut and color! With the prominent watch, ring and glam earrings completing the style contrasts perfectly!
5. Choppy-edge ivory-blonde straight bob & mink-brown balayage
Here's an easy-care, simple bobcut, with strict, straight edges along the bottom. But the straight line is broken by expert texturing at the tips, which creates a trendy, choppy edge. And to decorate this simple cut, the colors are fantastic and eye-catching.
Oatmeal-blonde is a neutral tone you can achieve on fair to blonde natural color. And the unusual, mink balayage is so fashionable for this season. I love how the colorist has spaced out the vertical lines in their own special way for an individual and interesting look!
6. Straight-edge ivory-blonde bob with smart black border
This simple, one-length blunt-cut bob is usually recommended for fine hair, but it can be cut on medium to thick hair, too. It's a really chic and impactful version of the popular black and white hairstyles we love. This is one of my favorites, as I've always loved to see contrasting borders on clothing.
And it's definitely going to be a popular 'alternative scene' look for its reversal of the black roots/platinum blonde urban styles. This smart, chin-length bob is truly original and fresh, as well as being super-easy to style!
7. Pale mink-brown blonde short haircut with pearly finish
Mink-blonde is another color from the 60's that's just come back into fashion. It's a pretty shade that makes an interesting change from the usual blondes. Mink is a soft blend of milk-chocolate blonde, with a touch of silvery-gray and pink.
And to add even more contemporary style, the colorist has used pearlized blonde to give this asymmetrical, short haircut a lovely gleam! Mink is a cool color, so it usually suits women with blue, gray or green eyes best. But your colorist will be able to tell you which tone is right for your complexion.
8. Gorgeous auburn long pixie-bob haircut
Isn't the depth of color fabulous in this pixie cut for thick hair? It's a rich shade that draws attention, but in a classy way. The style is a classic short back and sides, with long layers gradually radiating out from the crown. Styling your hair forwards like this helps you get more volume.
And that's because you're forcing the hair away from it's normal growth direction. And thick hair is easy to texturize for a trendy, contemporary image. There's no definite parting on this short haircut and the full fringe is gently styled to the one side.
9. High-fashion black & blonde pixie haircut with aqua balayage
If you love an easy-care style, but still want something that attracts attention, try this new look for fine hair! Instead of a harsh under-cut with shaves sides, the stylist has created a buzz-cut colored in black. So this gives a softer look for the face, whilst retaining the contemporary shape!
The top is left in long layers to retain the thickness of fine hair. And a wispy fringe drapes down to eyelash level. Finally, the addition of lovely aqua balayage in random patches around the head, makes this a great style to spike up for dance-clubs!
10. Super-chic blonde textured short pixie cut
You'd never guess this modern-looking hairstyle is an authentic 1960's vintage look! It always looks trendy and face-flattering. And it flatters a wide range of faces including round, oval, heart and soft featured faces.This season's version embraces the trend towards deeply textured, forward movement.
And the short side points that end just at the cheekbones really accentuate the eyes beautifully! It's a bright, white-blonde shade that will definitely turn heads and the shaggy tips around the ends of the fringe create a youthful and fun finish!
So what do you think? Have you found your perfect makeover cut and color for this season? The choices are all winners and if you take your favorite pictures to your hair salon, your stylist will be happy to help you get the most flattering style for your face!