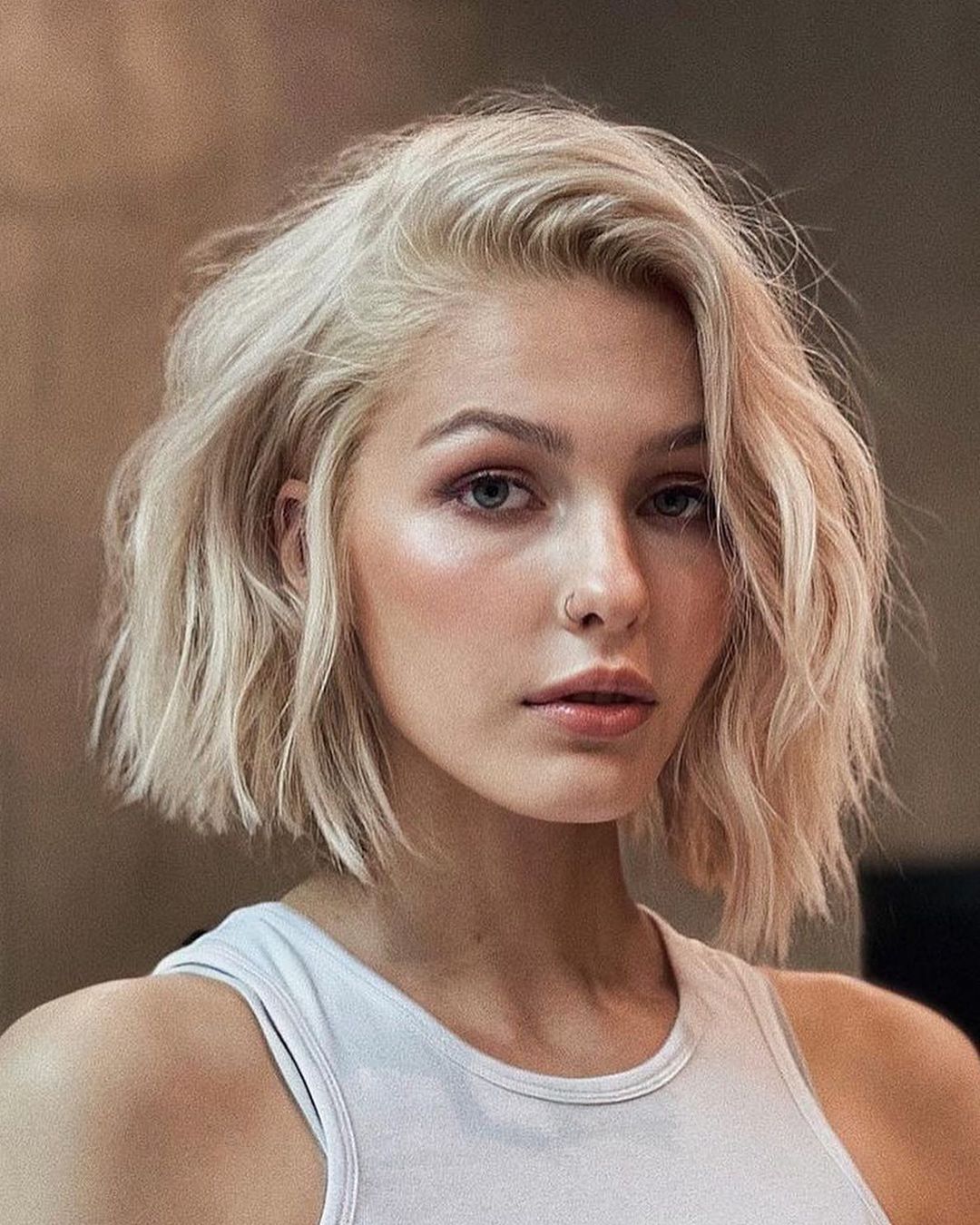 10 Cute Bob Haircuts for Short Hair with Original Hair Color Designs
This gallery will bring you completely up to date with the new twists that show the difference between last year's fashions and the latest trends. Layered, choppy and shaggy bob haircuts are definitely the front-runners. And we have styles for thick, medium and fine hair for your delectation!
Balayage is popping up in unexpected places, that may be covered until you casually push your hair behind your ears. And modern art – from Mondrian in1930, who was a leading inspiration for 1960's fashion clothes – has returned in a spectacular hair color design! Plus subtle and professional back to work cuts!
1. Professional gray cut with indigo balayage – cute bob haircuts for short hair
Want to make an outstanding impression in your professional office? Then choose a non-nonsense, precision-cut bob like this one. With the fabulousl gray and indigo theme, it's both classic and trendy! The straight bob cut, with curved layers just above the ends creates a nicely curved-under shape. And it is incredibly easy to wash and style. Indigo is a huge trend in jeans for the coming season and this hair color design is definitely one to copy!
2. Long light-blonde bowl cut – cute bob haircuts for short hair
This almost one-color, pale-blonde, basin-cut is very chic and classic. It's suitable for medium and fine hair types and looks especially good in blonde, as you can see the precise layer cutting more easily on light hair. Straight hair is simplicity itself to style in this cut, so it's a great everyday style that doesn't need any primping during a busy day. But as you can see, when it's set against a rich, dark sea-green color the multi-toned blonde color really stands out beautifully!
3. Classy tousled curvy bob for brunettes – cute bob haircuts for short hair
You can achieve this curvy, flirty look best on thick hair that has plenty of natural volume. The stylist has cleverly sculpted the hair to make the most of the volume, and then graduated the layers to create a chin-hugging face-frame. The color is soft charcoal-gray and steel, rather than a shade of true-black, which brings this flattering asymmetric bob right up to date color-wise!
4. Subtle blonde asymmetrical bob – cute bob haircuts for short hair
I really love this asymmetrical style that's so flattering to a round face. So much so that it's the style that I'm wearing right now! It's a great cut for medium to fine straight hair that hardly needs any styling. And that's because the clever layering creates a strong shape. It's very popular for this season and the subtle blonde gray, pink and yellow tones add plenty of interesting color tones to make it a natural, but super-trendy look!
5. Gray angled short straight cut with side color flashes
This ultra-hip, choppy straight bob is a high-fashion favorite, brought up to the minute with clever color tricks. Charcoal roots gently transition into a lovely, light shade of gray-blue. And when you push back the sides, it reveals gorgeous blue and green balayage for a very attractive and trendy twist. The various shades of gray, highlighted with white-blonde make the hair appear thicker. And the tips are highly textured to create contrast!
6. Cute smooth face-framing short haircut in soft blonde
This pretty style is very feminine and matches the models flowery dress and dainty necklace perfectly. This is a great choice for women who have fine hair. It's short and mostly one length, so it retains its normal density. And extensive balayage has created many different tones of darker and lighter blonde, which adds a thicker look to hair. The ligher highlighting around the face is always flattering. And this style is a good way to brighten up dark-blonde or mousey hair.
7. Chin-length straight taupe haircut with curved under tips
This attractive and practical straight bob style is a popular, easy-care style that is always in fashion! It can be created on medium, thick and fine hair. And in this case, the vertical beige-blonde balayage adds dimension and warmth to a darker base. The effect is smooth, sleek and simple for women who love to be fashionable, but don't want to spend too long on styling!
8. Sexy choppy asymmetrical blonde bob
The tousled, choppy bob is a very sexy look with the swept-over hair falling casually over one side of the face. Men love to see hairstyles that give the impression that you've just strolled out of a tryst inside a hay-rick! The absence of darker roots adds more 'class' to this natural-blonde color, which is achieved with lighter and darker balayage that only 1 or 2 tones apart.
9. Amazing Mondrian art hair color design on straight angled bob
This fabulous haircolor design is a work of art in itself and so interesting! The stylist has been inspired by the dress, which was itself inspired by a painting done in 1930 by the famous artist Mondrian! Blocks of bright rainbow color are divided by broad black lines to create a totally original new look. Mondrian's paintings were incredibly high-fashion in the 60's and are back in vogue again. This is trend-setting at its best and will doubtless inspire many new and fabulour hair color designs!
10. Bleached-blonde look on tousled choppy bob
Here's a great, simple summer style! It's no trouble to style, keeps your neck cool and is as bright as an ocean crest. Or if you've had long-hair in the summer sun, this is a super makeover idea for the end of summer when your hair needs a good trim and re-style ready for autumn. It has neat straight lines across the back. And heavily textured tips creating shaggy vibes along the bottom edge. The slight waves around the head are cute and it has a very youthful air about it!
So it's time for us all to choose our fresh look for the coming season and get that wonderful confidence boost you get when you know you're ahead of the trends!