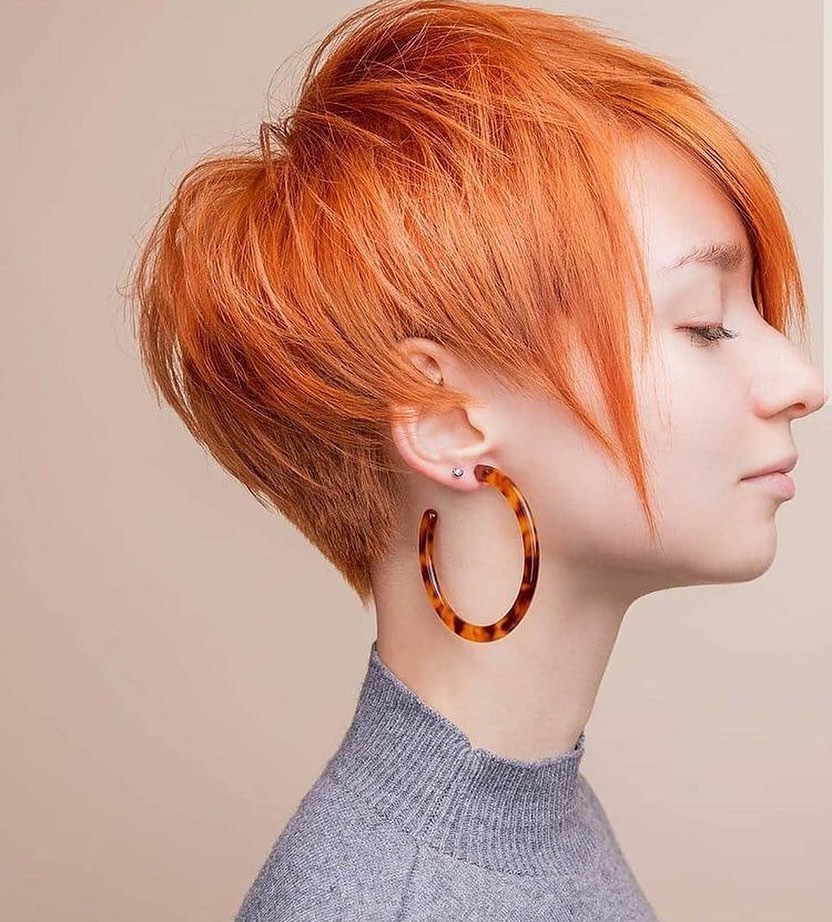 10 Easy Cute Pixie Bob Haircuts and New Colors for Modern Makeovers
Easy, cute pixie-bob haircuts, and new colors for modern makeovers, can transform your whole attitude! If you're feeling down, brighten up your hair and get a fabulous fashion uplift! And if you feel you haven't got the energy you used to have – fake it with a cute, short haircut and a modern, up-to-date image! Stop struggling with long hair and discover the freedom of a flattering, easy-to-style, pixie-bob! You'll love how much younger a short cut can make you appear!
1. Elegant, smooth & easy – cute pixie bob haircuts & new colors for modern makeovers
Liven up your mid-brown hair with a contemporary balayage in high-fashion, yellow highlights. This classic, short haircut has clean lines, without being severe. And the sharp, side-points accentuate the model's cheekbones and make the ear a focal-point for a trendy display of silver earrings. The side-parting adds attractive asymmetry to a lovely, side-swept full fringe that reaches down to graze the eyelashes for a soft and fashionable finish.
2. Taupe & lemon-blonde – easy cute pixie bob haircuts & new colors for modern makeovers
And this front view of a curvy, side-swept fringe shows just how face-flattering it can be to add long, casual bangs to your haircut. This long, pixie cut is designed to add the appearance of more density to fine hair. And it does that using dark, taupe roots and strongly contrasting white-blonde balayage. The contrast creates 3-D color depth and, with high-styled, long layers around the crown, adds attractive volume. And pushing the hair behind the ears for a messy finish adds a softening, casual vibe!
3. Dainty beige-blonde – easy cute pixie bob haircuts & new colors for modern makeovers
This youthful, baby-blonde look is perfect for balancing out a longer face shape to make it appear more oval. The asymmetrical, side parting and diagonal bangs 'cut-off' part of the forehead and make the face seem a little shorter. And adding volume around the top of the head adds width to draw attention away from a narrow chin. And the lovely, beige-blonde color has been chosen by an expert colorist to make the model's pretty, blue eyes the main focus of a gorgeous look!
4. Silver-white easy cute pixie-bob haircuts & new colors for modern makeovers
This silvery-white pixie bob is a versatile look with a shaved undercut you can show or hide. The full bangs, combed forward from the crown are a clever way to balance out a longer face shape. And the wide, over-sized, glasses frame adds balancing width that also helps make the face appear shorter. The stylist has shaped long layers at the back to make an attractive curve into the nape. And a little gray at the roots, plus a touch of blue at the nape make this eye-catching, futuristic color perfect for skin with cool undertones!
5. Glorious orange short haircut with tapered tips
Here's a super-trendy orange hairstyle that looks great against the model's pale skin with warm/neutral undertones.  Vivid hair colors look great on strong lined, short, simple cuts that keep the focus on contemporary style. And this asymmetric, long pixe has nice round curves for volume, which are contrasted by long, sharply tapered tips. Finally, to complement copper-orange hair, you can wear cool colors like fashionable gray and navy-blue to get a beautifully balanced fashion look!
6. Pretty V-nape on blonde & taupe long pixie bob
Deeply textured hair is the latest modern twist on short pixie cuts. And you can see how it helps contrasting colors show their 3-D color depth in this taupe and blonde hair color. There's a new season update to the blonde shade, which has a lemon-yellow tone added and this harmonizes well with the taupe roots. I always like to see a neatly shaped point at the nape. And with textured waves and a casual finish, this makes a fabulous every-day hairstyle for thick hair!
7. Elegant 'grunge' short haircut in taupe & neutral-blonde
There's always that extra touch of elegance to short hairstyles with exagerrated volume at the crown and back. And it's because you get the same silhouette as a formal updo, but without the struggle to arrange long hair! The side-swept, balayaged blonde fringe makes a very attractive feature to soften one side. And if you look closely you see there's a cute touch of pink tone in the blonde, which harmonizes well with the dark, neutral tones of tauple roots. And the neatly, 'squared-off' nape shape finishes off a grungy, but well-groomed pixie haircut.
8. Copper basin cut with textured layers
Here's a copper colored vintage 60's Mary Quant style, with full bangs and a symmetric, basin-cut design. Copper is a slightly darker shade than vivid orange and it creates a softer, more natural look. The overall impression is of a lovely curved shape around the top, with carefully graduated sides and softly tapered nape. Short side points and the fringe create a lovely, frame around the eyes and cheekbones. This is a chic, attractive look that hardly needs any styling at all!
9. Beautiful black short bob with soft blue balayage
The short A-line bob haircut has been a classic for thick hair for many years owing to its flattering look. It's a chin-length bob that your stylist can adjust to accentuate or diminish certain facial features. For example, this style has lovely wispy tips that could be very useful to hide a square jaw. The model's black hair has been given a super-trendy makeover with subtle, but highly effective pastel-blue and white-blonde balayage.
10. Tousled beige-blonde pixie cut with full bangs
Draw attention away from a strong jawline with a super-cute tousled pixie cut that focuses attention on your eyes and cheekbones. Sharp side-points accentuate and frame the eyes. And in contrast, the pretty tousled texture on top, plus a curvy, full fringe soften the lines. And the slight parting in the center of the fringe, draws the eye to the center of the face. With it's texture and shape contrasts and a contemporary, natural blonde color, this is a very flattering look!
So have you decided which of these flattering and trendy new looks is going to be your next makeover adventure?