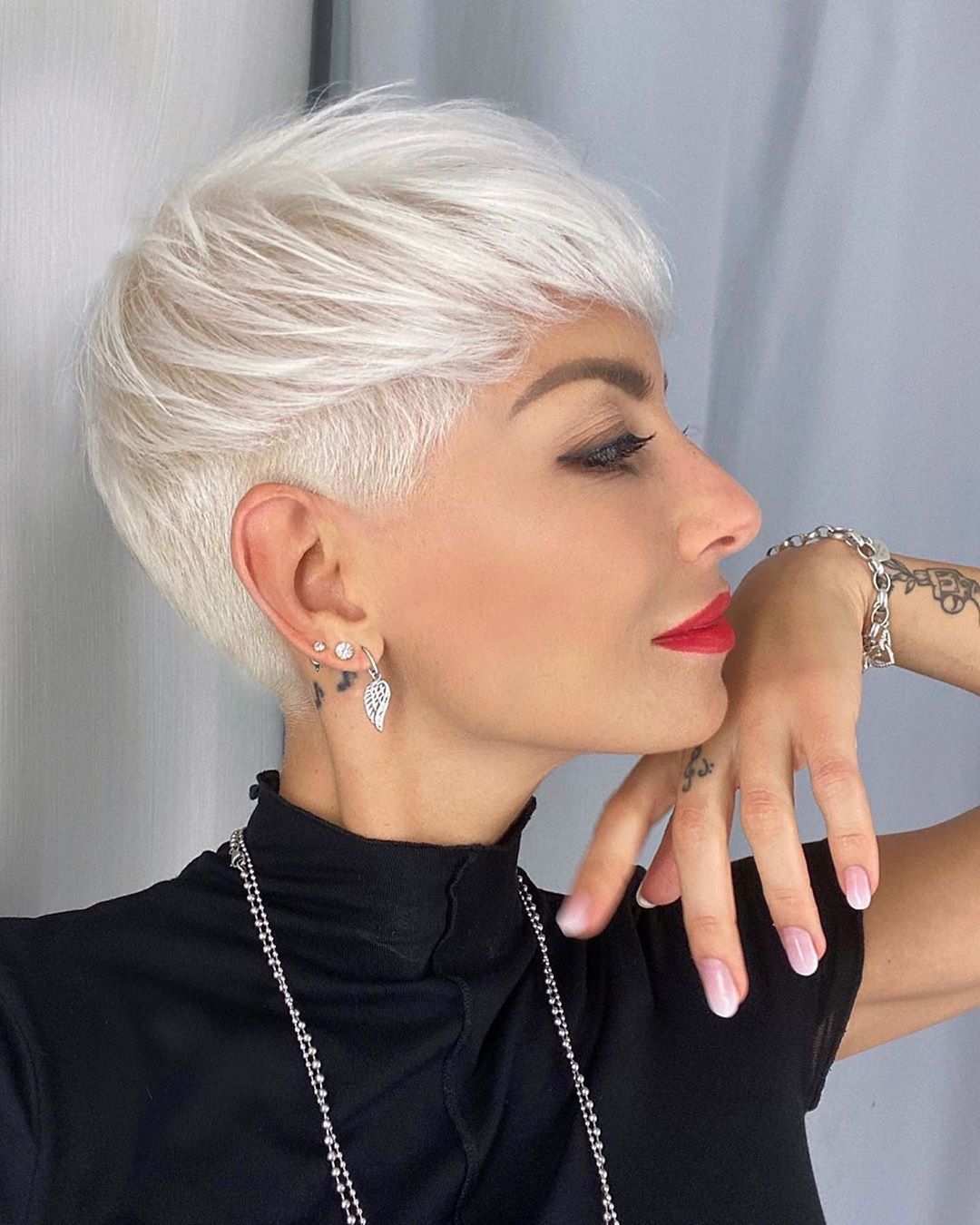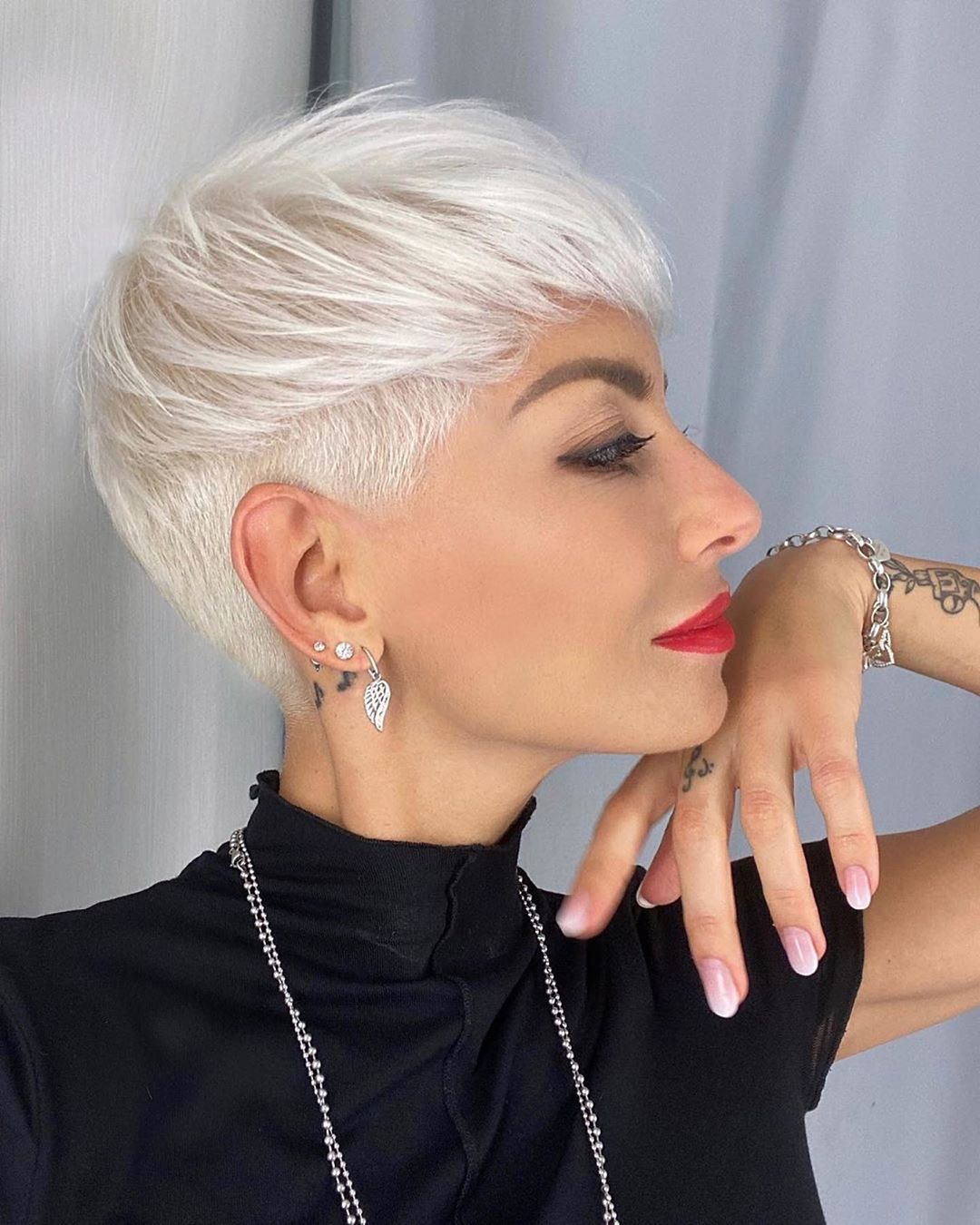 10 Short Pixie Haircuts for Women Ready for a Hair Update!
Short pixie haircuts for women continue to be the cutting-edge of hair-fashion trends and never fail to offer us new and exciting looks each season. So whether you want a long to short makeover and a totally fresh image, or just need to update your current pixie haircut, this gallery has all the latests trends! Beige-blonde continues to be our favourite shade of blonde this season. And for those who don't want a 'natural' look, this gallery includes vivid fantasy colors, like indigo and soft pink-blonde on updated classic pixie haircuts. So if you're anxious to get your fashion image up to date – let's go!
1. Chic long to short makeover – short pixie haircuts for women
Long bleached hair can lose its good condition easily, as the hair has been washed and brushed many times. And it may be time for you to choose a more flattering and sophisticated image. So why not try this pretty pixie cut with bangs? It's a simple, bowl cut that's very easy to style and yet lots more, 'stylish' than long, messy hair. The gorgeous, neutral blonde color is more attractive than brassy-blonde and gives a classy image!
2. Fierce short pixie haircuts for women
If you like a little 'attitude' in your haircuts, this is a great new haircut to choose. The shaved sides have a boyish 'fade' and there's a trendy shaved line at the back. Heavily textured tips on top give the half-mohawk lots of texture and 'rough' styling adds lively movement. A tuft of hair at the front is pulled down to create a softer line at the forehead. This is a great look for medium to thick hair types.
3. Symmetrical short pixie haircuts for women
If your hair is fine, you need to add some clever tricks to make it appear thicker. And this two-tone pixie cut is a super choice. The dark roots, contrasted with trendy neutral blonde, create a 3-D effect that makes hair appear denser. And the strong root-lift styling adds volume and a lovely, rounded shape. The short, cute bangs soften the forehead and work with the sharp side-points to create a flattering frame for the eyes!
4. Vivid indigo & pink short pixie haircuts for women
Thick hair looks fabulous in a long pixie with a 'rough' styled finish. And when you add a vivid, saturated color, like this indigo blue the effect is amazing. Strong pink balayage highlights the texture and contrasting movement in this super-trendy look. And the fashion for wearing hair-color to complement your body art is very popular right now.
5. Cute & versatile short haircut in beige-blonde
The stylist who designed this cut is full of creative imagination! It's a simple, bowl cut with shaved, undercut sides and long layers. But it's also a short haircut that can be worn in several very different ways. The full, side-swept fringe creates a flattering, fashionable hairstyle for everyday. But for an edgier look, you can easily create a fresh, head-braid. Or a super-cute, 'rockabilly' style with lots of height on top!
6. Lavender-pink & blonde short hairstyle with back detail
I always love to see an asymmetrical style that has a side-swept back section! And this super-attractive short haircut has a cute, side-swept fringe that is echoed at the back, in a beautifully executed fantasy pixie. We have a great new trend, too, in the latest shaved patterns added to make short styles more decorated. And the lovely, soft pink and white-blonde balayage stand out perfectly against dark brown roots!
7. Tousled light-blonde short hairstyle with long bangs
Here's a creative, high-fashion short cut that plays with multi-directional movement and contrasts. The sides and back are short and sharp giving clean lines. But they are softened by the contrasting long, side-swept bangs that finish at cheekbone level and accentuate the model's blue eyes. And this fabulous, short style is so modern with the mix of directional styling. The stylist has combed the back forwards and the front back.  And this creates gorgeous texture on an all-over, blonde pixie cut.
8. Super sophisticated short silver hairstyle
Silver hair used to be reserved for mature women, but it's a hot, high-fashion trend now! And that's great because it's a gorgeous shade! The stylist has created a strong, clean line at the back and sides. But the long layers on top make an attractive contrast and add face-flattering volume. The gently side-swept bangs soften the line and the lovely texture and forward movement give this style a futuristic vibe!
9. Jaunty brunette short haircut with top volume
Here's a great way to have a simple style that's still got lots of movement and personality! The clean line and sharp side-point that draws attention to the model's eyes are a great basis. But the forward styled top is the real feature of a trendy, new haircut that gains volume by combing hair against its natural growth pattern. This creates natural texture that ends in a cute fringe that completes this jaunty, easy-style short cut!
10. Tousled asymmetrical short hairstyle with bangs
When your stylist understands how to cut thick hair, the results can be very flattering. And this stylist has cut a short style that has long layers to add attractive volume on top. And although the sides and back are short and clean-cut, you get a lovely feminine vibe from the asymmetrical, side-swept fringe. It sweeps across the head and finishes at eye-lash length, creating a flirty, peek-a-boo look! (Even though the model doesn't seem to be feeling 'flirty' right this moment! LOL!)
So have you chosen your favourite new cut and color yet? It's exciting browsing through new styles and imagining which colors will suit your personality and wardrobe, isn't it?  What would we do without our favourite hair stylists?