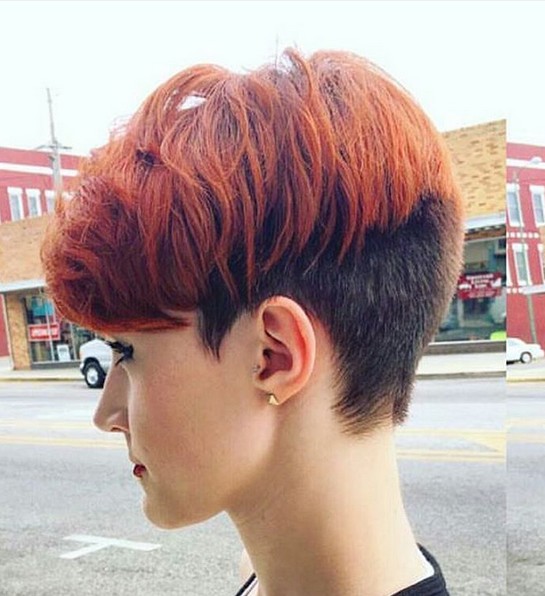 20 Shorter Hairstyles Perfect for Thick Manes
If you've been blessed with a beauteous thick mane that's lustrious and full, that doesn't mean you should shy away from a shorter style. Bring those thick beauties to life with one of these gorgeous shorter hairstyles, perfect for thick manes.
Lavender Undercut: Ombre Hairstyles with Short Hair
What's great about this look is the undercut gets rid of that extra 'bulk' that thick-haired ladies may be carrying around. Another great thing about this style? It's super chic and stylish, and the lavender hue is feminine and cute.
Pastel Textured Lob: Messy, Curly Balayage Hairstyle
Make your locks the star of the show with some vibrant, look-at-me pastel shades! This magical 'do has hints of lavenders, greens, and blues for a fairylike finish that's only completed with textured curls like these.
Metallic Mohawk
Let your inner biker chick shine through with this super-edgy style. The punk rock theme rides strong through this wild Mohawk, but she glamorizes it and makes it sexy and chic with some textured waves throughout.
Artsy Buzz: Short Bob Haircut
For some women, their hair is a work of art; so make it a must-see masterpiece by adding a unique design to your buzz. It's simplistic but also stunning- a unique combo you won't find elsewhere.
Subtle Layers: Balayage Hairstyles for Short Hair
This is a great choice for older women. It's a youthful look that has a lovely correlation of layers, and a subtle curl around the face softens the look, while remaining professional and stylish.
Subtle Texture – Layered Short Haircuts for Women
Women with thick hair don't have a problem with volume- it's a natural perk! For a quick and easy look you can do before work or school, simply blow the hair back and mess it up a bit. It's subtlety is excellent and businesslike.
Choppy Lengths: Ombre, Balayage Hairstyles for Women Short Hair
Leaving thick hair one single length can make it appear overly bulky, so by simply making your ends a variety of lengths you can create some depth that is not overpowering. And this yellowy-orange color? Quite a sight!
Blue Pixie Side Buzz
Stepping out of the box and showcasing that saucy personality is a cinch with this exotic look! Purplish-blue hues are found at the lengthy top part of this pixie, accented with an artsy side buzz that's unique and cool. This look has fierce written all over it!
Red Hot Razor
Don't let your thick mane fizzle out with a boring 'do. Instead, steal the eyes and hearts of everyone around you with this incredibly alluring red razored Bob.
Popular Platinum Pixie
This is probably the most common pixie haircut, but that doesn't make it any less desirable. It's sublety is sweet in nature, and the variety of layers creates a casual depth that's brought to life with a striking platinum blonde color.
Balayage Undercut with Waves
How utterly charming is this hairstyle? For that first interview or first date with that new cutie, consider this lovely look! Her undercut takes some weight out of her mane, making it much easier to toss her thick Balayage locks into some flirty waves.
Undercut and Side Buzz
The contrast here is flawless, and it's made even more rich and stunning with tantalizing colors like warm mahogany and hints of reds and greens.
Simple Two-Tone Pixie
With a pixie styled this way, it's best to leave it straight so the colors really stick out! Copper tones on top are contrasted beautifully by a deep brown lower half, a combo that's warm and stunning on such a casual cut.
Mahogany Side Swept Pixie
Oh, mahogany; how we love thee! Mahogany is such an alluring, warm tone that's oozing with sex appeal. She creates an even more tantalizing style by indulging in a deep side part, sweeping her locks over to the side, just about covering one of her eyes for a sultry finish. Pair with red lips!
Sombre Beige Waves
Sombre-the subtle Ombre. The perfect choice for someone who prefers a more tame and natural appearance. Her beige locks are just barely textured with some coy waves you can wear anywhere.
Silver Bowl Cut
Bowl cuts are super trendy right now, a big surprise for those of us who lived through the days where bowl cuts were taboo. Styling a bowl cut with striking silver strands enhances this new-and-improved bowl cut, and a divine wine pout is the perfect pairing.
Colorful Pixie Undercut
With thick locks, it's a great idea to go for an undercut to remove some excess hair and let those lengthy pieces be the star of the show. But what makes this style a crowd-please is the show-stopping colors that are vibrant and fun.
Tousled Platinum Asymmetrical Cut
Asymmetry, layers, and a shocking platinum hue- fabulous! Everything about this short hairstyle for thick hair screams sass and class, and with a subtle pink color throughout layered strands, it's a knockout look.
Messy Waves
There is no shame in rocking your natural beauty, especially if it means flaunting those super-messy and thick waves. Keep your makeup to a minimum to enhance that natural beauty.
Modern Bob
One of the snazziest bob haircuts for thick hair is undeniably THIS one. She indulges in a very subtle angle from front to back, tossing her locks to an extreme side part and tossing them back a bit for that 'come-hither' look that's both sexy and stylish. This look goes great with your most beautiful earrings! Pophaircuts.com which one is your favorite? Take the plunge to shorter hair today!