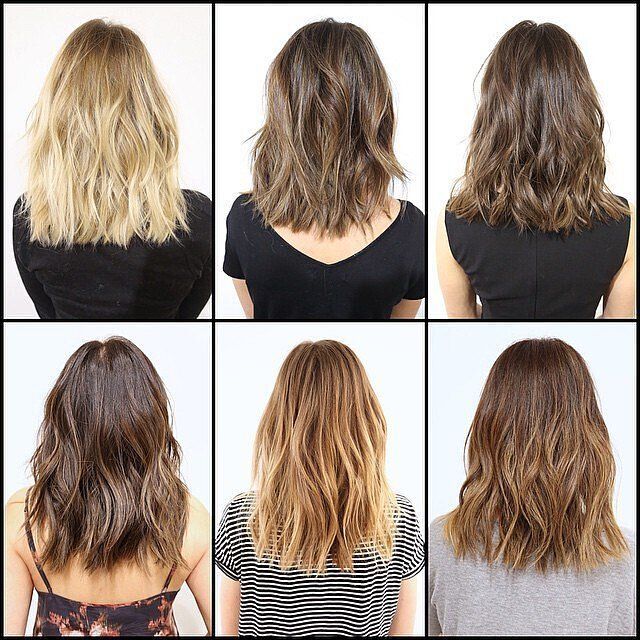 15 Pretty Hairstyles for Medium Length Hair
Hairstyles for medium length hair are incredibly varied! They can include swishy curls, trendy twisty waves, smooth and stylish elegance and updo sophistication, so it's a great hair length to choose if you enjoy switching your hairdo's!
And of course, medium hair is so much quicker to wash, condition and style than long hair, so it's no surprise that it's one of the most popular haircuts.
One-length bobs
A medium bob can be cut to just one length and worn with super-trendy twisty waves at the sides, which are a great way to get more volume into fine hair without loading your hair down with tonnes of expensive hair products.
Angled Long Bob Haircut – Straight Medium Hair /Via
Romantic ringlets
Or you can create lovely ringlet curls in a same-length bob, that will make your hair look several inches shorter and very pretty and romantic.
Smooth sliced layers
Sliced layers in hairstyles for medium length hair can create a marvelous shape, so that when you wash and dry your hair it will create a flattering curved shape around your face with strands curved in to draw attention to your luscious lips!
Textured Hairstyle Designs for Medium Hair: Hair Color Ideas /Via
Faux fringe or 'no fringe' hairstyles
If you don't wear a fringe, you can vary the look of your hairstyles for medium length hair by alternating the side on which you part your hair. And you can create an extra-long faux fringe by parting your hair low on one side and allowing the hair above the parting to sweep asymmetrically across your face, creating a sultry, peek-a-boo look that will accentuate your eyes beautifully!
Soft or futuristic bangs
If you like to have a cute fringe cut in your hairstyles for medium length hair, you can go for a dramatic full fringe, blunt cut straight across the forehead and style the sides super-straight to achieve a futuristic look.
Or opt for a softly side-swept fringe that will add a touch of contemporary chic to your straight or wavy sides, especially if you ask for the ends to be heavily textured to create a soft, wispy finish.
Cute Medium Haircut with Blunt Bangs /Via
Easy updo hairstyles for medium length hair
Maybe you enjoy wearing your hair up for a change! That's great because hairstyles for medium length hair are actually easier to arrange in attractive updo's than long hair, which can be too heavy and uncomfortable when put up.
The messy bun has been superceded by the tousled or smooth bun this season, and you can soften the line around the nape by pulling a few strands down and curling them into pretty, dainty ringlets for a special occasion.
Perfect for Holiday Parties Updo Hairstyle for Medium Hair: 5 Minutes Hairstyles /Via
Or show your individuality by creating an original new look, like pulling down strands and then braiding them to make a border above the nape!
So if you're seeking a fresh style for your hair, why not take a look at the photo Inspiration Gallery below? Choose your favourite trendy hairstyles for medium length hair and think how cute you're going to be in your supernew look!
Ombre Hairstyles for Medium Length Hair: Wavy Hair /Via