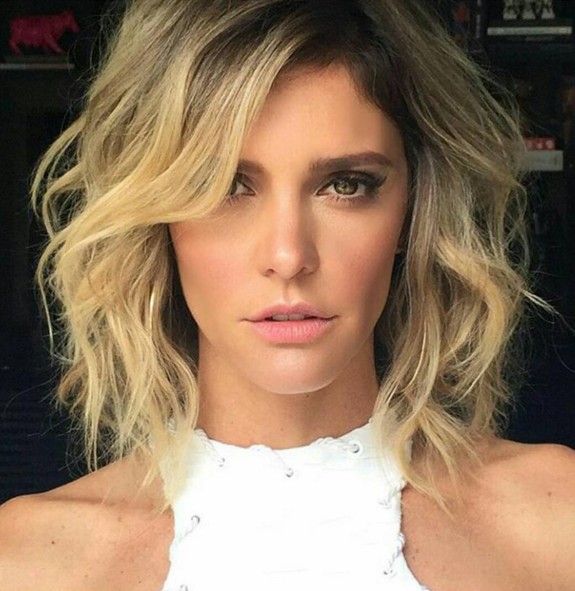 12 Modern Shag Haircut Designs
The shag is a great style that should be called 'retro' I suppose, as it was popular during the '70's and '80's, but the modern shag haircutexamples look totally contemporary!
What is a shag cut?
It was invented by a barber called, Paul McGregor and made famous as one of the first unisex hairstyles, worn by such celebs as Mick Jagger, Joan Jett, Rod Stewart and Jane Fonda.
The shag cut is any hairstyle that has lots of layers of different lengths. The special cutting technique creates fullness around the crown and is often 'feathered' to be thinner around the edges.   And the modern shag haircut examples in our Inspiration Gallery below show that you can go 'shaggy' with short, medium and long hair!
Feathered tips
Feathering and shattered layers are unique to the modern shag haircut and the effect is an easy-care and unconventional look that fits in perfectly with the latest trends for a casual look.
Feathering is the heavily textured and thinned out ends that look as fine and light as a feather. And shattered layers are a very contemporary type of disconnected layers, which are part of the choppy layered trend that's super-hot this year.
Asymmetrical
For an ultra-modern look choose a style that has asymmetrical, shaggy layers and use the latest balayage highlights to create colour accents that accentuate your facial features.
One clever trick, for anyone with brown, honey or hazel eyes, is to choose a highlight that matches your eye colour. The season's main balayage shades include honey, caramel, copper, chocolate, coffee and gold and if you put balayage in your fringe or at cheekbone level, you'll love the way it brings out the colour of your eyes!
Thick or fine hair
Although modern shag haircut examples are a fantastic way to shape thick or coarse hair, you can also get a successful shaggy cut on fine hair.
Coarse hair can be thinned, shaped or sculpted into fabulous edgy hairstyles that make a flattering frame for your face. And fine hair benefits from the layers, which make it easier to get plenty of extra volume and avoid the long, straight and flat look.
Whatever your style may be, you can easily bring it up-to-date by having some shaggy layers added to the basic shape.
Just choose your favourite from the modern shag haircut examplesin our fantastic gallery and your stylist will be able to adjust it to create a totally flattering new look for you!