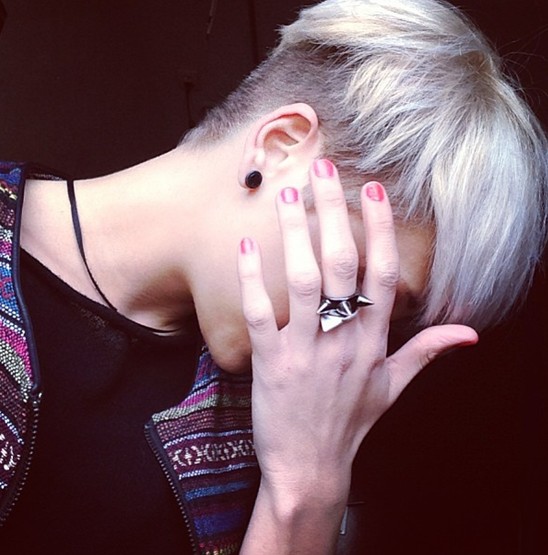 30 Chic Pixie Haircuts: Easy Short Hairstyle
When it comes to choosing the perfect short hairstyles for women, PoPular Haircuts really don't think that you can beat pixie cuts. A pixie cut is not only the perfect way to show off your beautiful facial features, but will also offer you versatility and style that will have everyone talking. We've compiled a gallery of 10 stunning and incredibly stylish pixie haircuts, which are just the perfect short hairstyles for women. These images are designed to inspire you to opt for the crop at your next hairdressing appointment!
The pixie hairstyle is a cool look for people wishing a hairstyle which is low-fuss and simple to create. The stylish razor hairstyle bring the layers a wispy finish to form the gorgeous shape.
Ash Blonde Pixie Cut with Asymmetrical Fringe – Pastel Short Haircut for Thick Hair
Pixie cuts are unique and stylish, which is why they are a bold choice for a hairstyle, but one which will inevitably pay off – as this gorgeous lady has proved. Steal her style by choosing an incredible pixie cut with an asymmetrical fringe – one side longer and sweeping and the other shorter. Add lots of shorter layers to the top of the head and keep straight to show off the finished result.
Blonde Pixie Cut with Long Fringe – Lady Short Hairstyle for Fine Hair
Side partings are the easiest way to create a lovely and long sweeping fringe, which is easily the statement section of this gorgeous pixie cut. This amazing blonde pixie cut is full of chopped layers throughout the back of the head and right up to the top. Dye your hair a beautiful shade of platinum blonde to show off your incredible pixie cut.
Layered Blonde Pixie Cut – Shaved Short Hairstyle
Layers will well and truly bring a pixie cut to life, which is exactly why we adore this stunning lady's hair so much! Steal this style by opting for a classic pixie haircut. Keep the bottom layer of the hair shaved closely to the head. Leave the top section to fall longer and form a sweeping fringe. Pull the hair forward for a sweeping style.
Red Asymmetrical Pixie Cut
Red is vibrant, bright and oh so attractive – which is why it makes such an exceptional colour for your pixie cut! Start by opting for a classic bob which falls around the ear length. Opt for a deep side parting to create a wonderful sweeping fringe. Choose the prettiest red colour to dye your locks with to finish and keep it straight and sweeping for a fantastic finished look.
Rainbow Pixie Cut –  Modern Pastel Short Hairstyle
Rainbow hair is the most exciting hair on the fashion scene lately – so why not combine it with a pixie cut for a truly unbeatable combination! Chop your hair into a pixie cut which falls around the ear length. Opt for a deep side parting to create a lovely, long sweeping fringe. Dye your hair a white blonde which quickly blends into rainbow shades on the ends for a lovely and straight bob style.
Double Layer Blonde Pixie – Summer Hairstyle Ideas for Short Hair
Double layered pixie cuts are a super cool and contemporary type of pixie cut which we just can't get enough of. Start with the bottom layer which is shaved close to the head for a cool and short layer. Keep the second layer a little longer, which falls to form a cool ear length pixie style crop with a side fringe. Dye the top layer a white blonde and add a slick of lipstick to finish the look.
Blonde and Brown Sweeping Pixie Cut
Brown and blonde blend together like peanut butter and jelly – creating the most stunning pixie cut we ever did see. Start with your bottom layer, dyed a deep and dark shade of brown and cropped closely to the head. With the top layer of hair, which falls to create a cool sweeping fringe, dye this a gorgeous blonde to contrast the bottom layer.