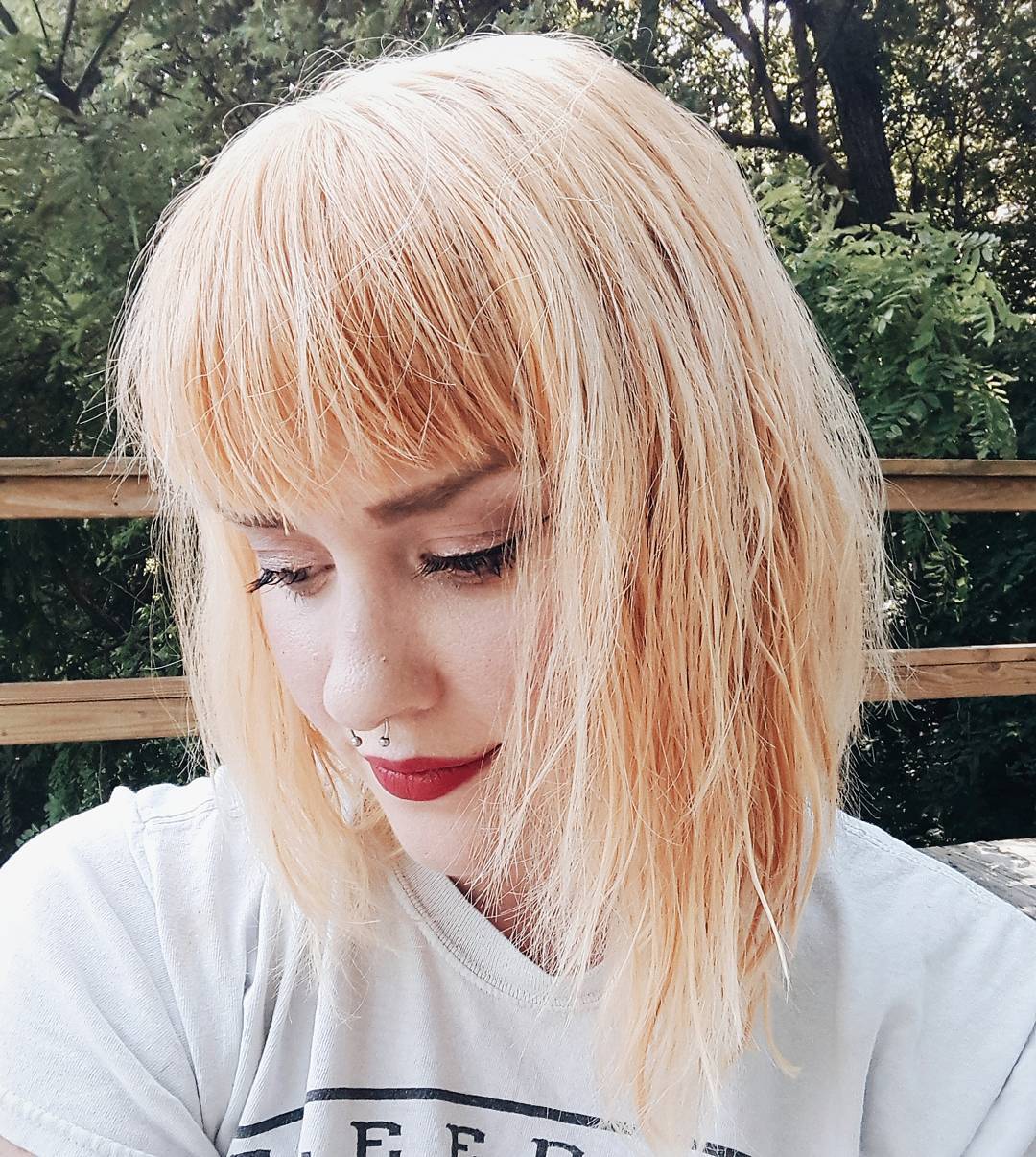 10 Amazing Short Hairstyles for Free-Spirited Women!
If you're a free-spirit, you'll love wearing one of these amazing short hairstyles to show your independent fashion style!  I've selected 10 of the grooviest short hairstyles for your delight, so you get to see all the latest, quirky-est short hairstyles in one place! Browse extreme shapes, textures and color inspiration to see where today's short hairstyle trends will be 'tomorrow'!
Romantic peach & apricot blonde – amazing short hairstyles for fine hair
You don't need masses of curly ringlets to create a romantic look, as this image proves.  Hair fashion has moved on from previous stereotypes and a modern, romantic look needs a touch of edginess to keep it real!  This medium layered bob is cut into a trendy A-line shape on fine hair.  But rough-drying it adds 'messy' texture and volume, highlighted by the two-tone blonde color design. Deep bangs accentuate well-shaped eyebrows and eyes, and shorter layers around the face highlight luscious red lips!
Quirky bob with purple & gray balayage – amazing short hairstyles
Waves add volume to fine hair, but if your hair is thick or your head large, that may not be right for you.  However, you can get a super-chic look with the latest, flat fish-hook waves, especially if you add this gorgeous purple balayage.  In the distant past, creating fish-hook waves was considered a serious error when perming hair, but now it's a really modern idea!  This amazing short bob also has an attractive, asymmetric line at the nape, with plum low-lights.  So now you can add lots of style and texture, without unwanted volume!
Fauxhawk variations in white-blonde – amazing short hairstyles
Who'd have thought the original Mohawk warrior haircut, shown in the TV series 'The Last of the Mohicans' in the 1950's, would become a modern classic haircut!  It was also part of 1970's 'punk' culture and continues to be an incredibly popular and versatile haircut for women. Shaved sides/back are a strong hair fashion trend that's also gaining popularity each season! This latest Mohawk variation blends braiding with, 'street', black roots and cute, Minnie Mouse bunches at the crown!  A true 'fusion' style you can also vary with ripple waves!
Auburn pixie with 'etched' nape for amazing short hairstyles
Red hair of all intensities and deep copper auburn hair colors are a big trend this year.  So if you have pale skin with warm undertones, steer clear of ash colors and consider the rich, warm shades.  This neatly cut short hairstyle is a youthful look that suits young and mature fashion fans equally well. And combed forward is this year's most popular styling choice for women's short hairstyles. So whether you're a teen who loves boy-cuts or a senior who likes an easy-care haircut, add up-to-the-minute edge with an etched line or pattern at the nape!
Stylish beige-blonde basin cut – amazing short hairstyles
I chose this great short hairstyle and color design for it's strong geometric lines and neutral blonde shade.  The basic shape is the classic, short-back-and-sides, with the long top layers styled around the crown's hub. The strong lines are softened by the curved volume – on top, in the bangs and the back section.  And the whole style is expertly colored, from trendy mid-brown roots to an ultra-chic ash-blonde/beige.  It's an easy-care, 'softened', bowl-cut for fine to medium hair and this neutral shade of beige suits pale skin with a warm undertone!
Fabulous feathery pixie-cut in glorious sunset shades
Two-tone hair color has been a popular idea for ages now, but colorists still manage to surprise with fresh, new ideas!  I love this amazing short hairstyle for fine to medium hair types, it's full of sunshine colors and creates a lively, daring look.  The cut is similar to the basic-cut shape, and the layers have been ruffled to get a choppy look at the sides.  The choppiness contrasts with long, fine side-points and the fab feathery texture around the crown and bangs.  Straight-across bangs are making a come-back, so ask your stylist if they're right for your face shape. (Preferably before you take the scissors and cut one for yourself, please!)
Dainty silver asymmetric pixie for fine hair
Now this is a universally flattering look for fine hair which looks equally great on a pretty teen or a mature women with naturally white hair!  The shorter profile and back are clipped and then treated with styling cream/gel to create the cute, defined texture.  This puts more volume into the shape than styling fine short hair smooth.  Long layers are given 'root-lift' for flattering height around the crown.  And side-swept, long bangs can be adjusted to suit most face shapes.  Silver-blonde with delicate, beige roots completes this softly feminine look!
Two-tone brown & ash-blonde short bob haircut
This fabulous, two-tone hair color design shows how you can totally change the 'look' you get from the same haircut! Before going 'blonde', this model had a brown all-over bob that suited her face and looked nice, but 'ordinary'. However, after the beige and ash-blonde color was added, her image transformed to a trendy, 'switched-on' individual!  The muted dual-blonde in soft beige and ash creates a modern, tasteful haircut. And this is how you show you're not just one of the crowd, but an individual with good judgement, who thinks for herself.
Sophisticated ash-white short asymmetric cut
What a striking impression this white pixie cut makes against the model's dark eyebrows and blue eyes!  And the look is even more unusual, as we would usually expect to see an older face below such lovely white hair.  So if you have naturally fair hair, and blue or green eyes, this is a fabulously fashionable cut and color option.  Extra-long bangs highlighted with purple toner add drama, but matched with gentle, lavender-pink eye shadow and lipstick the icicle effect is softened.
Futurist experimental short hairstyles
For a totally original, new look find stylists in your area who enter hair-dressing competitions.  Or does your local college need models for trainee stylists/colorists?  Being a 'model' for up-and-coming stylists has many advantages.  You pay a fraction of the full price for your cut and color, and your haircut will always be ahead of new fashion trends.  Novice hairdressers are supervised by experienced stylists, so nothing bad can happen.  This ultra-modern take on the angled bob shows how the trend for having a slight bend in your hair, instead of a wave, is heading.  The milk-chocolate color is beautifully graduated into a warm-beige ombré and the tips are highly textured and choppy!