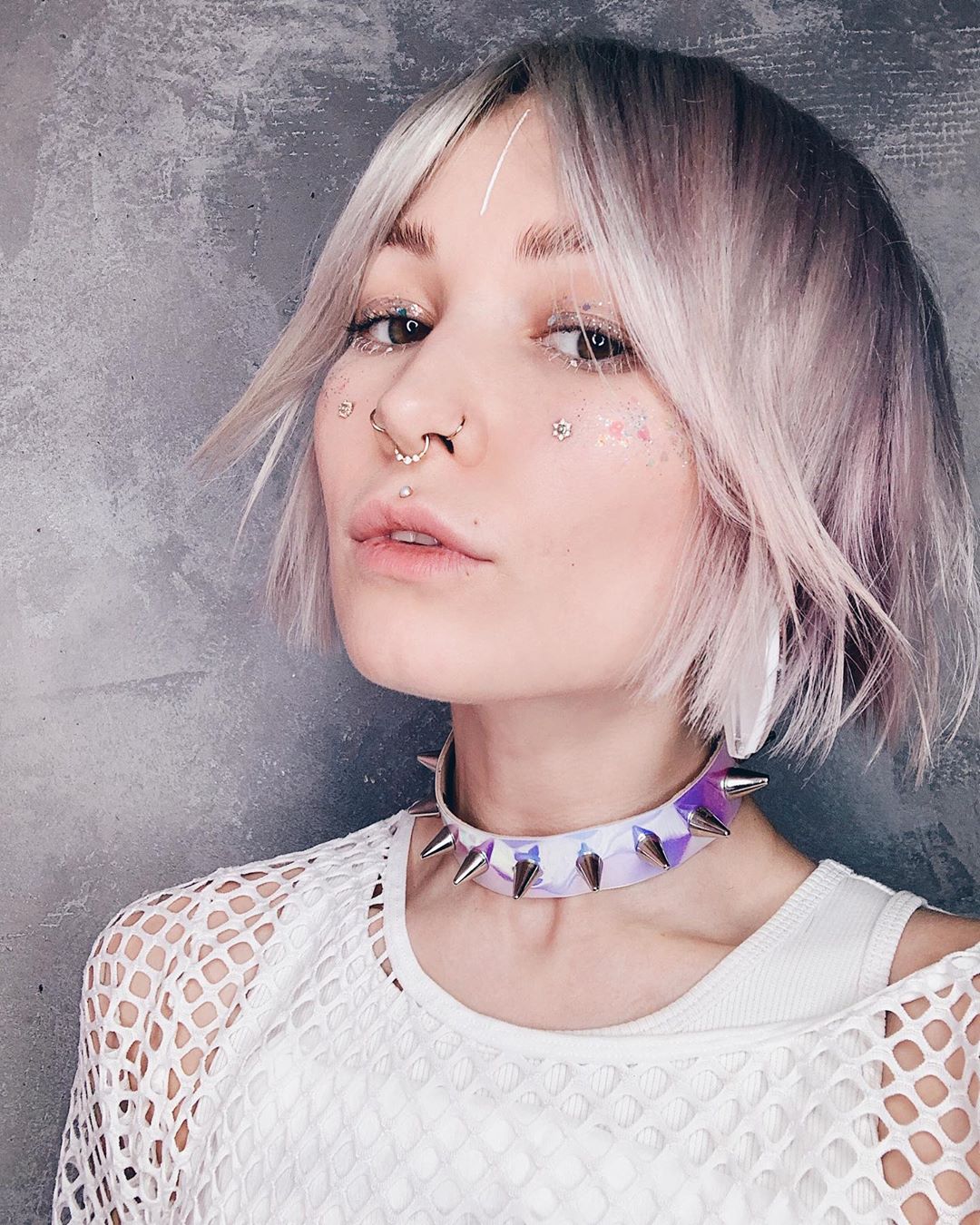 10 Easy Straight Bob Haircut and Color Inspirations
These easy, straight bob haircut and color inspirations are full of the latest colors and new ways of combining them to get a sexy, sophisticated, casual, sporty or romantic look, without having to spend lots of time styling your hair! So take a moment to bring your hair-fashion knowledge right up-to-date and find your next fabulous makeover look!
1. Asymmetric purple roots & white blonde – easy straight bob haircut and color
This jaunty asymmetrical short bob haircut has the latest twist to bring it totally up to date. And that is the layered undercut at the temple of the shorter side. It's cut with choppy straight-line ends that give extra texture and edge. The dark purple to lavender to white transition is beautifully controlled by an experienced colorist.  And there are a couple of beige highlights included, to follow the trend of unexpected color hints. The side parting and lovely peek-a-boo curve over the face complete a fabulously chic bob haircut.
2. Mid-golden blonde – easy straight bob haircut and color
Here's a great easy-style hairdo for thick hair, with lovely rounded volume at the back. The stylist has cut the hair into 'sliced layers', which are designed to leave tapered ends and remove bulk from thick hair types. The colorist has blended several shades of medium blonde to create a natural look. And it's worth noting that medium blonde is a very flattering shade of blonde for women over 25. The back looks cute with a V-shape at the nape, which matches the cute short side-points.
3. Trend-setting forest-green bob – easy straight bob haircut and color
Moving on from a classic medium-blonde bob haircut, we have one of the most unconventional new looks! This rich green color is half-way between emerald-green and forest-green and suits skin with cool undertones, as it contains a certain amount of cool blue color. There's a nice bump of volume at the back, beneath the crown, which the stylist has then stack-cut with lots of layers to curve beautifully into the nape. The sides are sliced, and degraded, defined tips create an edgy, uneven line in a slightly sloped shape that ends just below the model's jawline.
4. Cute copper-orange & black – easy straight bob haircut and color
This bob shows what is becoming a super-popular new trend of having a strong contrast color on the face-framing sections of a center-part bob. Orange is a complementary color for blue on the Color Wheel and that means they look good together, as long as you choose the right shades. The colorist has done a fantastic job here in placing medium burnt-orange next to the model's blue eyes, so they strongly accentuate their color. The tousled finish shows-off the perfectly gauged balayage highlights on this fabulous bob for skin with warm/neutral undertones!
5. Edgy ash-blonde & pink party look
Here's an outfit that screams, 'Party!' and a fun night out! The simple bob has been jazzed up by the colorist to combine pink, white, gray and a touch of beige for a super, high fashion look. The simple, straight bob is perfect for medium or fine hair, as it is short enough to be fluffed up and tousled to make the hair appear more plentiful. And the center-part suits an oval face shape perfectly. The usual soft, wavy face-framing sides have been switched for an edgier, flicked-out, untidy finish on hair styled forward!
6. Super chic white & black bob hairstyle
This is another easy-care, simple bob cut that the colorist has transformed into a stunning, contemporary look! The roots on top are light-ash-blonde, matching the top layer of hair, but there's a layer underneath from half-way down, that's contrasted in black. And the beauty of this new look is how great it looks when the top layers are parted and the black shows through. This style suits medium and fine hair types, as it's a flattering chin-length cut that doesn't rely on natural volume to make it fabulous!
7. Defined blonde highlights on light-brown base
The deep side part on this adorable short bob is a good choice for making a rounded face shape look less symmetrical. And by covering the cheeks, showing all of the forehead height, but keeping the volume fairly flat at the sides, you can also make your face appear thinner. I love this light beige-brown color, which is only just coming into fashion for this season. It's a change from all of the usual natural colors and looks so classy with defined blonde highlights and carefully added texture on the top!
8. Chic makeover from long to stylish asymmetric medium bob
This model has lovely, thick hair, which wasn't styled to its best advantage in the long, straight style. The centre parting and volume at the sides make her jaw-line look broad and long hair can hide your figure, which is a shame. Fortunately, the stylist knew exactly what was needed to change the model's look to a more sophisticated and flattering bob haircut.  An off-centre part creates asymmetry and diminishes a round or oblong face shape. The chic quiff adds length to the face, and minimising the amount of hair around the chin, balances the whole face for a more attractive image!
9. Light ash-blonde casual bob with long fringe
All-over ash-blonde is a super, simple choice for a sporty individual who doesn't like too much going on in her hairstyle.  The short A-line bob also helps create a modern, young image that matches with the model's fashion outfit and light make-up look. Long layers are a good choice for fine hair cut to a flattering chin-length and can be tousled for added volume. And casually pushed behind one ear looks charming and relaxed!
10. Natural copper all-over color on tousled asymmetrical bob
You can't beat a natural red-head for glamour and this whole-head, copper color really doesn't need lots of extra balayage to make it eye-catching. Orange has really been an outstanding success in the fashion industry this year, from clothing to swimsuits and especially in hair-color fashions. And combined with a choppy, short bob with twisty, casual waves and contemporary flicked-out tips, this simple hairstyle is a very desirable beauty look!