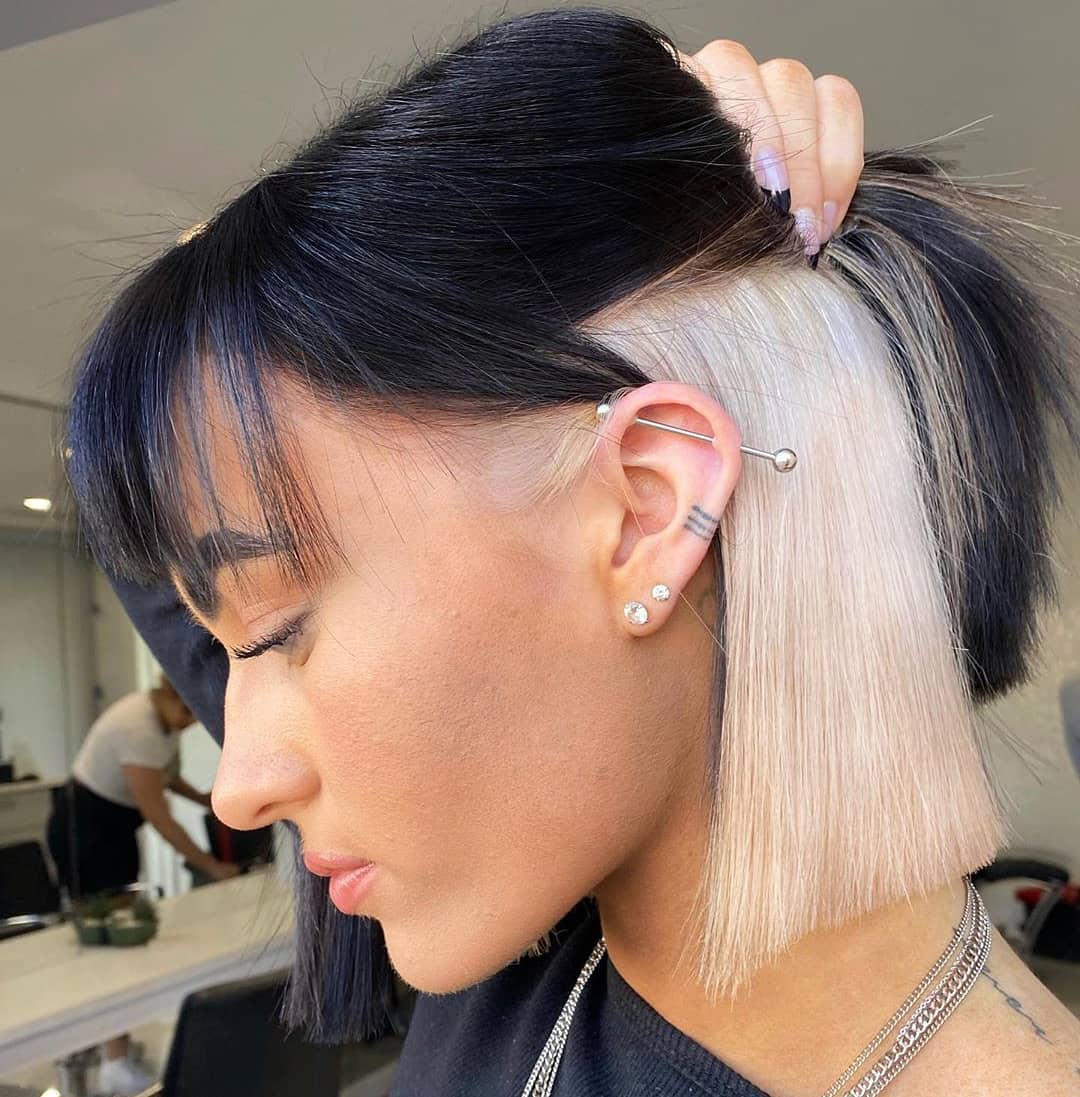 10 Trendy Short Hairstyles with Color Novelties
Today's gallery of trendy short hairstyles with color is a mix of updated classic cuts and trend-setting new color patterns, colors and ideas. Underlights are the latest color pattern for this season, and green is a key color! Curls are starting to make a come-back into hair fashion and that's good news for those with naturally curly hair or fine hair that needs some extra volume and texture. So come in and choose your fabulous new look now!
1. Black with white underlights on trendy short hairstyles with color
The chic straight lines of this chin-length bob are enhanced by the sharp contrast of white underneath highlighting. The hair is cut to the same length with blunt-cut ends to add thickness to medium or fine hair types. The center part becomes a full, straight fringe down past the eye-brows, with an arched shape. An arched fringe covers the outer edges of the forehead and helps make the face appear more oval. And you can see that this haircut will look highly fashionable and be easy-care worn in several different styles!
2. Artistic indigo, lavender, black & gray bob on trendy short hairstyles with color
Exciting new color techniques are producing fantastic new looks that can transform classic haircuts into contemporary trends! This short bob is cut the same length, except for some concave texture at the tips to get the hair to curve naturally into the chin. The side-part is casual and blurred to match the forward, 'windswept' finish that shows-off the beautiful, new color combo. Indigo-blue and black tips are a brand new trend for this season and match perfectly with gray, purple and hints of turquoise-blue balayage!
3. Long bangs on brown basin-cut with blonde highlights – trendy short hairstyles with color
The basin-cut is a great choice for heart-shaped faces as they can minimise a broad forehead and narrow chin. This helps balance the face and bring it nearer to the oval ideal. And the extra-long fringe that drapes down to below eye-level can be side-swept from a side-parting for a more practical style when necessary. The back is cut into the nape to create a lovely rounded silhouette above, to match the front. And soft, mid-blonde vertical highlights add lots of extra texture and movement to another fashionable and easy-care haircut!
4. Feminine, tousled & trendy short hairstyles with color
This light-beige-brown color is a soft and feminine look that complements the model's warm skin undertones perfectly. The bob haircut ends just below the chin and is lightly layered to create a graduated line down from the back. The look is romantic and casual, with additional height added at the crown and an untidy center part that divides at the hairline to create cute face-framing 'wings'. The waves and flipped-out tips add texture and volume to fine hair brilliantly!
5. Light golden blonde long pixie cut with fringe
This classic light-blonde color is softened by the absence of dark roots to become a chic, tousled pixie cut. Long layers are casually draped around the face creating flowing asymmetry and framing the model's cute, green eyes. This is a subtle blend of warm and cool blonde shades, with golden-beige at the roots and lighter balayage at the tips. Height on top and asymmetry help to lengthen a round face or balance a heart-shaped face.
6. Shapely brunette pixie cut for thick hair
This classic short hairstyle for thick hair is never out of fashion! And that's because it's easy-care, face-flattering and cut in sliced layers that remove all the bulk from the tips. The diagonal line of the side-swept fringe can be used to shorten the look of a long face, and the asymmetry of a side-part and diagonal fringe cuts the symmetry of a round face-shape. Thick hair creates attractive height on the top and around the crown. And with a layered back cut into the nape and tapered tips you get plenty of smart shaping.
7. Quirky layered wavy bob with green balayage & fringe for fine hair
This new bob haircut has more layers on top than usual and that creates a great opportunity to have volume and texture from curly waves. This is one of the trend-setting styles that are starting to appear with more curls than we've been wearing for a few years. And it's a great choice for anyone with fine hair, because combining curls, waves and a tousled finish can make it look much thicker! The perfect finishing touches are the defined wavy section in the asymmetrical fringe and that fantastic lime-green balayage on the lower lengths!
8. Cute tight corkscrew curls in updo on brown and copper-beige hair
This pretty updo has the same shape as a curly pixie cut and is very flattering to heart, round and several other face shapes. There's loads of natural height and volume on the top, which helps lengthen a round face and the absence of hair at the sides slims down full cheeks. The hair is securely pinned at the nape into a French pleat style that accentuates the lovely, curved silhouette. Selected curls are balayage highlighted in different shades of warm medium blonde. And long, loose curls at the sides add a casual look to the cute profiles!
9. High quiff ash-blonde short haircut over black roots
This is a great new look for anyone who enjoys minimalist fashion clothing. The roots are a soft, charcoal black that create a flattering, defined line around the model's front hairline. And the high quiff and volume in ash-blonde create a sweeping, curved line that gives a fabulous profile ending with a blunt-cut line across the nape. This is a suitable cut for medium and fine hair, as the lightening process will add body and thickness to the hair.
10. Chic all-over brunette pixie cut with full side-swept fringe
This model's fine, silky hair looks natural and healthy in this simple, but chic haircut. The hair is cut in medium layers that radiate out from the crown to create rounded curves all around the head. The back is layered more to create a curved shape into the nape. And short side-points leave the ears bare for pretty, fashion earrings. The blurred side part and full fringe accentuate the model's nicely-shaped brows and eyes, in a classy, natural look!