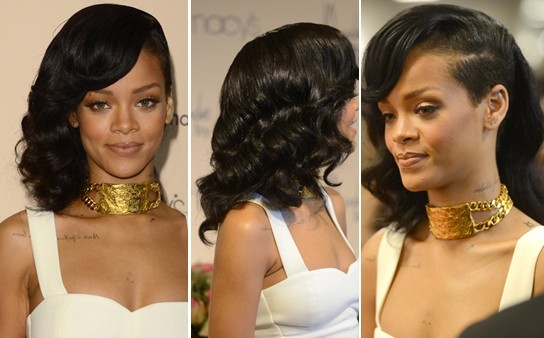 Special Bouncy Wavy Hairstyle: Rihanna Long Hair
This is a special bouncy wavy hairstyle that is fairly versatile and cool. It can offer people a graceful and charming look and feel. The soft curls can add much volume to the whole look and it can slim the face greatly.
The splendid style can works greatly on people with thin hair. The shoulder length is simple to recreate. Create loose curls, starting at one side of your head and work on 2 inch sections of hair at a time. Shape curls into spirals with the iron when you work from strand to strand. Keep every single strand wrapped around the iron for several minutes. After removing each curl from the iron, make it completely cool before touching it. Trim the other side close to the near section just near the head to add special and cool factors.
Length: Long
Type: Side Bangs; Waves
Hair Color: Black