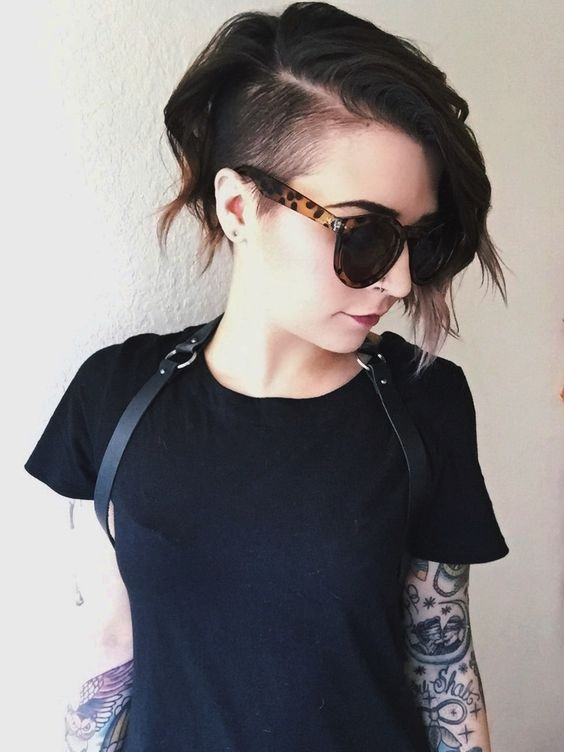 20 Adorable Short Hairstyles for Girls
Flirty, adorable, and fun; what are we talking about? Short haircuts, of course! Short hair is whimsical and easy-going, making your loose strands come to life with a simple cut of the scissors. Short hair is also crazy easy to style, and we've come up with a list of the most adorable short hairstyles for girls.
Tousled Layers: Red Long Pixie Haircut
Bright red locks are always sultry and sexy; but when you cut them into a fabulous compilation of layers and tousle them up a bit, you get an incredibly intoxicating and tantalizing style that can work anywhere. Loving this fierce- yet so flirty- hairstyle.
Simple Ultra-Short Pixie
Forget lengthy locks- cut your tresses ultra-short for a boy-like pixie that's anything but manly! It's an edgier style that won't require much styling to look fabulous day to night. Simply run a comb through your hair and you're out the door- talk about easy peasy!
Extreme Inverted Bob – Short Haircut for Thick Hair
Woah, look at that contrast! The extra chopped tresses in the back, flowing down to lengthy strands surrounding the face. It's a fierce and totally fabulous hairstyle that not only frames her face beautifully, but also showcases that tattoo to the max. Love this hip 'do!
Flirty Pinback – Shaved Hairstyles for Short Hair
So we have to say how much we're in love with her hair color: it's an extremely light shade of blonde with hues of gray throughout, making it a trendy color we can't take our eyes off of. She brings her spunky short haircut to life with a flirty pinback look that opens up her face while adding volume to the front of her mane. Great choice for summertime!
Tousled Lengthy Pixie – Balayage Hairstyle
We're in love with everything about this pixie hairstyle, from the contrasting red and black coloring on top to the exotic and unique shaved sides. She leaves her pixie short on the sides and back of her head while the top is left lengthy and tousled. A very artsy style that looks well with plugs and a black ensemble.
Messy Lengthy Short Cut – Cute, Easy Short Haircut
All those layers, all that volume! Making this look come to life is a CINCH. All you need is to cut up your hair with some extra long layers and mess them up! The end result? A very intriguing look that can work day or night.
Subtle A-line Lob Hair Cut
This hairstyle may feature a subtle a-line cut, but it's anything but casual! Her locks are drenched in an exotic lavender shade, with darker purple roots to add a touch of contrast. Purple is undoubtedly one of the hottest colors of the year, so we're really loving this purple dream come true.
Sea Foam Ombre Asymmetrical Style with Short Hair
Asymmetrical bob haircuts are SO much fun. They give the hair plenty of dimension in a unique and interesting way, leaving one side lengthier than the other. This whimsical hairstyle is given an extra dose of funk with sea foam coloring leading down to deep purple ends. She leaves her roots black for a very risky ombre coloring that's oh-so-stylish.
Wavy Short Cut
TREND ALERT! Okay, we mentioned earlier how amazingly popular purple hair is. Another color trend for this year? GRAY! Combine the two and you create a sultry and oober-trendy look that every woman craves. Her short hairstyle features a gray-on-purple ombre coloring with some subtle waves to add some flirty bounce. A great spring or summer option!
Simple Layers –  Blonde Short Hairstyle with Bangs
Adding long layers to your hair is a quick and easy way to add some hot volume. That's exactly what this lovely lady has done here: starting with a short haircut and light blonde locks, she adds some gorgeous lengthy layers and completes her style with simple makeup shades and some enticing side bangs. Perfect!
Side Swept Pixie – Grey Balayage Hair Styles
Super stylish? Absolutely! An extreme side sweep makes the hair look bold and full, and this style is SO simple you won't believe it! Simply add some layers to your locks and toss them completely over to one side. Seriously trendy and looks especially nice on round faces.
Multi-Colored Asymmetrical Bob Cut
This woman is sporting another wonderful asymmetrical cut, with a more subtle contrast between the left and right. Her hair is given some interesting texture using a combination of sea foam green, an assortment of exotic blues, and darker roots for a very enticing style. This one is SURE to turn heads- and for all the right reasons.
Deep Red Side Sweep Bangs – Cute Short Pixie Haircut
Another lovely take on a side swept pixie, this girl douses her locks in some fiery red coloring for a style that steals the show wherever she goes. She adds some volume on top before sweeping all her tresses to one side, skimming the eyes and framing her face beautifully.
Choppy Pixie – Casual, Everyday Hairstyle with Short Hair
When it comes to layers, this girl knows a thing or two! Her extra short hairstyle is brought to life with an assortment of choppy layers of all shapes and sizes. Her fabulous amount of layers gives her locks an instant boost of flirty and funky volume that bounces effortlessly.
Tousled Short Hairstyle
Simplicity at its finest! Her short hairstyle is tousled with just a touch of wave, creating a simple yet sultry look that can be worn to the office or the nightclub with ease.
Edgy Shaved Side – Ombre Hairstyle
The shaved side trend took 2016 by force, and that's why we adore this stylish haircut. She shaves her one side but leaves the rest of her mane on the lengthy side, with just enough room to add some lovely loose curls. Such a fabulous look for younger girls!
Subtle Ombre Short Hairstyle
Ombre has been on the top of the fashion world for quite some time now, and if you're not in the mood to create a crazy pink or green color combination, keep things simple like the hair you see here. Her subtle blonde ombre is sweet and sexy without going overboard. Love it!
Contrasting Pixie
This pixie has a LOT of contrast going on! From the contrasting colors including dark brown, deep purple, burnt blonde, and light blonde up front, to the unique combo of short strands on one side and lengthy tresses on the other. All this texture and contrast creates a gorgeously full-bodied finish that can be worn anywhere with ease.
Loose Ombre Curls
Ombre comes to life with some loose, romantic curls like you see here. Her super-loose ringlets create just enough body and bounce to create a casual yet coy finish.
Layered Ombre Hairstyle
This look is the PERFECT everyday style. She starts with an ultra light blonde lower half, leaving her roots dark for a touch of contrast. She adds just a pinch of volume to the crown of her head for some flirty volume, tousling the rest of her locks for a casual and stylish finish. Looks awesome with darker shades of lipstick!
Pophaircuts.com, what short hairstyle will you be sporting this year?