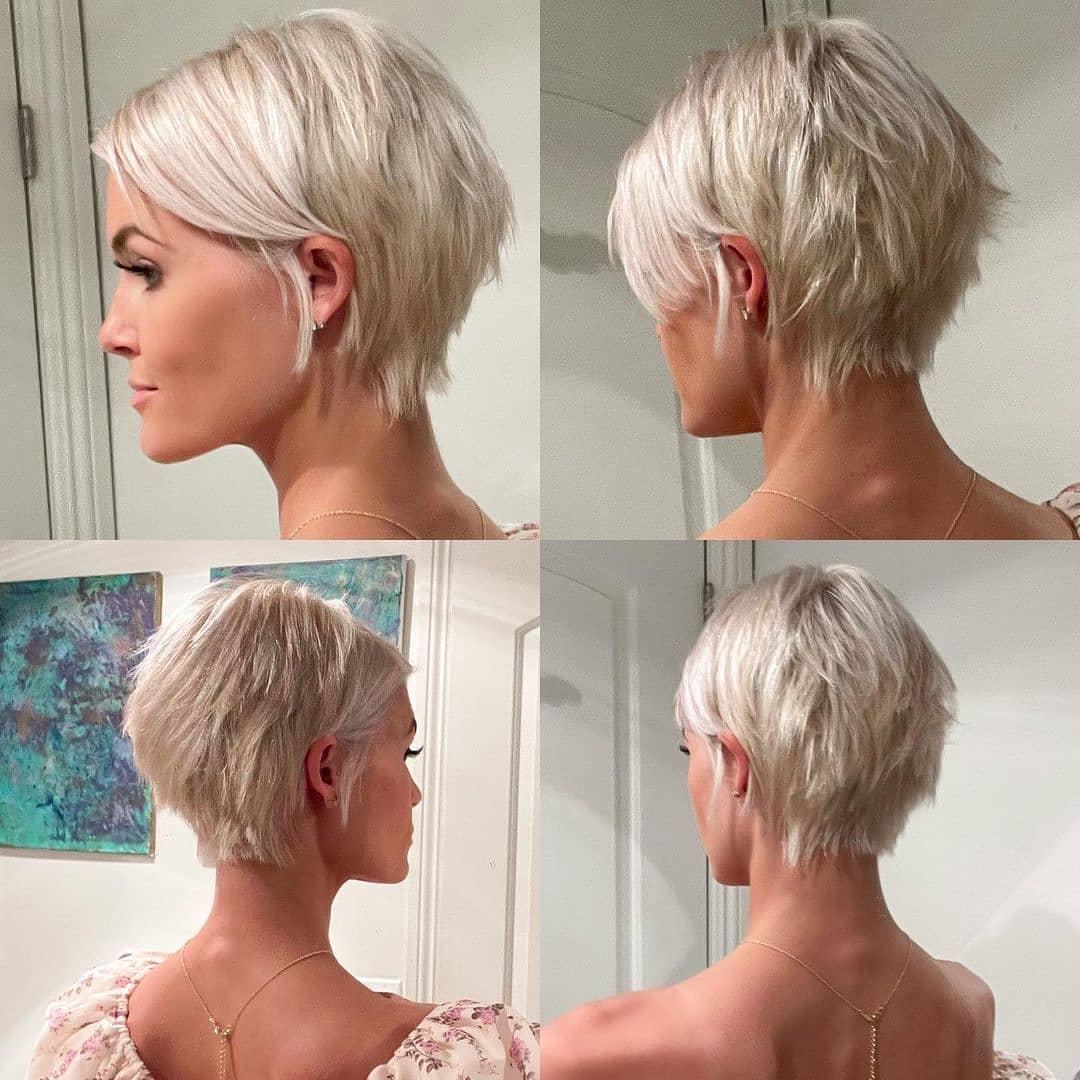 10 Short Layered Hairstyles for Thick Hair – Introducing Shaggy Chic!
If you like fun, new looks and frequent changes you're obviously the perfect candidate for wearing short layered hairstyles. For thick hair, layers are the best way to get total control and create easy care, trendy hairstyles.
So what's new this season? Well, there are lots of shaggy styles to choose from. And a gorgeous selection of new colors and balayage styles.
So if you're in the mood for a shaggy, chic or choppy makeover – feast your eyes on these hot, short bobs and pixie haircuts!
1. Razored pixie cut with short back and sides – short layered hairstyles for thick hair
This cute and youthful pixie cut is always going to look beautifully styled and fashionable. It's a short back and sides haircut with softly buzzed lower sections and a neat, squared-off nape. And short layers radiate from the crown to create flattering natural volume.
But the key twists to this style are the extra texture that the stylist has created. And overall, the trendy new shade of neutral mink! It's a soft shade of light-brown, with a touch of beige balayage, which looks natural and fresh!
2. Quirky ash-blonde wavy bob – short layered hairstyles for thick hair
This shaggy and choppy bob is a great way to add width to a narrow face shape. The half-done, twisted waves add lots of side-volume that will balance out a long or narrow face. And the ends are heavily textured to emphasise the untamed look.
A mixture of cool, ash-blonde and warm, beige-blonde is right up-to-the-minute in trendy hair colors. And the off-centre part can be varied to suit your face-shape perfectly. Those face-framing waves, with spiky straight ends, create a contrasting texture that's quirky and fun!
3. Silvery asymmetric ash-blonde pixie – short layered hairstyles for thick hair
This beautifully mixed ash-blonde hair color contains all the latest colors for a highly stylish, pixie haircut. It's a clever blend of cool and warm shades, so you get soft beige-blonde, with ash tones and then silvery highlights.
And the balayage does a great job of emphasizing the lightly-waved texture that adds flattering shape and volume. This season's side-points are short and accentuate the cheekbones. And the nape is clipped short for a softer finish and a totally chic hairstyle!
4. Glam asymmetric pixie in light beige-blonde – short layered hairstyles for thick hair
Light beige-blonde with touches of ash-blonde balayage make this pretty, pixie haircut gleam like a highly-polished pearl! The side-points end just below the cheekbones and draw attention to trendy ear-cuffs. And the deep side-part creates flattering asymmetry that suits round and heart-shaped faces beautifully.
In addition, the half-bangs help to lengthen the face, along with lovely height on top. The mix of super-trendy top texture and ringlety curls draped over one side add that new season twist for a glam, party hairstyle!
5. Copper-red short bob with shaped nape & surface texture
Here's a simple cut that sculpts natural volume into an appealing curved shape. And it's easy to style for a trendy, everyday haircut. This lovely bob has new season features like the windswept finish and surface texture, along with the clean, nape-hugging line at the back.
And once the colorist has jazzed up this popular cut with a rich, copper-red, hair-color design, you've got a fabulously eye-catching look! Deeper red tones underneath, and subtle balayage on the upper layers, create beautiful color depth, too!
6. Textured ash-blonde short bob haircut with V-nape
Gray roots used to be the most frightening thing you could find in your hairstyle! But now, they are a 'must-have' for the trendy woman-about-town. LOL! And the mix of gray roots and ash-blonde upper layers in this long pixie haircut show a keen fashion-sense.
I love how the shape of the head is elongated from the styled bangs to the exaggerated curve below the crown. And this gives the haircut a fabulous profile! But it's the V-shaped nape and the defined, shaggy texture on top that mark this pixie out as one of the latest looks!
7. Mid golden-blonde short bob hairstyle with ridged texture
Now this deeply-ridged texture is the trendiest way to update your short haircut! It looks great on sliced layers, because it defines real, 3-D sections of hair. And this shows off the darker roots that change gradually to light-blonde balayage. So your hair looks twice as thick!
And these ridged, sliced layers give lots of shape and movement to a short style, too. Mid golden-blonde is a very flattering shade of blonde if you're in the over-30's age-group.  This asymmetric haircut has neat side-points and a cute, V-shaped nape to finish off a super-trendy short hairstyle!
8.  Cute choppy chin-length bob with peach and pink balayage
Dark roots, peach on top and blended, peach and pink twisty waves – I love this fun look! It's got everything but the kitchen sink thrown in there, but the stylist has balanced everything perfectly. So soft waves flatter the face, and wispy, spiky tips add plenty of edgy fashion style.
The soft pink is cute, but the peach balayage and short brown roots make sure the color is not too sweet. And short hairstyles like this, with plenty of volume at the sides are great for adding width to long or narrow faces!
9. Jaunty copper pixie basin-cut with beige-blonde balayage & full bangs
The classic basin-cut is once again re-born with a fabulous new image. This season the finish is shaggy and untidy, rather than the perfectly combed look of the original version. And lots of different top layers are defined and fluffed-out to provide the eye-catching texture that all trendy styles have right now.
This pixie haircut has fluffier, slightly longer side-points as the model doesn't have pierced ear-lobes. And I think they look extra-cute and youthful! And with the styling combed forwards to create a thick, tousled fringe this is one of those chic, French-looking styles that gives a lovely, carefree image!
10. Short layered bob-cut with shaggy uneven texture
And for the ultimate in shaggy, uneven and highly textured hairstyles – choose this novel look! It can't be denied that it looks like the model cut it herself, late one Saturday night after a couple of glasses of wine! But this is a very creative, high-fashion look!
The overall look plays with the idea of femininity being cute and blonde and perfectly coiffed. And turns it on its head by making the front sleek and well-groomed. But the back looks roughly-cut, and unstyled. It's a rebellious short hairstyle that says not everything has to be perfectly smooth and neat to be attractive and modern!
And now . . . decisions, decisions! Can't decide which one to choose? No problem, just show your stylist your favorites and get their advice on what will suit you best! You'll love your new look!