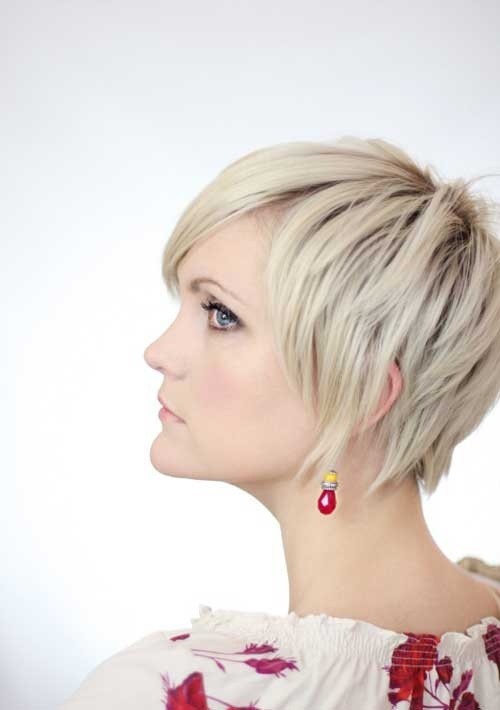 15 Chic Pixie Haircuts: Which One Suits You Best?
For a lot of women,the pixie cut is new and stylish . Many celebrities say goodbye with their long hair and choose the chic short hairstyle and then there are more and more followers who make long hairstyle out of fashioned. The splendid haircut is not only suitable for the young women, but also mature women.
The pixie cut can be styled in many ways. Some women love to mix it with a long one. A lot of women choose the short cut on one side and leaving the other side longer. Even some women wearing their hair cut close at the sides but hair slightly spiked up in the middle.
Besides,jewelry and make up can accentuate a short style and make it look even more adorable. So you should choose jewelry and make up that will draw attention to your face.
To make the pixie cut more special, you can try the highlight or shades. or just changing your hair tone completely. Most pixie cuts look luscious with a little color added to them.
Boyish Haircut for Feminine Woman /Via
The pixie cut offers a cool and boyish feel. The curtained hair matches the short hairstyle perfectly. It is a great option for busy people since it is quite effortless to style and maintain.
Light Blonde Short Haircuts for Side Bangs: Side, Front and Back View /Via
The blonde silver short hairstyle is eye-catching and loved by many girls and women.
Messy Haircuts /Via
This pixie cut with teased hair looks luscious and impressive. It is truly an eye-catcher. It works better on people with small face.
How to Style: Pixie Hairstyles /Via
This is a boyish and trendy pixie cut. One side is trimmed near the spaces and the other side is left longer. The longer hair is blowed and styled smoothly.
Cute Red Haircut: Girls Hairstyles Trends /Via
The red cropped hair looks fabulous and full of style. The bright hair tone can light your complementation.
Cute Pixie Hairstyles for Oval Faces /Via
The splendid pixie cut with a special head band looks adorable and lovely. The top section hair is trimmed with various layers which add much volume and coolness to the whole look.
Bouncy Pixie Haircuts: Side, Front and Back View /Via
The bouncy pixie cut can be a great choice for people who are too busy to style their hair, since it looks admiring and is time-saving to style.
Pixie Haircut for African American Women /Via
The wonderful and boyish short haircut is ideal for black women. The natural curls and texture allow the hairstyle a lot of body and volume.
Coolest Pixie Hair Cuts /Via
This pixie cut mixed with curly hair looks super lay doable and fashionable. It is a good choice for thin hair texture.
Layered Pixie Cut Hairstyles /Via
This long pixie is full of style and layers which increase the volume of the hairstyle. The side part and long side swept bangs add charm to the short look.
Coolest Short Haircuts for Curly Hair /Via
This is a fabulous blonde curly pixie cut. The soft and bouncy curls at the top section match the shorter back section perfectly.
Pixie Haircuts Trends /Via
The back section is trimmed just as near the head. The top and front section is left longer. The thinned piecy bangs just sit down the forehead and pair the cool short hairstyle.
Short Cute Pixie Cut Hairstyles /Via
The bright hair tone and perfectly-cut layers make the pixie cut more luscious and impressive. It can be suitable for formal and informal occasions.
Pixie Haircut Before and After /Via
Pixie Hairstyles for Long Bangs /Via