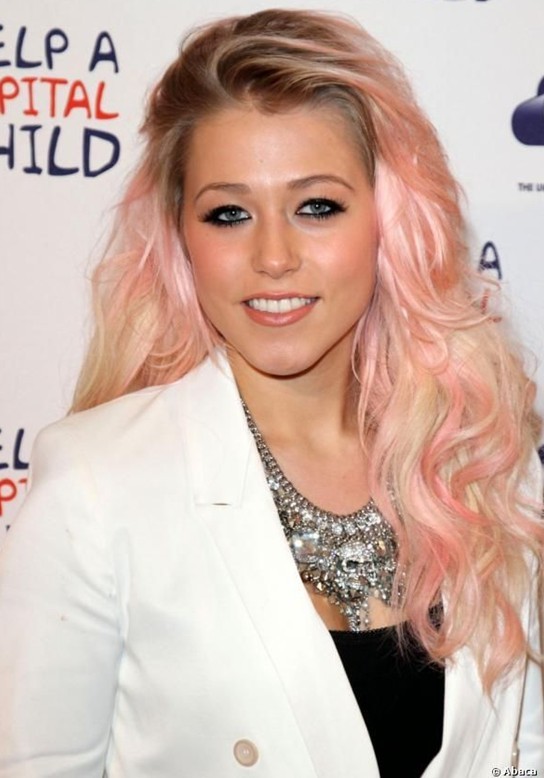 Amelia Lily Oliver, born on 16 October 1994, is a popular English pop singer. In 2011she has finished third in the 8th series of The X Factor . Her debut single named "You Bring Me Joy was released on September 2012 and gained a full success, reaching No. 2 on the UK Singles Chart and attaining top 10 positions in over 3 countries. Lily is currently popular among many young people. Her cool songs have gained her a super number of fans all over the world.
Let's check her hairstyles. She always wears her hair causally yet superbly stylish and fabulous. You can also some inspirations from her splendid hairstyles, and then create a suitable one your hair. For more wow factors, you ca also try the eye-caching and stylish highlights.
Amelia Lily Hairstyles: Knot Hairstyle
This is a super cute and cool double knot hairstyle. She divides her pink hair into two parts and then creates them into two high knots. The side swept bangs pair the hair knots wonderfully. Some hair pins can help keep the hair knots more durable. This lovely hairstyle is suitable for prom and parties.
 Amelia Lily Medium Hairstyles: Blonde Choppy Hairstyle
This choppy hairstyle gives people a fresh look since it adds more definition to her neck-length hair. Fabulous side sweet bangs are smoothed into layered side hair. You can also try out the splendid layered hairstyle on your mid-length hair.
 Amelia Lily Long Hair Styles: Cute EMO Hairstyle
The brilliant colors and the layers really add interest and shine to this long layered hairstyle. Her long blonde hairstyle is blown smooth with plenty of volume. The hair ends are colored into blue and red which draw people's attention to her facial features. Layers are kept medium to long to help add shape.
 Amelia Lily Long Hairstyles: Stylish Pink Color
The stylish pink color adds beautiful and modern dimension to the long look natural glow hairstyle. The loose long curls enhance her grace and charm. The romantic curly hairstyle can be your great options for special events. Some jumbo hot rollers can help add volume and bounce to your hair.
 Amelia Lily Hairstyles: Easy Long Straight Hairstyle
The long straight hairstyle just falls down on her shoulders neatly and greatly. Layers are kept subtle and long, which provide shape and reduce some weight. A deep side part adds fun spirit to the long smooth hairstyle. Short, brow-grazing bangs angle out towards the jaw to enhance her charming face.
 Amelia Lily Hairstyles: Bouncy Curls for Long Hair
Her lustrous bouncy curls look especially romantic, trendy and stunning. Rollers can help gain the overall look plenty of bounces by curling the sides and back hair. The enhancing curly hairstyle with a smooth center part can flatter many face shapes.
 Amelia Lily Hairstyles: Long Textured Hairstyle
The long textured hairstyle looks romantic, awesome and glamorous. The contrasting and blending of tones also add cool and fun factors to the long hairstyle. Layers are kept soft and long to help add shape and minimize the weight. Besides, her black hat contrasts her blonde hair wonderfully and it may draw people's eye in no time. The sexy and fresh long hairstyle can match formal and informal dresses.