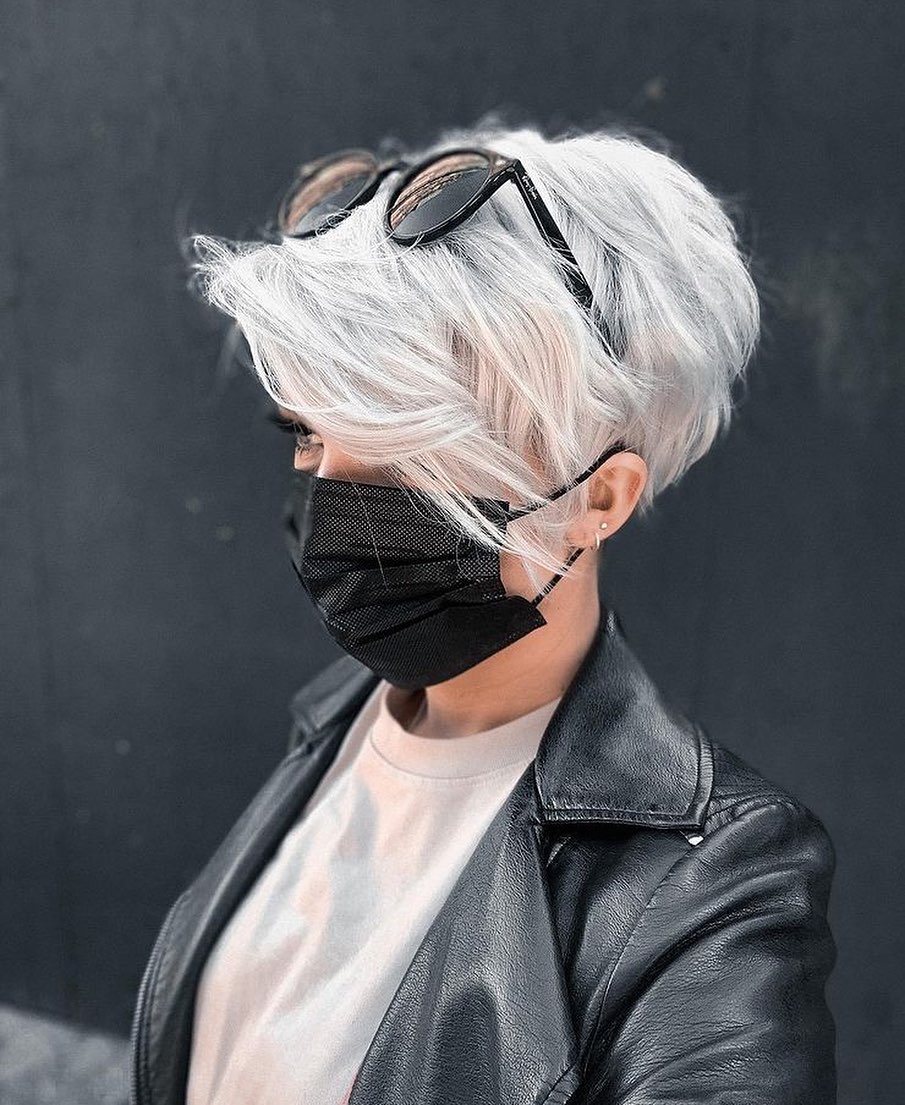 10 Best Ideas for Short Pixie Cuts & Hairstyles
If you fancy something short, sweet, edgy or neat you'll find plenty of choice amongst these high-fashion short pixie cuts. And hairstyles this year have some fabulous new colors for us to try. There really is nothing like a makeover haircut for refreshing your beauty image. So put up your feet and take a quick look!
1. Neutral-blonde forward styled – best ideas for short pixie cuts & hairstyles
These four views of a cute pixie cut solve the problem of explaining to your stylist exactly how to cut the back of your hair! And this is a good cut for anyone with a long face. The forward styled full fringe is a trendy look and it also covers the forehead. And that covers almost a third of the facial length. The hair is smooth, yet expertly textured with shorter layers at the sides and back. This lovely beige-blonde color is as chic as the fashionable cut, which will look good every day of the year!
2. Black & white super-short haircut – best ideas for short pixie cuts & hairstyles
Ultra-short pixie haircuts are perfect for showing off a good bone structure and cute facial features. This is the original pixie cut debuted by Mia Farrow in the 1960's, so it suits a retro or vintage fashion style from that time. On the other hand, it has been updated to be trendy right now in a lovely interpretation of the black and white contrast hair color design. The contrasting black roots and beautiful, creamy-beige blonde create fabulous 3-D color depth, which is perfect for adding density to fine hair!
3. Pink fantasy pixie with long fringe – best ideas for short pixie cuts & hairstyles
Summer hairstyles in fantasy hair colors are a great way for blondes to have a completely new look. It doesn't have to be permanent, as there are lots of rainbow color, temporary, balayage kits on offer right now. However, this long fringed, pixie haircut has been balayaged by an expert, in carefully blended shades of pink, yellow, green, blue and lavender. And this creates a look that's lots of fun and very high-fashion!
4. Geometric black pixie – best ideas for short pixie cuts & hairstyles
If you like an athletic fashion style, you'll adore this pixie with long bangs and very clean-cut lines! It's an asymmetrical version of the boyish, short back and sides, with a long top and floppy fringe. And it's full of fashionable features, like the contrast between the short, sharp side points and the fringe draped seductively over one eye. The layers produce a lovely curve just below the crown and tousled, forward styling creates a super-trendy finish!
5. Spiky tips on a neutral-blonde asymmetric short haircut
Fine and medium hair textures look great styled in a short pixie haircut, with the hair graduated nicely into the nape. And this version has lots of disconnected layers in the swept-across fringe, which gives a modern, edgy vibe. The neutral, beige-blonde color, with shadow roots, has the lightest hints of shell-pink and gray in the mix. And that makes it a good hair color choice for anyone with warm, cool or neutral skin undertones. This trendy mix of warm and cool is echoed in gold and brown, tortoiseshell earrings and a gray, cloud-image fashion top!
6. Makeover haircut to short blonde hairstyle with long bangs
Have you thought about switching from a center-part to a full fringe? It can be a great way to look a little younger and project a contemporary fashion image! This model has moved away from a cute medium-short style, to something a little edgier, with great success. Gone are the pretty curls at the side, but the forward styling and uneven fringe really draw attention to her hazel-green eyes. And black roots help to define the short, sharp side-points under light, yellow-blonde color, which complements her eye-color.
7. Extreme asymmetrical short gray haircut
The talented stylist has included several new and attractive ways to create texture and interest in the short, pixie cut. For example, the short side is styled horizontally onto the face, to soften the line above a sharp, side-point. And there's a contemporary mini-fringe with texture also softening the front hairline. This switches to a long side section, divided to give it an interesting profile. And a cheeky, disconnected layer at the nape finishes off the cute, curved surface texture in a modern, gray-blonde style that's full of lively movement!
8. Black short haircut for over 40's
Of course, this haircut isn't only flattering to women over 40. But it's a short hairstyle that raises the focus up to the top of the face, where we prefer it to be when we reach a certain age! The height on top helps to make a wide or round face appear longer and slimmer. And those dainty side-points help create cheekbone definition. A piece-y fringe softens the forehead line, without being too heavy. So overall you get a fashionable look that's easy to manage and frames the eyes in a flattering way!
9. Tousled gray-blonde short bob with side fringe
The short bob is a great way to get easy to manage hair, without it being as short as a pixie-cut. And for some women, an asymmetrical long fringe helps balance out a round face, or can create a strong diagonal line that reduces the 'length' of a long face. Short bob haircuts always look contemporary and never really go out of fashion. So you can switch to this look with confidence that it always looks youthful and never 'old-fashioned'!
10. Light gold-brown asymmetrical super-short hairstyle with unique nape
This light, golden-syrup shade is gorgeous and one that we don't see enough of! It's a super way to warm up dark-blonde, hair color without going to extremes. There are two fabulous features decorating the back of the head – the unique, double points that seem to be overlapping and the balayage around the crown. The colorist has created a lovely, color graduation from light golden blonde highlights, down to a darker brown shade at the nape. So if you like an original vibe to your haircuts, this is a great new idea!