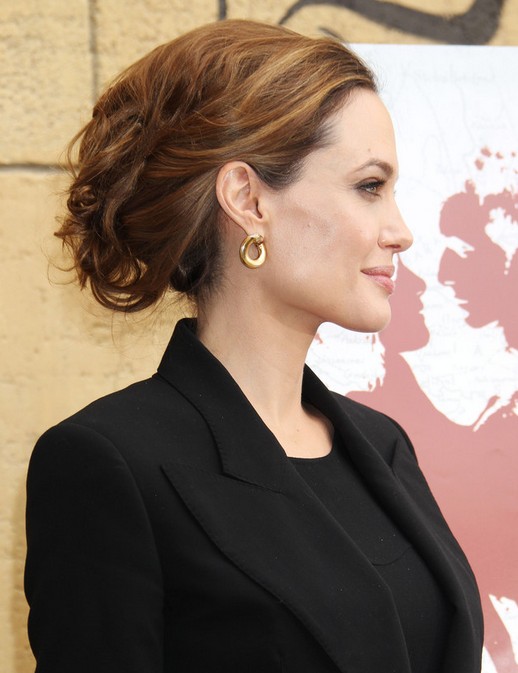 14 Angelina Jolie Hairstyles
Angelina Jolie, born on June 4, 1975, is an American gorgeous talented actress, top-class film director, popular screenwriter. Angelina Jolie is considered as one of the most beautiful and sexy women in the world. She has received Academy Award once, Screen Actors Guild Awards twice, and Golden Globe Awards three times. In addition, she promotes humanitarian causes and international charity projects, which also bring her substantial media attention.
Angelina Jolie' is a role model for many girls and chimera of a lot of men. Despite looking after six kids, Angelina Jolie still creates amazing hairstyle every time she goes out. Now, let's have a look at Angelina Jolie's hairstyles and follow her to enjoy the beauty.
Angelina Jolie Long Hairstyles: 2014 Straight Hairstyle for Holidays
Angelina Jolie fixes her upper part long locks naturally and perfectly. Her flowing tresses down the back create the perfect apparel and expose her charming face to all people. A bit of shine spray can offer added luster.
Angelina Jolie Hair Styles: 2014 Long Brown Polished Curly Hair
Angelina Jolie goes for long brown polished curly hair to complement her understated smoky eye and glossy red lips. Her locks are full of soft movement and a hint of lift at the roots. You can also create the bouncy curls on your long hair with the help of large roller. A bit of hairspray can help make the curls hold.
Angelina Jolie Hairstyles: Brown Hairstyle for Long Straight Hair
Angelina Jolie's long brown hair matches her black strapless dress perfectly. This casual straight hairstyle is great for people with long flowing hair looking for a simple yet stunning hairstyle. You can dab some styling cream on your fingertips and run them through the long hair to create soft definition and texture.
 Angelina Jolie Hairstyles: Voluminous Long Hairstyle
Lifted layers at the crown and sexy mysterious waves create Angelina Jolie's long hairstyle a soft, voluminous and sultry look. The long curs sit on her shoulders bring much movement and bounce. The crown is teased slightly, and large loose curls are created with a large. Besides, her red lips enhance her black strapless outfit.
 Angelina Jolie Haircuts: Easy Loose Ponytail Hairstyle
Angelina Jolie wears her long hair into a gorgeous loose ponytail casually with face-framing bangs up front. This smooth ponytail is simple to create yet it looks cool and fabulous.
Angelina Jolie Hairstyles: Long Hairstyle with Short Bangs
Angelina Jolie creates her long hair causally down and textured. The long layers are cut around the edges which lighten the lengthy hair and create much volume and movement. The blunt neat bangs pair the sexy and stunning hairstyle greatly.
Angelina Jolie Hairstyles: Chic Updos for Nights Out
Angelina Jolie piles her long locks on top of her head for a retro-chic glamorous updo. To create the modern hairstyle, you can use your fingers to sweep your hair back high on top of your head and twist until all the hair buckles upon itself. Some pins and hold spray can help lock the hairstyle.
Angelina Jolie Hair Styles: Long Wavy Hairstyle
This is one of Angelina Jolie's signature long wavy hairstyle. The highlighted long flowing hair is dressed softly on the shoulders with bouncy and sexy waves.
Angelina Jolie Long Hairstyles: Wavy Hairstyle with Light Brown Hair
Angelina Jolie refreshes her hue by choosing some shades lighter. Her long hair color is featured by a perfectly blended mix of highlights and lowlights in the light brown and golden hair. The flowing innocent curls look lovely and romantic.
Angelina Jolie Long Hairstyles: Half Up Half Down Hairstyle for Curls
Angelina shows off her sexy shoulder with her long hair pulled back and the upper part fixed gorgeously. The teased top and natural-looking way shining locks add sexier factor to the charming lady. Some light hairspray can maintain it in great hairstyle all day long.
 Angelina Jolie Long Hairstyles: Tight Bun Updos
Angelina Jolie's loose curls are pinned up into a sleek tight bun which shows off her gorgeous cheekbones. The splendid bun plus her sexy eyes and white dress make her more charming and graceful.
Angelina Jolie Long Hair Styles: Retro Inspired Updo
Angelina Jolie's stylish pulled-back swooping and retro-inspired hairstyle has tons of teased volume and soft curly texture that beautifully show off her earrings. The messy hairstyle plus a shining hair pin looks luscious and exposes her wonderful tattoos at the back.
 Angelina Jolie Hairstyles: Half Up Half Down Hairstyle for Long Hair
With her signature brown lengthy tresses flowing down her back, Angelina Jolie looks stunning and gorgeous. Her lush loose shoulder-grazing waves create tons of volume and movement. The long wavy bouncy hair enhances her charm.
Angelina Jolie Hairstyles: 2014 Hairstyle for Medium Length Hair
This photo shows us one of Angelina Jolie's mid-length hairstyle with incredibly stylish pink tone. The super textures hairstyle makes Angie look mysterious and charming as ever.