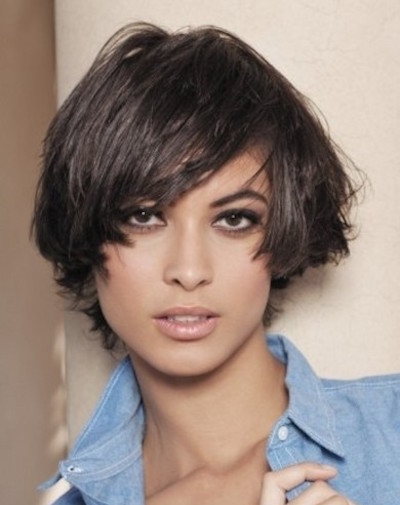 20 Amazing Short and Shaggy Hairstyles
We're all about the messy looks these days. Forget being elegant and sleek, today we want to look wild and free! Don't get me wrong, short shags are undeniably chic. The combination of the length and fringe is generally a great look for just about anyone. Long hair, short hair, thick hair, thin hair, you name it and a variation of the shag will work on you. So, what are you waiting for?
1. Messy Pixie
This cute pixie is a perfect representation of the modern day shag, on a shorter scale.
2. The Meg Ryan Shag
This rom-com starlet of the 80s and 90s made this look famous. It's no wonder why!
3. Short Twist
This twisted look is unique and appealing.
4. Deliberate Waves
With choppy ends and sweeping bangs, this look defines the modern day shaggy bob.
5. Layered Pixie
This layered look displays amazing texture and colour.
6. Cute Shag
Because, what else can you call a shag like this? The cute centre part is what sells it!
7. Ruffled Pixie
When it comes to shaggy looks you can't be afraid to get messy!
8. Flipped Bob
Stunning and flipped, this look is sure to get you some well deserved attention.
9. Short and Shaggy
Queen of this look since the 90s, Sharon Stone displays a chic shaggy pixie.
10. Dark Shag
This stunning look is just the right amount of messy and clean.
11. Curly Shag
Definitely messy and definitely chic, you'd be a fool not to try this look!
12. Simple Shag
Or, you can keep it on the simple side with a shag like this.
13. Shaggy Bob
This modern take is a stunning version of the shag.
14. Curly Bob
Bring on the curls and let them sing! This look is both edgy and playful.
15. Wild Fringe
This wild child look will look great on anyone who is ready for an adventure.
16. Simple Bob
But, shags don't have to ass by messy and wild. This simple cut proves that they come in the simple and clean variety as well.
17. Feathered Pixie
Daring and on edgy, this choppy pixie shows real style.
18. Smooth Shag
Undeniably gorgeous, this shag is all you need.
19. Flipped Shag
This simple and edgy do might just be the best look for you!
20. Sexy Shag
Or, you can give a sexy look like this a try. You won't be disappointed.