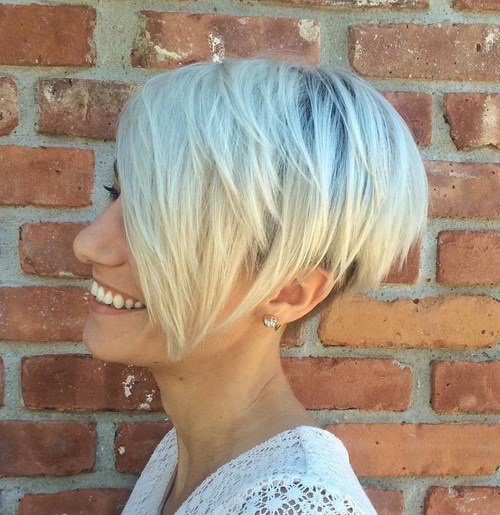 22 Pretty Short Hairstyles for Women: Easy Everyday Haircuts
Short hair is really in right now, especially with the heat of summer coming out in full power! Chop off those locks and indulge in one of these pretty short haircuts for women.
Platinum Undercut: Platinum Pixie Haircut with Straight Hair
Platinum is a standout shade that's sure to get you noticed, but what really makes this hairstyle stand out is the edgy undercut that's softened by some lengthier pieces up top. She adds a hint of layering to her mane, tossing them over to one side for a coy finish.
Lengthy Light Auburn Pixie
Layers add a significant amount of bulk and trend to any style, but it's extra fabulous when placed on a pixie. The layers add to the overall chic appeal of this short haircut, while a light auburn hue creates a warm finish that's both striking yet sensual.
Buzz-Sided Pixie with Lengthy Top
This look is really lovely for the ladies out there who want to keep a little bit of length while still sporting some short tresses. She sides and back of her mane are buzzed extra-short, making the lengthier locks on top the focal point. Styling them with some subtle wave and volumizing a tinge creates a feminine appearance that softens the face.
Mahogany Razored Pixie
Want to add some edgy attitude to your pixie? It's as easy as razoring the ends to perfection. With a deep mahogany hue intertwined through her black roots, it's a sensuous blend that truly showcases the unique, sharp cut fabulously.
Red Violet Faux Hawk
Faux hawks don't have to be all crazy and wild; in fact, they can be dainty and glamorous like you see here. Her faux hawk is a stunner- with tons of choppy layers throughout to create instant volume, as well as loads of hairspray at the crown to ensure that upright stance. A red violet hue is great for fall or winter!
Silver Platinum Lengthy Pixie
The aforementioned pixie may be a hit for warmer seasons, but this is the 'IT' look for summer! That awesome silver platinum shade is as bright as can be, sure to dazzle against the summer sun. But what really makes this pixie stand out is the cool and edgy layers that add some unique dimension, especially around the face. A great choice for rounder faces that need to take the attention off the roundness.
Unique Layered White Pixie
There's a lot of layers going on in this 'do, from short to long and everything in between. It's a unique collection of layers that add some fullness to this hair, which makes it a great choice for ladies with locks on the thin side. Douse your tresses in a white hot hue to have all eyes on you!
Two-Tone Pixie
A pixie haircut that's layered to perfection needs a little 'oomph' to make those pieces standout; and what better way to do it than by adding some fabulous two-tone coloring? Her platinum-on-dark gray mane is a standout feature that's trendy, edgy, and overall glamorous.
Choppy Ombre Pixie
Older women who sport a choppy pixie like this may feel they can't dive into the ombre world, but that couldn't be any further than the truth. This choppy pixie not only adds a youthful fullness to her look, but the subtle, natural-looking ombre from ashy blondes to a dark brown below adds dimension that's downright flawless.
Side Swept Ombre Pixie
There's a certain feminine edge about this pixie hairstyle that we simply can't ignore. From the lovely shades of light brown and blondes intermingling together to the flirty side swept style with plenty of charming wave, it's a killer look for the gal with an outgoing personality.
Tousled Rose Gold Pixie
The epitome of daintiness, this rose gold pixie is as luscious as ever with a gorgeous hue that resembles the softest roses of spring. Her layered pixie is tousled ever-so-slightly for that unkempt, casual feel that still takes your breath away.
Textured Platinum Blonde Pixie
Cut it short, color it platinum, and seriously texture it up. The end result? An edgy style that's loaded with some punk rock attitude. Great choice for the girls in school!
Cherry Accented Tousled Piecey Layered Pixie
This particular style is great for ladies with round or heart shaped faces, as the lovely amount of layers creates dimension to take away from the roundness. Piecey chocolate brown layers are enhanced with subtle cherry accents near the face, creating a sultry contrast that's colorful yet sexy. Tousle up your mane for flirty dimension!
Blonde Layered Undercut Pixie
Light blonde is always a rockstar choice for summer, especially when left one-toned for a clean finish. But what's really rockin' about this 'do is the lengthy, piecey layers up top, enhanced with an undercut which really makes those layers stand proud.
Two-Toned Undercut with Lengthy Side Bangs
Platinum too much for you? Want to tone it down just a tad? Then throw a dark shade underneath to create some fun contrast. As far as your lengthy pixie goes, make it wild with an undercut and let those lengthy pieces up top be the star of the show. Side swept bangs are flirty and charming, especially when swept over one eye.
Choppy Boy Cut
If you're simply looking for a hairstyle you'll never have to deal with, then this is the perfect choice. Her boy cut is super-short with lots of choppy layers that are youthful and fun. Put the hair products away- simply shower and head out the door!
Shaved Undercut
Thin hair can be a pain to style, so why not just chop them off? Buzzing the back is not only super edgy and loaded with girly attitude, but it also means less worries about styling day in and day out. Her lengthy pieces are messed up for an unkempt, casual feel that can be worn anywhere.
Silver-Purple Short Pixie
Her hair is downright fabulous, with a striking silver-purple combo that's sure to turn heads. Her haircut is framed around her face beautifully, which enhances her cheek bones and lets her eyes shine bright.
Gray-Blonde Long Pixie
Leaving all of your length towards the front of your face and top of your crown displays some lovely fullness that frames the face. This gray-blonde hue is an excellent, super-stylish choice, especially in the spring and summer seasons.
Messy Undercut with Piecey Bangs
Dealing with thin hair? Don't be scared to chop off your locks and create subtle fullness with a look like this one. Her bangs are asymmetrical and piecey to create trendy depth, while the back is buzzed short to enhance the length of the pieces up top. Some serious tousling makes a sexy bedhead style that's both full and funky.
Highlighted Dirty Blonde Long Pixie
Pixie may have a certain edgy appeal about them, but you can still maintain a stunning natural beauty with dirty blonde hues subtly highlighted with lighter blondes for a youthful glow.
Edgy Layered Blue-Gray Pixie
Starting off with a collection of edgy layers, this look gets a pump-up of quirky and trendy styling with a blue-purple tint with silvery gray ends. Such a fascinating style that really creates a sense of fierceness, especially when amplified with striking white-pink lips.