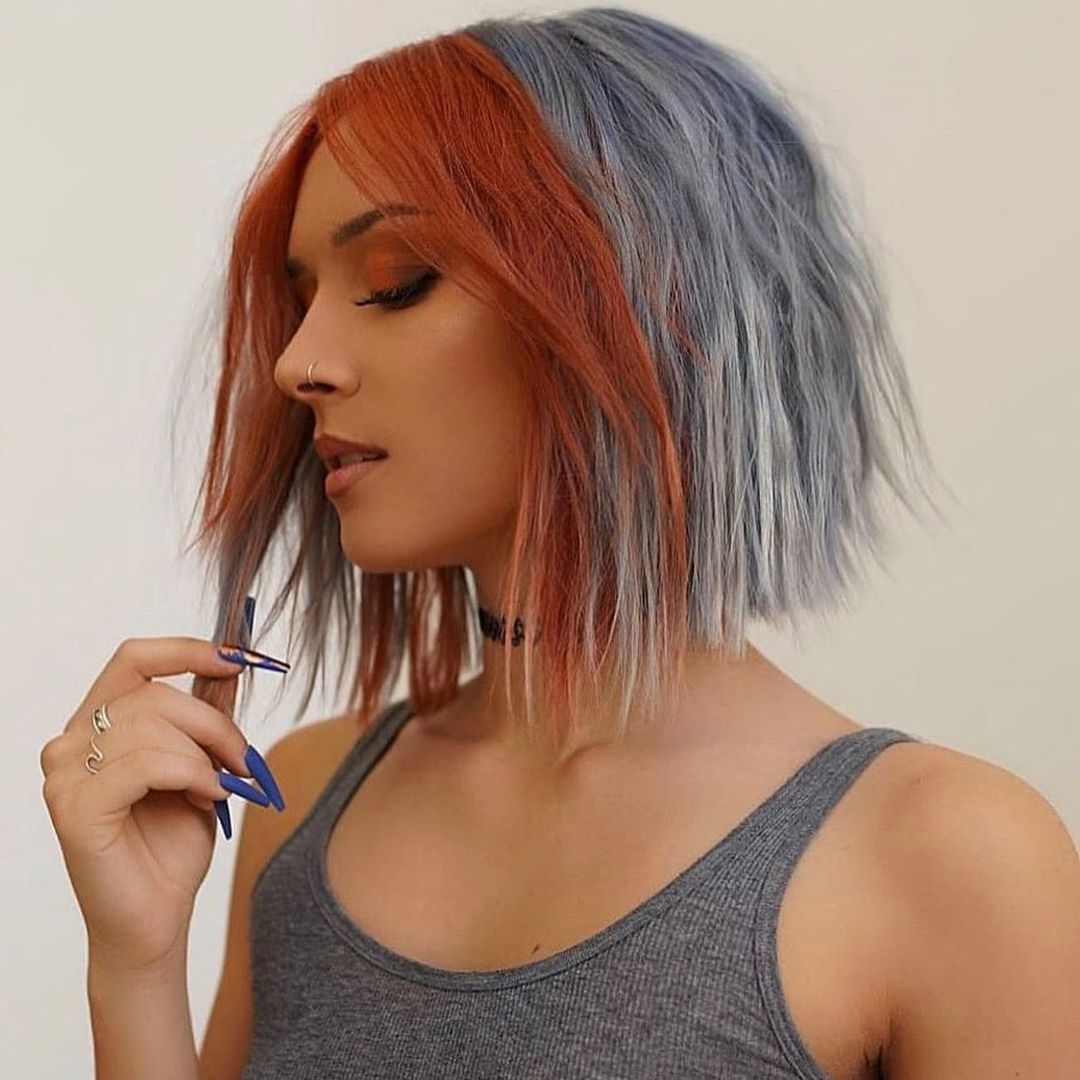 10 Ombre Balayage Long Bob Hairstyles from Elegant to Stunning 'Scene' Looks!
Looking forward to your next Big Night Out, but need a fabulous new look? It's time to get into the latest fashion vibe and catch up with fresh trends. And you can do that with a great, new makeover chosen from this gallery of updated classics and quirky, new border balayage highlights! So if you're ready to knock everyone's socks off with your daring new look, or just want to be totally elegant and fantastic read on!
1. Elegant long to short makeover – ombré balayage long bob hairstyles
I never understand why women let their hair cover their body-shape, like this long hair style. If you're short, this long style will make you look shorter and cover up your chest. And although the style suits the model's face, it makes her look a lot broader around the chin. If you compare with the 'after' picture, you'll see how shorter, curved lengths styled off the face, and asymmetry, make her face-shape look much slimmer! Plus, mid-blonde, face-framing highlights link the hair color to the model's skin tone and soften the line.
2. Cute beige-blonde waves – ombré balayage long bob hairstyles
Here's a great way to update your hair with a choppy, bendy wave and heavily textured tips. I love how the stylist has softened angular waves and a trendy, slanted cut with gorgeous beige-blonde colors. And that is the essence of current high-fashion hair trends – clever contrasts that create a flattering, modern look. The subtle darker roots are lightened in stages. So the waves and gorgeous, light-blonde balayage on the top layers creates fabulous, 3-D density and attractive volume!
3. Racy blue-gray with neon yellow stripey highlights – ombré balayage long bob hairstyles
Another interesting new trend is having a special hair color design that complements the colors of your body art tattoos. And this stunning, hair color makeover will give a new dimension to any classic, straight bob. The stylist has matched the blue of the roots perfectly to the beautiful blues used in the body art. And the hair gradually changes to a light, neutral gray. Next, the stylist has brightened the gray with shocking slices of fluorescent Canary yellow for a trendy and eye-catching vibe. This is a fabulous, 'Alternative Scene' look to try!
4. Natural brunette asymmetric bob – ombré balayage long bob hairstyles
It's not a nice feeling to see your lovely hair color diluted by unwanted gray, is it? So if you just want to look elegant and well-groomed again, this is a great choice. It's a classic A-line bob, with no extreme features, just a face-flattering, chin-length cut that suits nearly all face shapes and age groups. And if you look closely on the side section, you'll notice subtle, mid-blonde highlights. These vertical balayage highlights add attractive texture and density, and magically blend in any gray hairs!
5. Edgy graphite-gray roots on slanted platinum bob
Platinum-blonde hair color designs are never out of fashion! The exact shade of the blonde can be slightly shifted to have a gray tone, like this one to suit cool/neutral skin tones. Or if you have warm or neutral skin undertones, you can ask the stylist to add some warm beige-blonde to get the correct shade. You do need fairly light-colored, natural hair to achieve this look. Dark hair would need too many bleaching session to avoid damaging the cuticles. So the colorist has to tint your roots dark gray to get this trendy, edgy look!
6. Trendy asymmetric bob with blonde face-framing highlights
Adding gold eye-shadow highlights to the inner eye, and in a line down the nose, really brings highlights and those lovely blue eyes into focus! And this classic, asymmetric, straight lob haircut looks very elegant and trendy with mid-blonde face-framing balayage. A cute, small quiff that adds height over a nicely-shaped forehead is always flattering, unless you have a long face. And the slightly fluffed-up finish adds volume and a casual touch to a fabulous, big night out look!
7. Quirky silver-blonde with aqua & indigo border ombré
The new 'border' highlighting trend is one of my all-time favourites! So a simple hairstyle decorated with gorgeous, vivid colors is a dream come true if you like a fashionable look that doesn't take any time to style! This lightly waved, long bob hairstyle is extremely easy-care, but totally trendy because of the unexpected dual-color balayage tips. And it's so beautifully executed by the colorist, that I'm sure it will be acceptable in workplaces, because it is very 'tasteful'!
8. Updated vintage gray flipped-up bob
An easy way to change your long bob style, is to flip the ends up! This is an update of a1960's style when the flipped-up hairdo was very popular. The original look was cute and flirty, but this trendy version has been updated to be more sophisticated. And to add lots of texture and movement, the styling is emphasized by various different tones. For example, the brown roots go lighter and have yellow tones added, before they move on to a subtle lavender tint. And the tapered tips are low-lighted with warm taupe hair color!
9. Classic straight bob with subtle beige – baby-blonde ombré
If it's summer where you live, this is the time when we all like to have lighter hair color designs. Unfortunately, not everyone has full sunshine all through their summer weather, so you can't rely on the sun to give you a beach-bleached look. This lovely slanted bob for straight fine hair needs a little extra help to give it some personality. So the model has chosen a sophisticated blonde look that relies on subtle ombré techniques to add a gorgeous, natural blonde finish.
10. Funky blue-gray choppy bob & burnt orange highlights
And whatever the season is where you are, this blue-gray and burnt orange hair color design is the perfect makeover to get you out of your fashion rut! All shades of orange, red, copper and auburn hair are incredibly fashionable right now. And women in tv adverts are now overwhelmingly red-heads, and featured on posters and pictures on the walls of stores. So this choppy, innovative, 'scene' version, matching complementary gray and orange colors is definitely 'the shape of things to come'!
So if you just want to get back to your natural, fashionable hairstyle and color with a trendy update, these are some of the best fashion choices available right now. And if you're ready to launch yourself back into a hectic social life, choose something stunning and enjoy being the centre of attention!