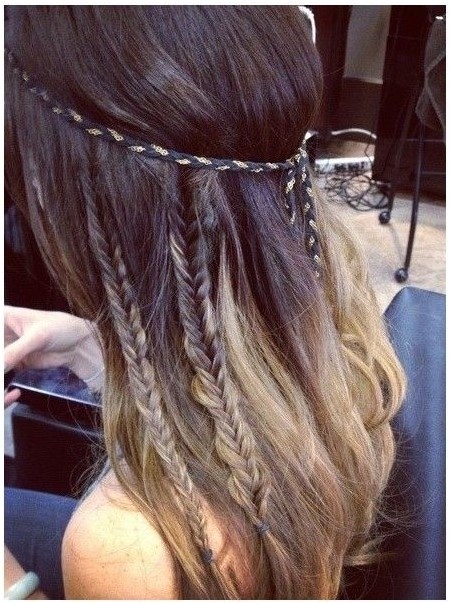 15 Cute Hairstyles with Braids
Braided hairstyles usually create people a cute and sweet look and feel. People often turn to them when they want to upgrade their usual hairstyles, since braided hairstyles are not only quite charming and fabulous but also very simple to create.
If you also want to make your hairstyle more impressive, you can try out some cool and appealing braided hairstyles. In the text, some popular and lovely braided hairstyles are recommended, and you can get some inspiration from them.
Cute Braid Hairstyle for Long Hair: Girls Hairstyles /Via
The several cute braids and the black and white band make the long hairstyle impressive and luscious. Some locks are braided tightly and left together with the other hair, with the hair ends tied with a hair band.
Cute One Side Braid Hairstyle Tutorial /Via
This is a sweet and trendy sided braided hairstyle. For better effect, it is better that there are no layers in the front side hair. You can create a side part as you like or your face shape and then braid it as tight as you like. The splendid hairstyle works greatly on straight and wavy hair.
Cute Braided Hairstyles for Everyday /Via
The hairstyle is featured by a wonderful rope braid and a causal side braid. The sweet rope braid matches the piecy bangs in a flattering way and the side braid sits on the shoulder causally.
Cute Ponytail Hairstyles with Braid /Via
This cute side braid ass much fun and coolness to the side ponytail. The side front hair is braided and tucked back and then combed together with the rest hair into s simple yet pretty ponytail.
Easy Braided Ponytail Hairstyles Tutorial /Via
This long hair is half braided, with the topper half braided and the rest created into a ponytail. It can be a cool option for summer days.
Braided Ponytail Hairstyles for Work /Via
The side braid makes the ponytail more special and it is simple to style. For more effect, some hairspray and hair accessories can help a lot.
Trendy Long Straight Hairstyles: Crown Braid /Via
This long straight hairstyle features a splendid crown braid. It can be created on medium and long hair length.
Cool Curvy French Braid with Regular Braid for Long Hair /Via
How To Do Side Braided Hairstyles: Step By Step For Long Hair /Via
Cute Half Up Half Down Hairstyles: French Fishtail Braid /Via
Long Hairstyles Ideas for Girls: Feminine French Braid /Via
Messy Braided Hairstyles Tutorials /Via
Cute Side Braid hairstyles for Women and Girls /Via
Loose Braided Hairstyles for Long Hair /Via
Cute Braided Hairstyles for Summer /Via