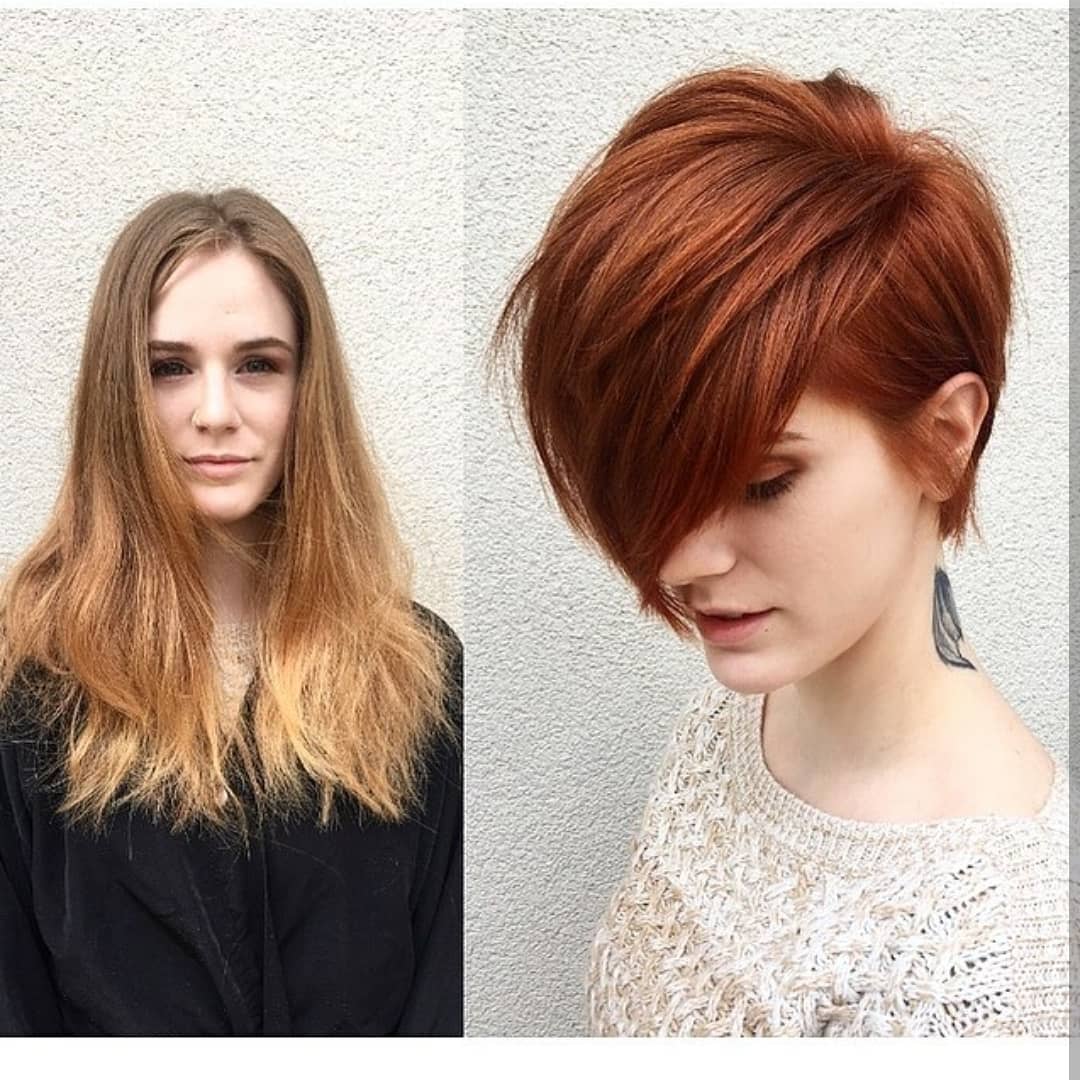 Make-overs: Long Hair to Short Hair Before & After
Women's long to short hair, 'before' and ' after' galleries are the most looked at hair ideas on the 'net! 'Cos whatever hairstyle we have, we're always wondering if we'd look better with a different cut or color! But many of us get stuck in the same 'look' for years, long after it has gone out of fashion. So why not copy these bright gals and get a haircut makeover that really brings out your best features!
Trendy copper bob & bangs – long to short hair before and after makeovers
This model's long hair was drawing attention away from her face and not projecting any 'personality'. But the 'after' picture projects a trendy image and a lively personality. Adding definite shape and style to your hair, along with vibrant hair color, makes you stand out in a crowd to get ahead in life – and love!
Fine hair blonde pixie – long to short hair before and after makeovers
You can change your whole, boring image with a few snips and a stylish, new hair color! The 'before' pic shows long, thin and shapeless hair, so it definitely needs a shorter cut. And the neutral-blonde, pixie transforms this model with a 'hip', modern hairstyle accentuating her eyes and smile. So the 'after' shot shows she's brimming with new-found confidence!
Chin-length bob for long face – long to short hair before and after
This model has a slightly long face shape – emphasized by the long, downward lines of hair! But in the 'after' pic, the focus is on her pretty eyes and lips, not straggly tips hiding her chest. This bob finishes just above the model's chin, making her face seem shorter and better balanced! The chin-length bob is fantastic, as you can adjust to flatter any face shape!
Copper to silver-blonde – long to short before & after hair color makeovers
Here's how to minimize a broad face and move attention away from a narrow chin. Long, side-volume at the widest point of the face just adds more unflattering width! The shorter style tapers in to end above the wide jawline, making a broad face appear narrower. And asymmetric, silver-blonde volume higher up focuses attention on blue eyes – not the chin.
Makeover from shoulder-length to pretty pixie for a wide forehead
Want to hide a broad forehead and soften your whole look? This pixie's side parting with a soft, feathered fringe covers more of the wide forehead, without looking 'heavy'. Look how the model's eyes and cheekbones show up framed by short sides. And pinky-copper base, gains extra style from gorgeous gold balayage on the tousled, rounded top!
Straight thick hair makeover to trendy asymmetrical bob
Thick straight black hair can look ordinary when left in a long style. But when it's been cut and styled in a short, inverted bob, it projects a fabulous, trendy image! The deep side-parting accentuates the chic asymmetry of this easy-care, but highly stylish look. And stacked-cut, back layers create a lovely curved volume beneath longer layers tapered into the nape.
Long to short hair makeover – for a younger image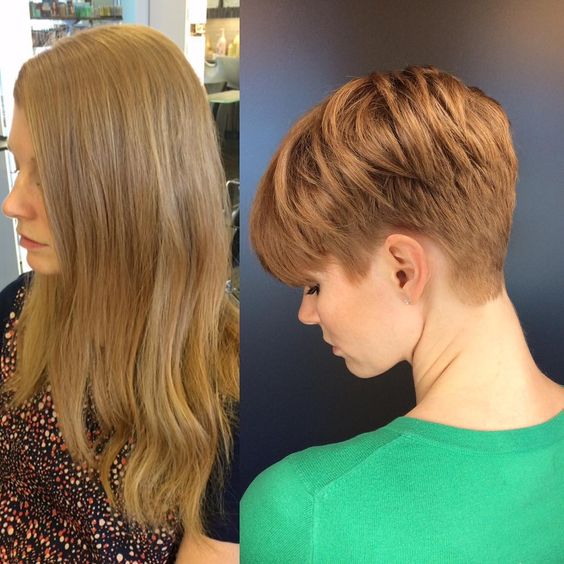 If you saw these young women, which one would you guess to be the youngest? And which one would you guess is more confident and fun to be with? Well, I think it's obvious the short, red-head haircut has changed the model's image from blah! to yeah! This appealing, ginger pixie-cut has long layers on top, with close-cropped layers tapered into a neat nape.
Pep-up your makeover haircut with long bangs
Long hair takes commitment to keep it looking healthy. And today's women have plenty of life to live, besides giving long locks the traditional 100 brush strokes before bed! Liberate yourself with a trendy, youthful, haircut that virtually styles itself! This model's shiny, fine hair is perfect for long layers swept-forwards into a cute long bangs!
Casual short blonde makeover haircut
Busy women with thick hair often switch to a look that's short, chic and easy-care. So here's a makeover hairstyle with clean lines and gentle curves. The hair is graduated for lovely curvy volume at the back.  And blonde balayage adds fashionable style to the light-brown base. Casually swept back sides have long, textured sides softening the profile.
Long brown to short blonde pixie style makeover
As you can see, this model wanted a complete style makeover! The long brown hair and fringe look just wasn't cutting it, so she opted for an attention-grabbing, beige-blonde pixie.  The result is an easy-care, graduated pixie that's packed with high-fashion style. This is a great short hairstyle for fine to medium hair, giving your whole look a younger, livelier vibe.
How many women do you see with long hair that's nice, but not very interesting? If you haven't spruced up your image for more than a year – it's time you rang your stylist – today!