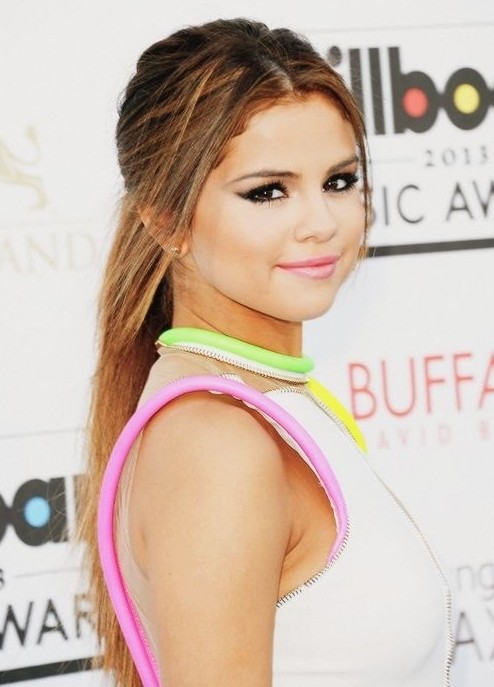 20 Selena Gomez Hairstyles
Selena Marie Gomez is a popular American actress, talented voice artist, famous singer, dancer and musician.
She has appeared in many interesting films and has fans all over the world. Except the much work in the entertainment fields, she also gets involved in a lot of philanthropic activities.
She has the dare to try out various kinds of hairstyles, and she creates them fabulously. Here we will introduce some of her super stunning hairstyles, from which you can pick out the suitable for yourselves.
Selena Gomez Hairstyles 2014: Braided Long Hair
Selena Gomez styles her long lustrous hair into a causal messy braid. Her dark wine lipstick matches her complexion greatly. Her long neat side-swept bangs frame her face charmingly and create her a Grecian flare.

Selena Gomez Hair Styles 2014: Ponytail Hairstyle for Long Straight Hair
Selena Gomez combs her long straight golden blonde hair into a splendid ponytail, which is full of fun and smoothness. The fabulous and natural smoky cat eyes add a sexy touch to her bright and charming face. Besides, the sweet cotton candy pink lipstick also matches her make-up greatly.

Selena Gomez Haircuts: Side Braided Hairstyle for Long Hair
Selena Gomez shows off her simple long side braid for the romantic outgoing. The topper section is left loose and the braiding begins with the shoulder level. The cute messy braid is dressed softly on the front.

Selena Gomez Haircut: Sleek Long Hair
Selena Gomez tames her natural texture into a straight sexy hairstyle. The admiring look is sleek and lustrous from head to toe. The various face-contouring layers reduce the weight of the long hair.

 Selena Gomez Hairstyles: Braided Pompadour
Selena Gomez's bold edgy pompadour braided hairstyle looks special and stunning. If you also try out the fun hairstyle, just do as follows. Section off your hair from the front of hairline and tease it back, with a comb. Then, fix the section with an invisible bobby pin to maintain it in place. Take the remaining hair and create five small ponytails down the middle of your head. Style a French braid with all of 5 ponytails. Finish it with the some hairspray.

Selena Gomez Hairstyles: Red Long Curly Hairstyle
Selena's cascading coppery red waves create her a voluminous and stunning look. The luscious and bouncy waves give the whole hairstyle a glamorous and fashionable look and feel. The sexy formal hairstyle with a side part is perfect to contour her face shape.

 Selena Gomez Hairstyles: Brown Hair and Loose Curls
Selena Gomez adds some length to her locks with long loose brunette curls. The long layers are cut around the sides to lighten the length encouraging the movement of the natural curls. This sexy smoky cat eyes and the luscious red lipstick match the low-fuss hairstyle wonderfully.

Selena Gomez Hairstyles: Easy Bun Updos
Selena Gomez appears quite charming and elegant with the romantically messy low up-style. Most of her hair is gathered to back, and rolled from the hair ends up horizontally and fix into place at the back of her head. Some soft loose locks are left to soften her face. A bit of hairspray help secure it in place better.

Selena Gomez Hairstyles: Low Ponytail with Side Part
Selena Gomez looks sexy and fashionable with the voluminous and stunning side low ponytail. Her long lustrous hair is created into a ponytail over her left ear, with a long one-inch hair left out. One-inch strand is wrapped around the elastic. Delicately dangling shorter curls around the right side of her face and tousled texture add some softness and fun to the gorgeous and sophisticated hairstyle.

Selena Gomez Hairstyles: Perfect Chic Updo for 2014 Prom
Selena Gomez wears a super delectable tightly-woven French braid which features tons of volume and splendid shape. The raven hair is twisted several times and fix into place in back with the hair ends sprigging upward and outward. A little hairspray can guarantee the perfect effect.

Selena Gomez Hairstyles: Easy Loose Braids
Selena Gomez styles her long black hair into a causal and lovely loose, fishtail braid. Some side-parted layers are left out in front and most of the hair is dragged to one side and placed and then separated into three parts to gain the loose braid.

 Selena Gomez Hairstyles: Long Straight Hair
Selena Gomez rocks her shiny straightened hair loose and it is features long layers and the elegant side part. The thinned hair ends get rid off the weight of the long hair.

Selena Gomez Hairstyles: Medium Haircut Trends
The bouncy luscious medium curls makes Selena Gomez look sexy and stunning. The charming curls add much volume and make the whole look full of life. This fascinating hairstyle is better for formal occasions.

Selena Gomez Hairstyles: Updo with Bangs
Selena Gomez matches her glamorous plunging neckline with an elegant loose updo. The soft curls at the sides highlight her shiny gloss. This luscious updo hairstyle exposes her dangly earings.

Selena Gomez Short Hairstyles: Classic Straight Bob Haircut
This adorable neat bob enhances Selena Gomez's pretty face feature. The smooth one-length bob with some golden highlight steals the show and leave people a deep impression. This silky hairstyle can match with formal dress and informal jeans.

Selena Gomez Medium-length Hairstyles: Cute Wavy Hairstyle
Selena's medium-length hairstyle is craftily-textured. The pushed-over bangs contour her flawless heart-shaped face. The neck-length hairstyle accentuates her sexy cheek.

 Selena Gomez Hairstyles: Messy Curly Hairstyle for Medium Hair
Selena Gomez's messy tight ringlets add some cute and fun factors to her lustrous black hair. The glossy medium-length hairstyle makes her look seductive and radiant. Some hair styling shining product can maintain it lustrous longer.

 Selena Gomez Hairstyles: Blond Highlights
Selena uses the blond highlights underneath her dark hair, which make her smooth hair more inscrutable and distinctive. These shoulder-grazing hairstyles with long, piece-y bangs enhance her heart-shaped face. This double-toned hairstyle works better for informal events.

Selena Gomez Hairstyles: Red Highlights
Selena Gomez adds some eye-catching vibrant red highlights to her long raven wavy hair. The bold red streaks make her long bouncy hair flaring and fascinating. If you are brave and search for ingenious factors, you can try out the inscrutable red highlights.

Selena Gomez Hairstyles: Long Hairstyle with Side-swept Bangs
The voluminous raven waves and neat side-swept bangs make Selena more glam and radiant. The hair length just matches her sexy blue plunging neckline dress. This hairstyle is of super fashion.