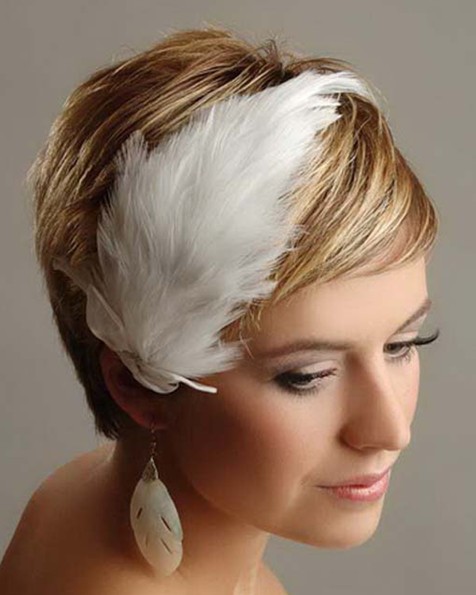 10+ Best Wedding Hairstyles for Short Hair
Usually people have a misunderstanding that women who have short hair can not have impressive hairstyle at the wedding. Trust me, even you have short hair, you can still choose the charming and stylish hairstyles for the special event. Of course, you can choose some hair accessories to get the hairstyle more charming and attractive.
Short layered hairstyles are classic short hairstyles. They can make you look younger and more stylish. For a balanced look, you can keep the sides symmetrical. For an edgy stylish look, you can keep them asymmetrical. Side bangs are ideal for the inverted bob hairstyle. However, if the sleek hairstyle is not proper for your face features, you can try the choppy hairstyle. With the help of the point cutting hair technology, the professional hairdresser can cut different hair strands with various lengths, which can create a choppy edgy look for your bob hairstyle. If such hairdo is matched with certain kind of bang, you will look more charming and graceful. In addition, you can choose a smooth blunt bob and then create Cleopatra style blunt bangs to match it. If you want, you can also opt for the side bangs.
The braids are considered quite stylish and stunning. There are a great number of braids hairstyles. All of them can get you more charming, attractive and graceful. Bun braids are ideal for people who want to create cute and lovely hairdo. In addition, the said braids are also quite stylish. The said braids can make you more graceful and attractive.
If you bear naturally wavy hair, some layered wavy hairstyles can be ideal for you. If you bear a bob style, you can get a charming and attractive wavy hairstyle by adding rollers to create tender and sexy waves. This can also give more volumes to your hair. Curly hair is always quite splendid and fabulous for formal dress and situations. If you desire a totally curly hairstyle, you can choose thin rollers to make some ringlets. You can also turn to a flat iron to get the style. Short curly styles, when they are sported excellently, will make you look more graceful and sophisticated.
If you desire to create a graceful looking wedding hairstyle, the elegant updo can be your ideal option. The updo looks excellent and perfect on women with medium length hair.