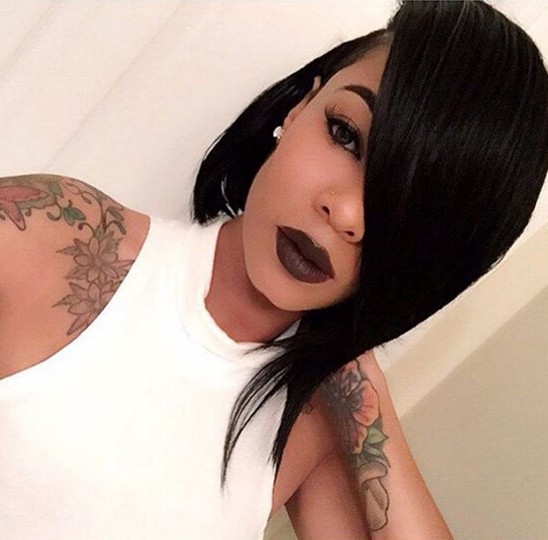 15 Edgy New Hairstyles for Medium Hair
Hairstyles for medium hair are enjoying a rise in popularity this year, as we take out the hair extensions and switch to the hottest new looks.
Medium hair length can be anything from just past the jaw, to a style that just brushes your shoulders and this gives you plenty of scope for finding the perfect style for your face and body shape!
Trends in hairstyles for medium hair
The current trend is for waves and this is an easy style to achieve on medium length hair. You can use a heated styling tool, if your hair is naturally straight. Or if you want to protect the precious good condition of your hair, wrap sections around soft, sponge rollers give it all a good spritz with hair spray and leave it for an hour to set.
The key look is to get random waves for an asymmetric hairstyle that isn't 'messy', but has an unconventional and casual finish.
Half-up half-down styles
Half-up half-down styles are a very contemporary choice. These attractive hairstyles look great on medium hair, because you get a well-proportioned balance between the up and down sections.
Edgy looks
The edgiest trend is for choppy layers that follow the fashion for an unconventional futuristic style. Choppy layers are a good way to get added volume into fine or medium textured hair and they look fabulous with uneven layers and red-hot 'ragged' texture in the tips.
The choppy layered style is already a big favourite amongst the young and trend-conscious women who like urban chic. And for extra edge add some balayage highlights in copper, caramel, honey or gold.
Shag cuts
Another edgy look that's high-fashion at the moment is the shag cut. It's a great cut for anyone with thick or coarse hair and produces a flattering volume around the head, without curls.
So if you have curly hair, that you wish was straight, try a shaggy hairstyle for medium hair that you'll find quite easy to straighten. Thick and difficult to control hair is perfect for a shaggy hairstyle as the stylist can make the most of your hair's texture, by thinning out the ends and leaving you with a strong shape.
Asymmetrical bobs
Asymmetrical bobs are also a popular choice in smart-looking hairstyles for medium hair. A-line, stacked and reverse bobs always look ultra-modern and as the cut creates a very strongly defined shape, they are also easy to style!
So if you're ready to choose a fabulous new look, browse through our exciting gallery of edgy hairstyles for medium hair now and bring yourself right up-to-date today!