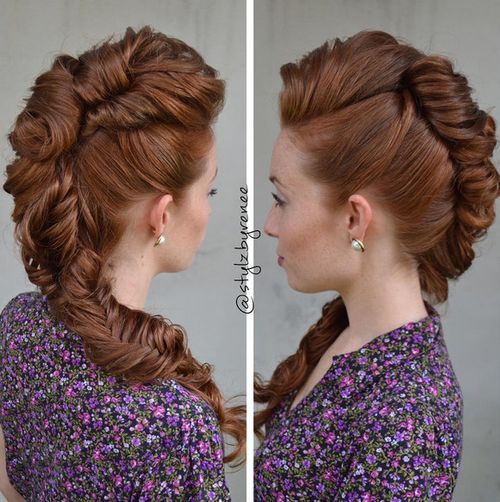 20 Faux Hawk Inspired Hairstyles
Faux hawks are undeniably one of the edgiest styles out there! But did you know that you can also turn your lengthy locks into a glamorous 'do featuring a faux hawk? Find out this hairstyle and so many other awesome styles with these faux hawk inspired 'dos.
Lengthy Color Melt with Side Cut
This color melt- the dark chocolate brown with hints of lavender- is simply stunning, and it looks even better on these silky long layers. Toss your lengthy pieces back, but leave them straight so they stick up in a graceful manner. Don't forget a trendy side cut!
Rose Buzz Cut with Spikes: Very Short Haircut
Buzz cuts are super cool and totally trending right now, but that doesn't mean you can't stick out in a sea of shaved sides. Indulge in this lovely, fascinating rose buzz. It's sultry and feminine, but given a rockstar makeover with a quirky spiked faux hawk.
Polished Side Swept Faux Hawk with Braid
Elegance is key here, with a polished front that's sleek and straight, tossed to the side; but to add an extra dose of glamour to your locks, intertwine a braid to follow the lead of your straight strands, tying it all together in a lovely low bun off to one side.
Ringed Ice Purple Faux Hawk
Want to turn heads? Let out that quirky personality and let it shine through your hair! These rings are oh-so-hip and fabulous, and it's enhanced with an ice purple color blend that could shock even in the night.
Elegant Braided Messy Updo
Before you head out to your next fancy event, don't step out without this luscious hairstyle! This fancy faux hawk hair is glammed up with some intriguing braids and a pulled-back style that's trendy and lovely. Tousle it up a bit to add some sexy volume.
80s Faux Hawk with Accenting French Braid
Take a style trend from the 80s and make it yours with this rockin' faux hawk. It's loaded with volume up top thanks to teasing and plenty of hairspray, and the accenting side french braid ensures your look is as striking as it can be. So edgy, save this one for those crazy nights.
Midnight Purple Braid Faux Hawk
A bit of majesty and mystery is tied up into this fascinating look, from the midnight purple shade to the highlights of lavender, the gorgeous plaits up top that are bold and fabulous. Love this fancy hairstyle!.
Kinky Curled Faux Hawk
Letting those naturally kinky curls come to life is an awesome way to add some luscious volume to your hair. Pull the sides back and let the curls sit on top to engage in that sexy faux hawk style that certainly has a natural appeal you won't find anywhere.
Loosely Braided Faux Hawk
When luxury and sass is what you're after, this braided faux hawk is the choice for you. Leave a loose, sultry braid going down the middle, but add some accenting braids on the side to really spice your style up.
Spiked Icy Lavender
When you've got a crazy collection of layers like these, your best option is to spike it up a bit for some volume; but don't stop there! An icy white hue with hints of lavender is a desirable shade that's undeniably striking!
Braided Faux Hawk with Ponytail
Your faux hawk can totally be mixed up into a stunning, bold braid, then brought down to a gorgeous low ponytail. Super funky? Absolutely. Love this look!
Voluminous Pink and Brown Faux Hawk with Accenting Braid
If mega-volume is what you're after, there's no better way to achieve it than with THIS awesome style! Her faux hawk is tousled up to the max and sprayed down with plenty of hairspray to keep the bulk, while an accenting side braid tames it with a touch of femininity. Loving the hot pink and brown color blend- so striking!
Fishtail Faux Hawk with Low Ponytail
When your short haired ponytails are weak and boring, there's only one option: shake things up a bit! This fishtail faux hawk is uber-trendy and stylish, guaranteed to make your style the talk of the town.
Faux Hawk Low Ponytail
Switch up your boring, plain ponytail routine by adding in a voluminous faux hawk! Tons of height down the middle leads down to a cute, fashionable low ponytail. The polished look can even be worn to the office!
Pink and Purple Layers and Buzz Cut
Crazy locks are always in style, aren't they? Let your inner punk rock chic shine through with this striking number! Loaded with crazy personality, there's layers of all different sizes from front to back, which are amplified with a vibrant color combo of hot pink and purple as well as a uniquely buzzed side.
Braided Long Hair Faux Hawk
This is undoubtedly one of the most unique faux hawk hairstyles that's sure to turn heads. Save this look for days where you want to shock the crowd! Long hair is quickly styled into a quirky braided faux hawk, leaving the rest of the hair down and straight for a funky finish.
Piecey Layers with Short Back and Long Bangs
There's an influx of dimensions in this 'do, from the gorgeous layers up top that are perfectly styled into a spiky number, along with lengthy side swept bangs for a bit of a feminine touch. Buzz the back to ensure those piecey layers are the main focus.
Two-Tone Fishtail Faux Hawk with Buzz Cut
Make the top of your mane the star of the show by completing buzzing off the sides and back of your crown. But to really make the top shine, add a desirable two-tone color combo like black and midnight blue, and toss it into a sexy fishtail plait to tie the look together.
Fishtail Faux Hawk Updo
Faux hawks can be styled for lengthier locks too, as clearly seen in this classy number. She tosses her long hair into a fancy fishtail faux hawk, one that is loaded with plenty of charming and elegant volume. Toss the ends over one shoulder for a sexy appeal.
Fancy Braided Faux Hawk with Accenting Head Piece
Faux hawks don't have to be reserved for concerts or crazy parties, in fact they can be worn to the fanciest occasions- even prom night or a wedding! This elegant 'do is loaded with a beautiful collection of voluminous braids from front to top, creating a dimensional style that's perfectly accented by a striking head piece.