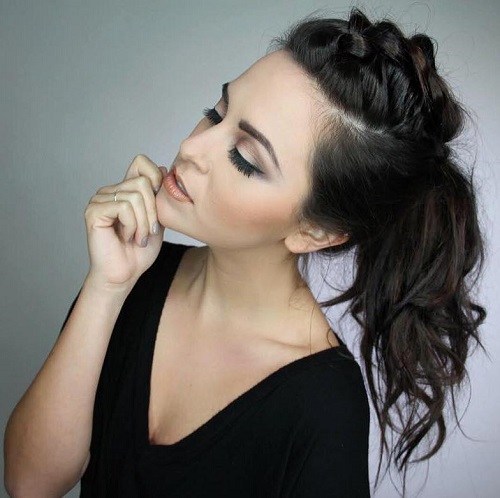 22 Pretty, Charming Ways to Style Your Ponytail Hairstyle
A ponytail may be your quick fix for days when you don't feel like styling your locks, but that doesn't mean they HAVE to be reserved for bad hair days. Glam up your pony's with one of these charming styles.
Twisted Low Ponytail Hairstyle
Boasting elegance and sophistication, this low ponytail is anything but boring. Her twisted mane wraps around in a very classy and feminine way, leading down to a low ponytail that's dazzling with loose curls. A very pristine look that should be saved for your fanciest events.
Curly Side Braid Low Side Ponytail Hair Styles
Glam up the everyday ponytail 'do by throwing in an adorable side braid complete with luscious, slightly ousted curls. It's a snazzy, classy look that's gorgeous enough for your wedding day.
Voluminous Short Mid-Height Pony
Even gals with shorter manes love to indulge in a quick and simple style, but instead of settling for a casual mid-height pony, give your look some serious sass by teasing your crown for plenty of saucy volume up top before combining your locks into an elastic band.
Voluminous Ringlet Ponytail
Don't just tease the crown for volume; let your ponytail flow like a gorgeous waterfall by throwing in some sizzling ringlets and ensuring to tease near the base to really give it some 'oomph'. This flirty, bouncing ponytail is a great choice for prom or for weddings!
Wavy High Ponytail with Loose Strands: Summer Hairstyle for Medium, Long Hair
If femininity is your goal, this is the best candidate for your hairstyle. A high ponytail is automatically loaded with plenty of sassy attitude, but to tame and soften your style, add some luscious waves to your mane and leave a few strands loose around the face to really emphasize that dainty appearance.
Wavy Fishtail Side Ponytail
Loose waves such as these display a sense of elegance and romance, a beautiful look that pairs well with the fishtail braid hiding at the nape of the neck. It's lightly curled under to create a knotted effect that really charms up this look with some renaissance flair.
Loose Low Ponytail: Casual, Easy Ponytail Hairstyle
If you've got hair that's filled with luxuriously long layers, let those layers be the star of your look. This low ponytail leaves plenty of pieces loose for an unkempt look that's both alluring and lovely.
Messy Ponytail with Subtle Volume
By simply adding a touch of volume at the crown and tousling her pony up a bit, she creates a dazzling number that can be worn to work or on a date.
Voluminous Crimped Pony
So your main goal is to add some voluptuous volume to your ponytail? This look has you covered. She adds some textured volume to her crown, which is both eye-catching and glamorous simultaneously; but she doesn't stop there. By crimping her thick mane, she gives it a boost of feminine wave that's simply stunning.
Messy Voluminous High Ponytail
High ponytails may have plenty of sass, but you can also give your sassy style some lovely elegance by throwing on some tousled curls to your strands. Don't forget to tease the crown generously for that sexy 'oomph' we all know and love.
Curly Full Ponytail
With a basic ponytail, you make lack that sophisticated fullness you desire; well, this lovely ponytail brings your dreams to life in a way that's both classy and stunning. Her curls add some bulk to her 'do, and teasing the top a bit enhances the fullness of this look. Leave a few pieces loose around the face for a feminine, soft finish.
Messy Grey High Ponytail: Pastel Hair Color Ideas
For a look that's oozing with sass and boasting with edgy attitude, than consider this awesome high ponytail. It's seriously tousled in the back for an unkempt finish that's both sexy and saucy. And that charming hue of gray? Unbelievably stylish to match her crazily trendy ponytail.
Knotted Side Ponytail with Subtle Curls
Instead of leaving your hair with just a simple elastic band, splash up your look and invigorate your style by simply tossing some strands around the elastic. It hides that 'not so pretty' band, replacing it with some of your flawlessly colored tresses. To add even more cool dimension, throw in a few subtle curls. A classic style that can be worn literally anywhere.
Accenting Braid with Voluminous Curls
Making your typical mid-height ponytail into something romantic and classy is as simple as adding an accenting braid and finishing off with your look with voluminous, luscious curls. This flawless look can easily accompany you to any fancy event with ease.
Styled Ponytail Hairstyle
A sophisticated ponytail? Why not! This inspirational and textured ponytail is as classy as it gets. The twisted style up top leads down to some beautifully curled ends, a lovely number that will go with your most dazzling jewelry pieces.
Textured Low Ponytail: Women Long Hairstyle
Low ponytails are known for their subtlety, but this look is anything but subtle. Plenty of messy curls light up this style with divine fullness that can easily go with you to your next party.
Super Messy Ponytail
Did she just get out of bed? Who cares! Her unkempt pony is cool and casual, but has that sex appeal that we all adore. Throw in some textured volume at the crown for a really standout style.
Simple Wavy Ponytail: Easy, Everyday Hairstyle Ideas
The great thing about this wavy ponytail is it can be the perfect poolside number with your bathing suit, or the ideal candidate for a fancy event. Style it up or down with ease depending on your occasion!
Double Braided Low Ponytail
Giving your low ponytail some beloved texture is a cinch! Add double dutch braids to your crown, but don't let them stop at the elastic band; keep the double braids flowing gracefully throughout your pony for a very charming appearance.
Fishtail Wrap Around Side Ponytail
With a very 'bohemian' look, this trendy ponytail is casual yet trendy at the same time. A lovely fishtail ponytail on the side leads down to a cute side ponytail, with strands wrapped around the elastic to display a very feminine touch.
Crown Braided Mid-Height Messy Ponytail
You're probably use to simply gathering your locks and pulling them back into a ponytail- plain, simple, and totally boring. Shake things up a bit and add some flirty texture to your mane by simply braiding your mane at the crown, leading back to a sexy mid-height pony that's messed up for a coy feel.
Fishtail Side Braided Low Pony with Volume
A simply magnificent style, this eye-catching 'do can easily accompany you to the fanciest parties and most elegant social events. A sexy, dimensional fishtail side braid leads back to a lengthy low ponytail. Her locks are gently tousled for a sexy appeal, while her crown is lightly teased for some enchanting volume that ties the whole look together wonderfully.