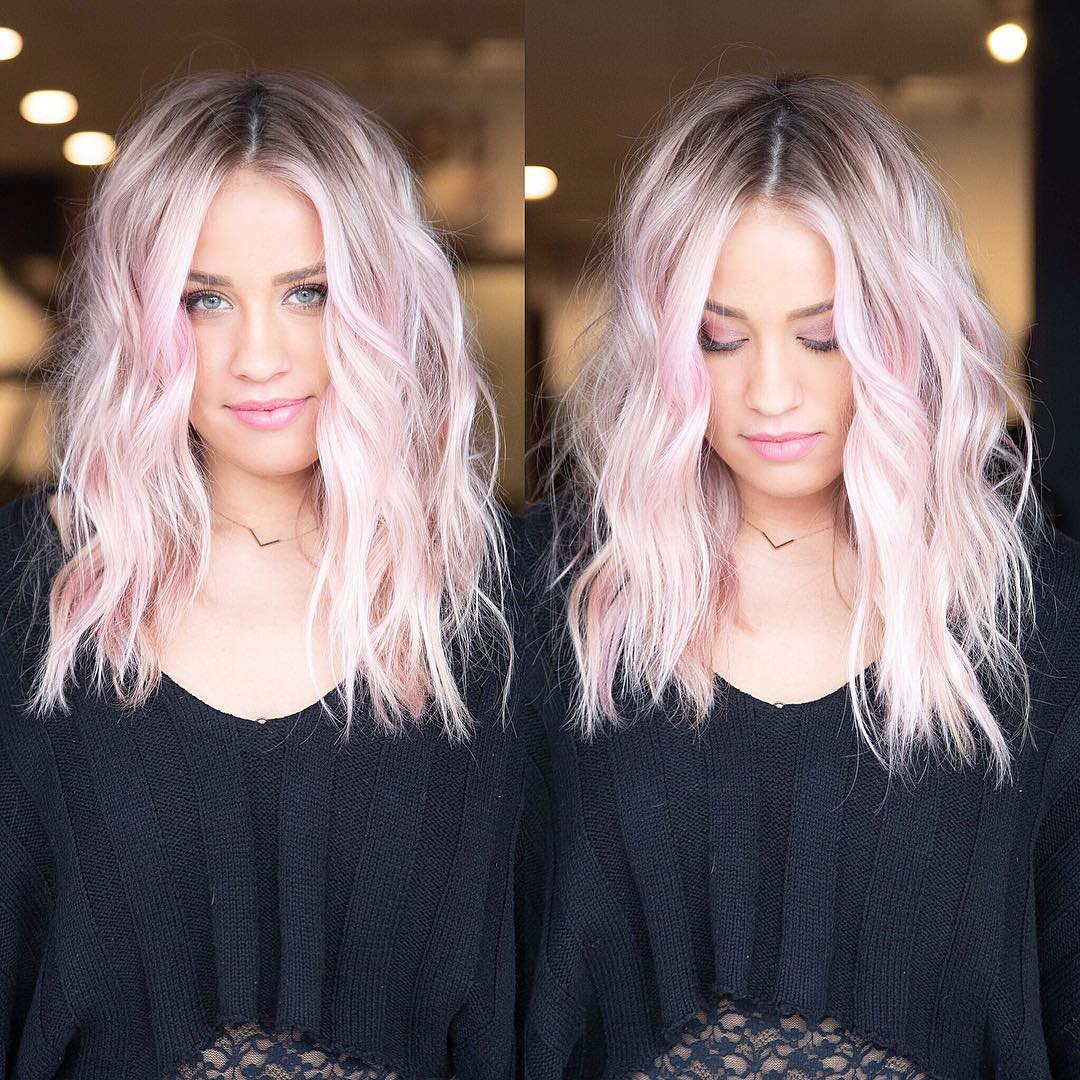 10 Shoulder Length Thick Hair & Color Creations
Shoulder-length hair is a flattering length in lots of different ways. For example, it's not so long that it hangs heavy and flat around the head, which can be a very unflattering look. In addition, it doesn't cover up your body shape to reduce your feminine charm. And it gives you a better body to hair proportion, so you never look like you're all hair and no face or body, especially if you're short, chubby or slender!
1. Subtle medium golden blonde – shoulder length thick hair & color
What I love most about this appealing cut and color is the fact that there are no dark-brown roots. From the top to nose-level the color is a warm-neutral light-brown. And it moves down seamlessly to become a lovely blend of soft light-medium golden blonde. The off-centre parting suits oval or slightly round face shapes and allows a light touch of asymmetry to finish off a beautifully balanced cut and color!
2. Baby-pink blonde – shoulder length thick hair & color
This is a romantic, but modern look that uses the strong appeal of baby-pink to create a soft and gentle vibe. You really need to have natural-blonde or fair hair to achieve the basic white blonde base. But once your hair is light enough, you can add a cute pale pink toner that's very alluring! And those trendy 'shadow' roots add the final touch of high fashion to an eye-catching, feminine look!
3. Long to medium cut & color makeover – shoulder length thick hair & color
Covering your breasts with hair is not the best way to look sexy! So although the 'before' hair is beautiful, it's not doing much for the model's overall sex-appeal. But the 'after' style leads the eye down to the decolletage, and doesn't hide the model's figure. Shorter dark roots and a side-parting add texture and personality. And loose waves give volume and trendy asymmetry. Finally, ash-blonde balayage brings the color right up to date!
4. Teen simplicity to chic makeover – shoulder length thick hair & color
These two pictures of the same model project incredibly different images. One's a cute teen and the other's a highly fashionable young woman. So if you're ready for a more mature look, maybe this is just what you need! Instead of the pretty copper ombré, the makeover look has the latest mix of blonde and beige colors in a more complex balayage pattern. And the slightly angled long bob is trendy and more figure flattering!
5. Long black straight hair makeover to collar-bone length trendy long bob
If you have an angular jaw-line you can disguise it to give yourself a more feminine face. And that's exactly what the stylist has achieved with this lovely, shoulder length hairstyle. Shorter hair with large loose waves at lip level will tend to fall forwards and cover your jawline. And the slight wave at eye-level, accentuates the model's eyes. Plus there's now a smooth body line from the collar bone curving out gradually to show the model's figure!
6. Long straight dark hair makeover to gorgeous brunette & blonde balayage lob
The model has lovely healthy long hair, but it's not very eye-catching or fashionable. And most of us like to attract a little positive attention don't we? People definitely do judge others by their level of grooming and style and looking up-to-date, with a flattering hairstyle can make a lot of difference in your life! Lighter-brown and beige-blonde balayage on defined waves projects a modern-thinking and intelligent image!
7. Warm ash-pink wavy glamor on long bob hairstyle
Technically, pink is a cool color, which suits people with cool or neutral undertones to their skin. But if you are keen on going pink, your colorist can create a special blend of cool and warm colors that will flatter your skin tone. This glamorous style has muted, dark beige roots which merge in perfectly with the soft colored balayage.
8. Pin straight light-brown ombré to wavy makeover natural blonde balayage
I was never a full-on fan of pin-straight hair with sharp, tapered tips. Because it just doesn't suit everyone's face shape, and it's too harsh for some faces. So I love the change this wavy shoulder length hair has made to the model's over all image, which is now softer and more feminine.
9. Taupe roots with lavender-pink & beige with tousled waves
Taupe – with lots of fine balayage in different shades and tones of pink- and beige-blonde – may not sound like your first choice for a color makeover. But the finished look is absolutely gorgeous! It's classy, and playful, at the same time and incredibly chic. The tips are blunt-cut, so this style would also suit fine and medium textures. But here they've been point-cut to remove a bulky look on thick hair and look trendy!
10. Inspiring makeover from frizzy disaster to divine neutral blonde
This must be one of the most satisfying makeovers I've ever seen! And full marks to the stylist who created this successful transformation. The 'before' hair had the worst hair problems to deal with; damaged over-bleached frizz, removing orange from hair and switching to a cool-blonde shade. The end result looks classy, well-conditioned and trendy, with hints of lavender and beige following the trend for mixing warm and cool tones!