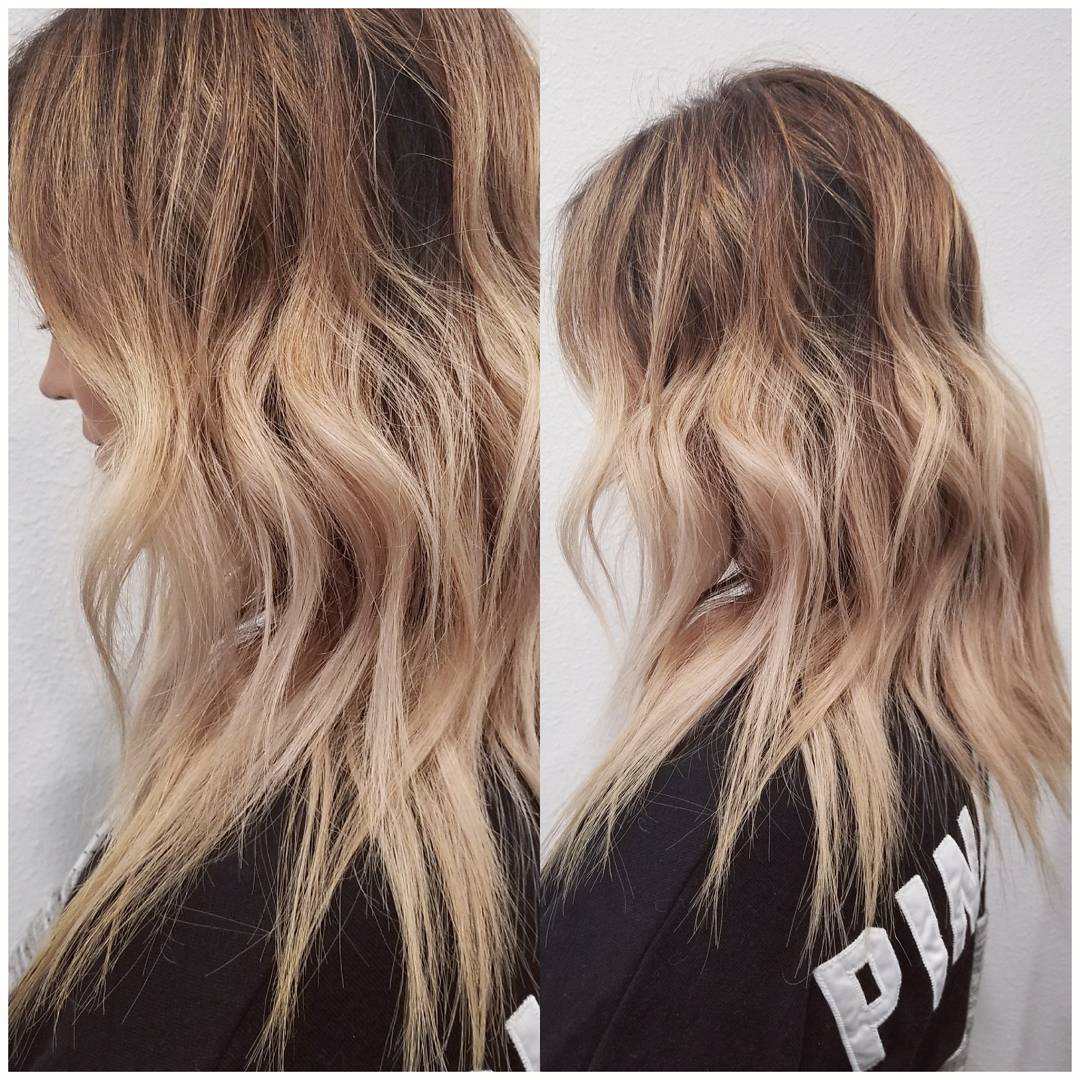 10 Wavy Shoulder Length Hairstyles with Edge
These edgy, quirky and wavy, shoulder-length hairstyles are for fashion-fans who value distinctive style!  The cuts featured in today's gallery showcase new trends in wavy long hairstyles, moving away from conventional ideas.  The colors are fresh and unusual, with some fabulous, experimental combos from talented colorists!  So if you're finding your current hairstyle boring – maybe you'll find an exciting, new idea or two here!
Shaggy wavy shoulder-length hairstyles – hazelnut roots & beige ombré
This very modern look has moved beyond the stereo-typed long, blonde and wavy hairstyle, to offer something totally fresh and original!  The light-brown roots avoid the usual dark color, so you instantly see this is a trendy new look.  And expertly blended golden-beige blonde ombré, becomes a skin-flattering creamy-beige shade, before switching back to golden beige at the tips.  The shaggy, textured tips are very edgy, but soft colors and a touch of pink on the creamy mid-section create an amazing creative contrast!
Light copper on defined twists – wavy shoulder-length hairstyles
This shoulder-length haircut is well-suited to medium and fine hair, because it adds lots of volume and color-depth to lank hair.  The shape is a long, inverted bob with a cleverly 'ragged' bottom line, created with tousled half-barrel waves and bends.  The base color is dark-brown, which is vividly brought to life with copper-blonde balayage-ombré.  There are a few ash-brown low-lights in there, too.  And the result is trendy, thicker-looking hairstyle that's easy-care and cute!
Messy 'half-done' bob with waves & spiky tips – wavy shoulder-length hairstyles
Here's a messy bob with 'shaggy' choppy finish along the bottom line, showing it's an 'alternative' fashion look.  Soft, golden head-waves at the front suggest a pretty, feminine inverted bob.  But as your gaze takes in the uneven bottom line, highly textured tips and 'dropped-out' waves – it's clearly not a soft, girly haircut!  It's another fabulous fusion idea, balancing the choppy finish of a marvellously messy look, with gorgeous shades of soft beige, gold and honey-blonde balayage!
Copper-orange & blonde balayage – wavy shoulder-length hairstyles
The recent trend for adding blonde balayage to natural copper/ginger hair is a completely new color combo that's never been used before.  And yet when you see how much added texture, movement and sheer 'lightness' blonde highlights add to this modern bob, you wonder why!  In the past, natural copper hair was thought of as a bright shade that didn't really need any extra color.  But the edgy-cut nape, chopped-off 'bends' and wavy disconnected layers of this fabulous, trend-setting bob deserve to be highlighted!
'Urban decay' red, white & blue-gray balayage – wavy shoulder-length hairstyles
There are so many special fashion-styles these days that mainstream hairstyles just can't match with them all!  Fortunately, creative hair designers can tailor the cut and color of modern hairstyles to fit-in perfectly with all fashion styles.  The 'urban decay' image created here with balayage in drab ash-blonde, faded red, gray and blue on auburn roots is a post-apocalypse look!  The colors suggest rusty girders, faded facades and burnt-out buildings in run-down urban neighbourhoods – this colorist is a real 'artist'!
Vertical blonde-pink highlights on paprika base
This subtle shade of auburn is another popular new color this season for women with warm skin undertones.  It's a great alternative to cool, ash shades and a stylish way to swap a natural shade, like mousey-brown or dark-blonde, for a very attractive new color.  Warm blonde balayage in several complementary shades creates beautiful texture and movement on a fairly straight style.  And just a touch of pink around the face and tips accentuates the soft waves and the choppy, uneven tips!
Faded neutral-blonde on dark-blonde wavy A-line bob
This hair color design started life as just a few, vertical highlights meant to look like a natural, sun-bleached effect!  So no-one would know you'd actually had a salon lightening and would think you were a totally, 'natural' blonde.  LOL!  Two decades later, it's now unfashionable to have natural hair without balayage or ombré!  So you can keep your mousey/dirty-blonde roots and show-off beige balayage and neutral-blonde ombré with pride!  This shade is a good choice if ash-blonde is too cold for your pale skin with warm tones.
Bright & lively mid-blonde inverted bob with dual ombré-balayage
Ash-blonde shades aren't always the most flattering color to choose if you are over-40.  I mean, if they were, we wouldn't spend a fortune every year covering up our graying hair, would we?  So I'm happy to see that face-flattering, mid-blonde is still a popular choice on modern, messy bob haircuts.  Don't ask for too light a shade to begin with, as blonde hair-colors often go lighter in the weeks following treatment with bleach.  And remember that medium-golden blonde has been never been out of fashion!
Show-stopping coral, copper & pink-blonde tousled long bob
Here's a funky, playful hair-color idea based on the fresh look of blended copper and pink.  What I find most appealing here is that the colorist has kept the colors soft by mixing in the season's no. 1 color, beige!  It used to be considered a boring fashion color, but has always been popular with classy women.  Anyway, instead of looking like a brash, DIY hair-color experiment, this is a classy shoulder-length hairstyle full of youthful style!
Blonde 3-D balayage on warm brunette shag-cut bob
Even though your natural hair-color may be dark-brown, you can still enjoy the fun of being blonde with this twist on the popular inverted bob!  This is a centre-parted version, which usually looks best on an oval face.  Angular waves and heavily textured tips create a casual, shaggy finish for a confident image.  The spiky texture is softened by fabulous, face-framing waves, expertly highlighted to create blonde accents at eye- and lip-level.  It's a great mix for an image that projects confidence, modernity and style!