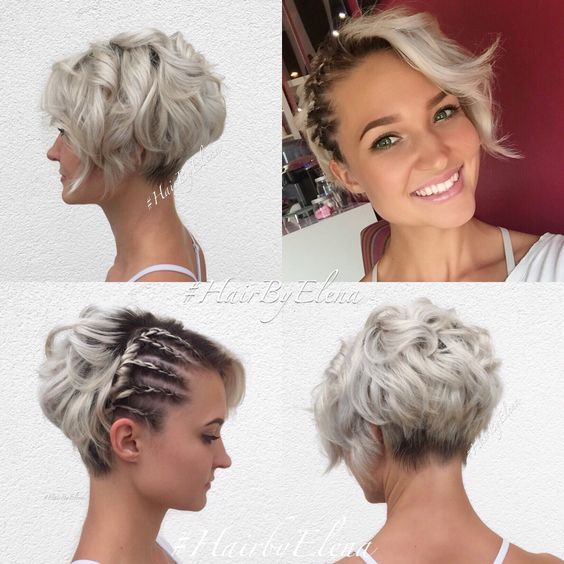 10 Messy Hairstyles for Short Hair
These gorgeous messy hairstyles for short hair combine all the essential features for my lovely, style-conscious readers!  They are easy-care, trendy hairstyles that don't need much styling or need to be checked every hour. They showcase the latest trends in messy hairstyles for short hair and flatter all face-shapes and age-groups.  And, of course, you'll see lots of new ash- and beige-blonde hair color ideas, plus pretty, and edgy, plum balayage ideas for brunettes!
Versatile ash-blonde on brunette hair – messy hairstyles for short hair
Another advantage of short hairstyles is that you can risk lightening them to a light ash-blonde shade!  Normally you wouldn't want to lighten brunette hair through as many shades as this.  But on a short hairstyle, you'll find that regular trims and deep conditioning help avoid any problems with dry hair.  And don't the side-braids look fabulous in brown with 'frosted' ash-blonde detail?
Beige & ash-blonde balayage on brunette – messy hairstyles for short hair
This unstructured inverted bob haircut is bang up-to-the-minute with a straight line at the nape and triple balayage!  Long layers make it easy to add side volume to medium and fine hair in trendy twist sections.  And triple beige and ash-blonde balayage lightens medium-brown hair beautifully in a very chic and natural color combination.  This is another great messy hairstyle designed to make medium and fine hair look tons thicker!
Gorgeous plum balayage on textured black hair – messy hairstyles for short hair
Subtle balayage in lovely plum makes this textured bob on thick, black hair into a very special look!  Adding texture to hair has more or less replaced girly curls and moved us into a whole new way of cutting and styling thick hair.  This high-fashion short haircut is packed full of lively movement and edgy style from disconnected layers with shaggy tips.  The classic inverted bob still has many new tricks to show us. And this combo of plum balayage and messy texture is a real winner!
Hint of Marilyn urban chic update – messy hairstyles for short hair
The red-carpet pose looking back over one shoulder, with blonde tresses falling casually onto the forehead is very reminiscent of global blonde icon Marilyn Monroe!  And maybe the stylist created this casual short blonde hairstyle to imagine how a modern-day MM would be wearing her hair.  The cut is treated with matte finishing product, to get the authentic dry look of street, over-bleached tresses with coffee roots.  With a messy wave draped over one eye, this is a sexy, 'come hither' look!
Fab flat waves on messy inverted bob hairstyle in neutral blonde shades
The latest messy, short hairstyles have lots of new tricks to give your favorite bob hairstyle a totally new twist!  This version can be worn with one side tucked behind the ear, for an asymmetrical look.  Or with both sides styled down to the jaw-bones, as the sides are cut to equal length.  This also means you can wear twists or braids on one side, showing off the brown and neutral-blonde colors.  And with longer layers at the back, you can add defined, flat, surface waves and get lots more tousled texture!
Party-ready beige & plum pink balayage on messy inverted bob
If you want a 'fun' look and something special for the party season, take a look at this super-cute cut and color!  The cut is an inverted bob with long layers, suitable for medium and fine hair.  The gorgeous hair color is based on ash-beige, a delicate shade of mink that's easy to get on dark-blonde or mousey hair natural color.  Paler beige balayage highlights decorate the slightly bouffant crown.  And the rest is a fabulously lively look, with defined, curvy texture in a wonderful blend of purple-pink shades!
Messy haircut color makeover – gold to cool gray & white
I'm so pleased this stylist has taken the trouble to post the before and after images for this stunning style makeover!  It gives a much better idea of how well a color change will suit different individuals.  Gold-blonde is a lovely color, but the icy, white-blonde update is a high-fashion favorite right now!  The model has pale skin with warm undertones, so full-on ash-blonde is not right for her.  However, medium-gray roots changing to neutral beige-blonde with oat-white tips gives a flattering fresh look!
Cute copper with blonde & pink balayage – latest short hairstyles
Liven up your hair with this warm, coppery short haircut!   It's a well-judged hair color design in natural-looking copper tones, with tons of texture from tousled layers.  Fine or medium hair look great in short, layered haircuts with a messy finish for added volume.  And adding fine balayage highlights in light-blonde and raspberry-pink creates a subtle, trendy finish!
9 views of versatile ash-blonde short haircuts with beige balayage
Years ago, the dreaded, 'short-back-and-sides' haircut was the forced haircut for unwilling school-boys, who wanted to look like their favorite pop-stars!  But now this versatile short haircut has been appropriated by women and transformed into a set of flattering short haircuts!  Each of the images show above showcases a different way to wear an asymmetric pixie haircut to suit any occasion.  In pale ash-blonde, with beige and silver balayage it's a great option for fine, fair hair!
Edgy & glam all-over platinum-blonde messy short bob
This fabulous, blonde bob is a super-trendy, 'no-compromise' shade of platinum all over!  But don't overlook that touch of medium-blonde at the roots.  Golden-blonde is a completely new idea for roots and very attractive.  The disconnected side-layers are longer than other styles, adding even more edgy style to this stunning blonde-bombshell short haircut!