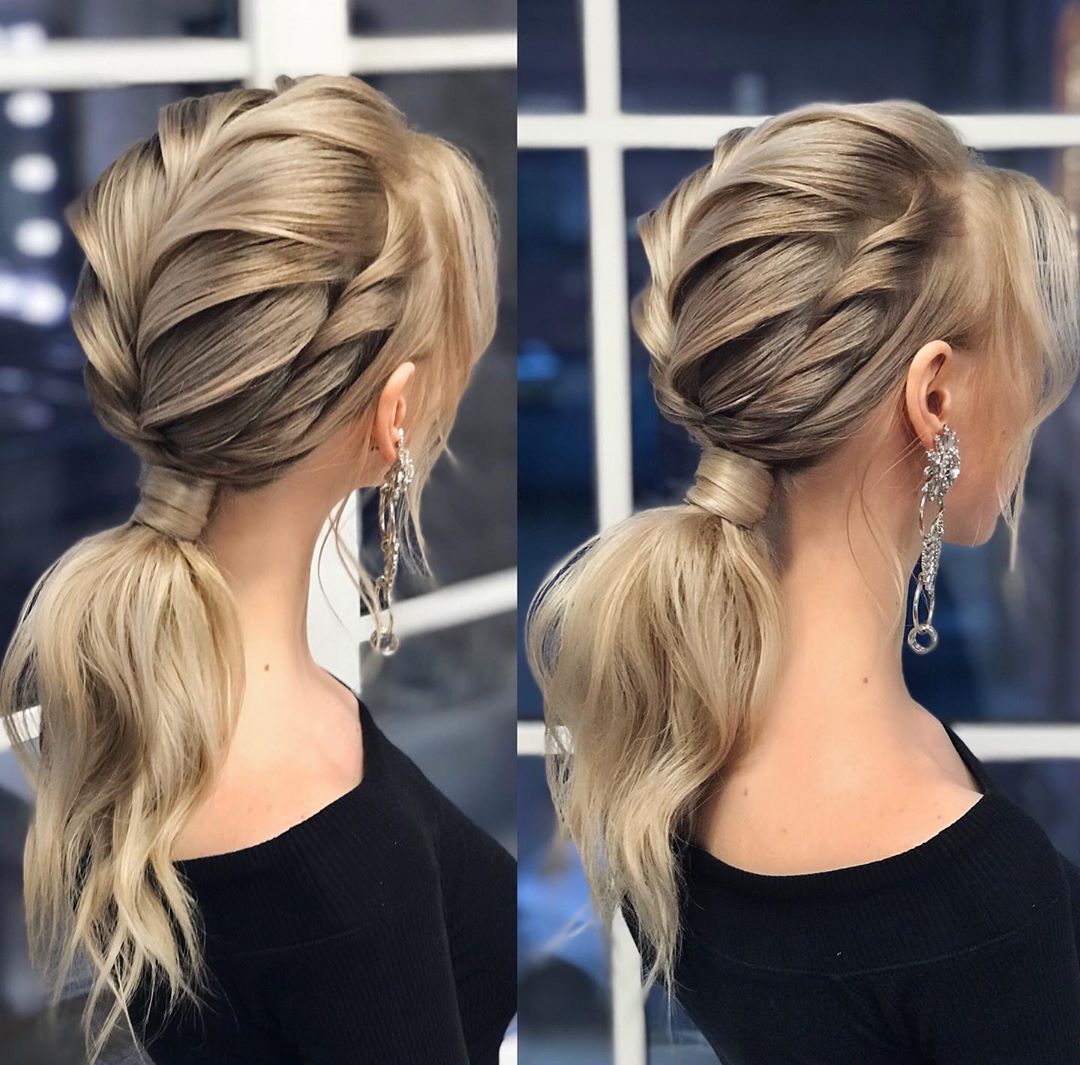 10 Braided Hairstyles for Long Hair
Braids are a classic in the world of women's hair. Braided hairstyles never fail to make any look appear more polished and put-together. Plus, braids are practical. They prevent tangling, secure your hair back out of your way, and keep loose strands from flying into your face throughout the day.
These braided hairstyles for long hair show just how versatile and diverse braids can be. There are countless different types and styles of braids, which means your options for braided hairstyles are virtually endless. You can rock these trendy braided hairstyles anywhere from the grocery store to a board meeting to a cocktail party. Dress them up, dress them down, and make them your own to really turn heads with the stylish and low-maintenance braided hairstyles below.
1. Fishtail Braided Low Ponytail
Fishtail braids are intricate, elegant, and subtle. They make any hairstyle look classy and neat. This fishtail braided low ponytail is a very versatile braided style that you can dress up or down to pull off for a wide range of occasions.
Starting with a loose fishtail braid down the middle of your crown, this braided hairstyle ends in a low ponytail secured at the nape of your neck. Loose curled strands in front and a strand of hair around the base of your low ponytail add elegance to this braided low pony.
2. Dutch Braided Pigtails
Dutch braids–which are basically just inside-out French braids–add volume and texture to your hair to help you create fun and flattering hairstyles that are full of personality.
These Dutch braided pigtails are super stylish and are the perfect cute, low-maintenance hairstyle for a busy day. The base of each braided ponytail is wrapped with a small section of loose hair, and a neat middle part separates these two ponytails. These subtle finishing touches add sophisticated style to these braided ponytails.
3. High Ponytail with Mini Scalp Braids
Miniature scalp braids add interest and dimension to this attention-grabbing high ponytail that is sure to turn heads on the street.
Teased and curled ends add flattering volume to this braided high ponytail–a hairstyle that is trendy and eye-catching without being over the top.
4. Knot Braided Low Ponytail
You can pull off this knot braided low ponytail in 5 minutes or less. This ultra-low-maintenance low pony will be your new best friend on those inevitable mornings when you roll out of bed late and end up with 15 minutes to get ready for work.
A subtle knot braid secures the base of this ponytail at the nape of your neck. There's no need to straighten or curl your hair. Just leave it natural for added volume and texture and leave a few strands loose in front to frame your face.
5. Rope Braided Side Ponytail
Rope braids are super easy to style–even if your braiding skills could use some improvement–and they're effortlessly stylish and flattering.
This rope braided side ponytail keeps your hair out of your way and adds volume and dimension. Leave some strands of hair loose in front to frame your face and accessorize with a headband for added eye-catching detail.
6. Braided High Ponytail
When you're short on time or motivation to style your hair, you're not alone if your first instinct is to pull back your locks in a high ponytail.
High ponytails are a classic practical, stylish, low-maintenance updo for everyday wear. Braids add dimension and style to any high ponytail and make a classic high pony much more interesting.
7. Double Braided Low Ponytail
This low pony hairstyle might look impossibly intricate, but it's actually super simple and quick to style yourself in just a few minutes in the morning.
All it takes to achieve this style is two braids–one on either side of your head–secured back with the rest of your hair into a low ponytail at the nape of your neck. Wrap a strand of hair around the base of your ponytail and leave a few strands free in front for an elegant, face-framing finishing touch.
8. Chain Braided Low Ponytail
Chain braids are distinctive and unique, which makes chain braided styles the perfect choice for long-haired women who are looking to add fresh, interesting everyday hairstyles to their repertoire.
This chain braided low ponytail will draw attention wherever you go. Despite its eye-catching style, though, this low pony is subtle enough that you can pull it off as a casual, everyday style.
9. French Braided Low Ponytail
This French braided low ponytail is surprisingly easy to style. You'll be surprised at how quickly it becomes one of your favorite versatile everyday hairstyles.
A French braid down the center crown of your head adds volume and dimension to this otherwise classic low ponytail. Wrap a strand of hair around the base of the ponytail to add polish. Straighten your ends to give this smooth style a sleek, sophisticated finish.
10. Multi-Braided Low Ponytail
This low ponytail includes multiple different types and styles of braids. It is truly one-of-a-kind.
Multiple braids add dimension and eye-catching interest to this low ponytail. Teased ends add volume and streamline the style of this multi-braided pony. These finishing touches help make this hairstyle appear carefully tousled without looking messy.