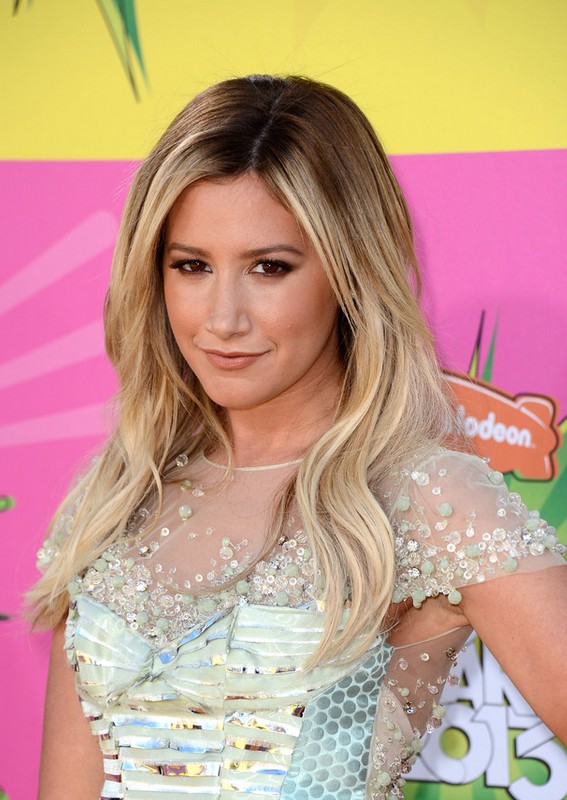 5 Different Ashley Tisdale Hairstyle
This fabulous ombré takes Ashley's brown roots down through a strong graduation to wheaty blonde in the longer lengths.
The hair is mostly the same length with textured ends to create soft, wispy tips, with shorter layers framing the face. Styled in loose waves with a tousled finish gives this red-carpet look a fabulous contemporary-casual look.
Ashley Tisdale Straight Long Hair Style
This sharp, straight look is the perfect complement to Ashley's pretty young face and lovely complexion.
It's a natural look with extra texture and colour dimension created by the subtle highlights, just a shade or two lighter than the base colour. The hair is cut to the same length with shaping and textured tips at the ends and shorter layers to soften the line around the face.
Ashley Tisdale Ponytail: Long Hairstyle Ideas for Summer
This ultra-modern take on the classic ponytail has lots of fabulous contemporary edge!  The hair is cut in long layers with spikey textured tips that create lots of volume and texture in the gorgeous ponytail.
The hair is styled back with a little added volume from teasing, to create an attractive rounded shape around the head.  The fabulous ombré with darker roots graduated into a lovely golden blonde, make a super, colour pattern along the side. And for a totally chic finish, the black leather headband is the perfect edgy accessory!
Ashley Tisdale Long Hair: Easy Everyday Hairstyles
Ashley loves to use colour to ring the changes in her long, layered hair and every version looks fabulous!  This brunette ombré is one of our favourites and shows how subtle and attractive highlights can be when they pick out the natural highlights in the hair.
The amazing blend of caramel shades accentuates the beautiful curvy movement in the long, loose waves.  Style with a slightly off-centre parting creates an attractive asymmetric shape in the fashionable extra-long fringe which brings out the colour in Ashley's eyes and shows off a well-shaped forehead.
Ashley Tisdale Layered Cut: Casual Blonde Long Hair
This long layered cut has a trendy centre parting which creates a fabulous frame for Ashley's upper face.
The styling is simple and natural to contrast with the edgy light blonde shade and amazing caramel and pink highlights.  The extra-long fringe finishes at cheek level to accentuate Ashley's contrasting deep brown eyes in a stunning and glamorous look.