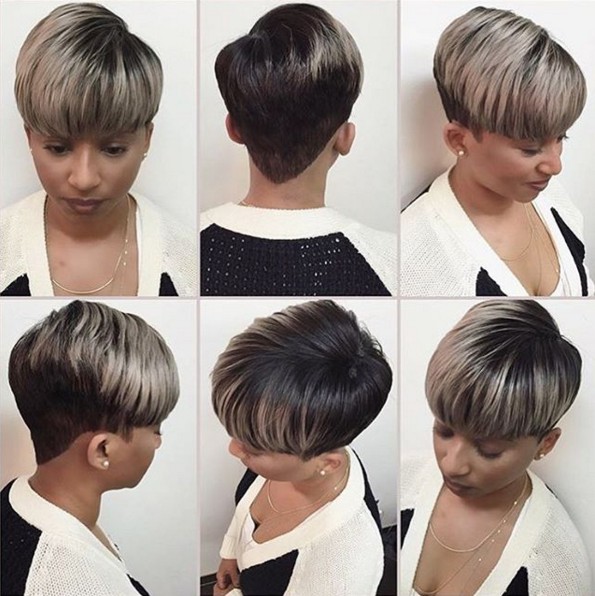 20 Trend-setting Hair Style Ideas for Black Women& Girls
In research on how our style affects the way other people view us, women said they judge a woman's age, based heavily on the hairstyle they're wearing!
So if you have a contemporary hairstyle, other women see you as younger, but if you're wearing an outdated haircut, other women will guess an older age for you!
Ombre Hairstyle for Short Straight Hair
Modern 'fro
If you have a long face, you can make it look shorter by pulling down some curls to cover your forehead with a fringe and by wearing a style that has no added height on top, but some nice round volume at the sides.
And you can get this style from a chin-length bob cut or modern 'fro, which are both flattering and trendy choices for this season that can be adjusted to suit any face-shape beautifully!
Highlights
Bleached highlights are 'out' this season and more sophisticated darker colours for highlighting are currently setting the trends on natural hairstyles for black women.
On black hair or dark brown, you can add dimension with rich shades of purple, deep pink, burgundy or blue, which give a more sophisticated look than last season's extravagant bleached streaks.
Or try a fabulous, metallic-copper balayage for another chic and up-to-the minute look!
Short Hairstyle Ideas for Thick Hair
Loose braids
Natural hair styles for black women will continue to include lots of braided styles, but with a looser texture and a softer look, that shows off the volume in your hair – but doesn't pull on the roots.   Tight braids are not a good idea as they can cause a lot of damage to both the hair shafts and the roots.
So take a look at our fantastic gallery of trendy hair styles for black women & girls and get a trendy, new style that could make you look younger, too!
Cute Short Haircut
Ombre Curly Hair Styles
Stylish Hair Color for Short Hair
Natural Curly Hair Style Ideas
Straight to Curly
Cute, Red Pixie Hairstyle
Straight Long Bob Cut
Red, A-line Bob Hairstyle for Straight Hair
Short Hairstyle with Bangs
Pink, Curly Short Hairstyle
Pixie Haircut for Natural Curly Hair
Grey Short Bob Haircut
Shaved Haircut for Straight Short Hair
Amazing Hair Color
Classic Short Bob Hairstyle
Hair Styles Ideas for Black Women and Girls
Gorgeous Purple Pixie Cut
Messy Short Hair Style