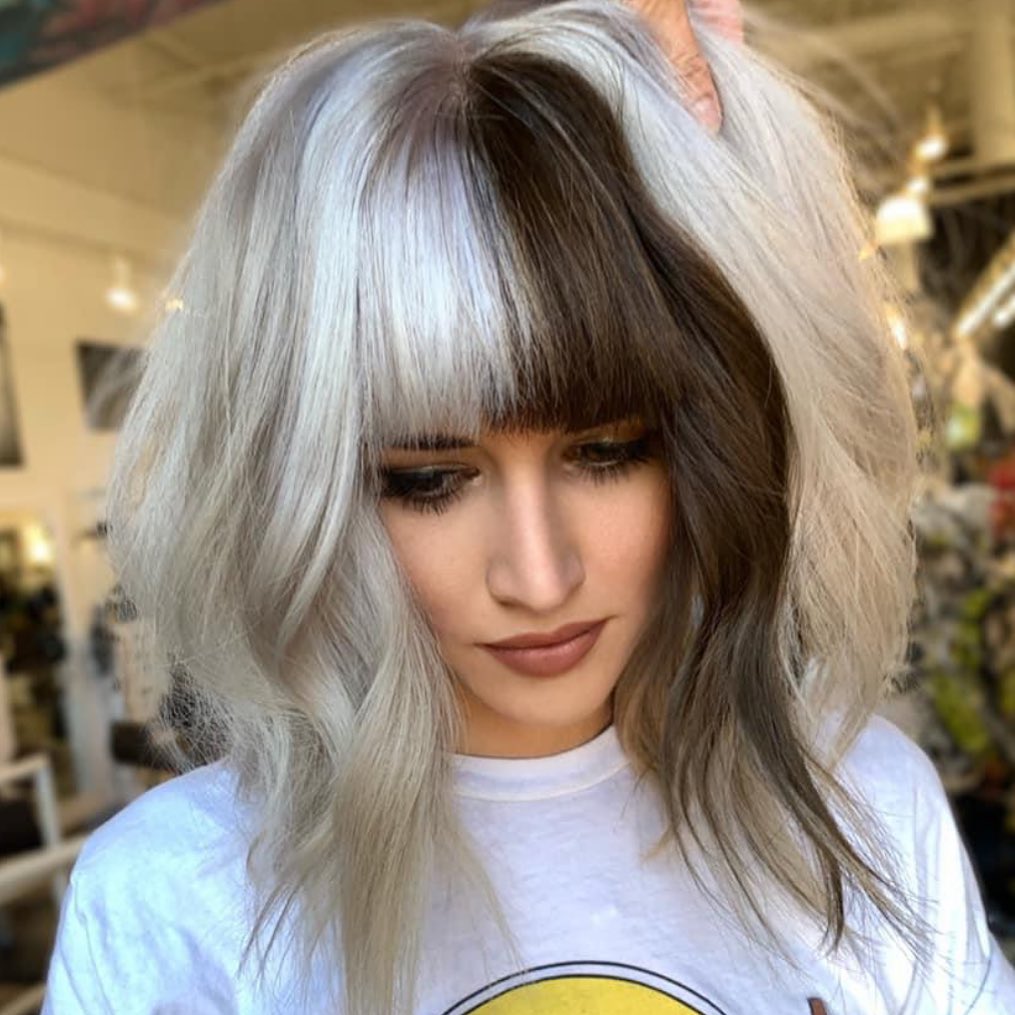 10 Trendy Everyday Hairstyles for Medium Length Hair in Amazing Colors
These trendy, everyday hairstyles for medium-length hair are a show-case for some amazing hair colors! So, is it time you switched hair color and smartened up your look? How long is it now since you updated your color? If it's more than a few months, why not check out these amazing hair colors and make sure you're keeping up with the latest trends!
1. Flaming red-orange long bob – trendy everyday hairstyles for medium-length hair in amazing colors
If you feel like you're not getting enough positive attention lately, why not shake things up with a rich, flame-red lob? This fiery, bright copper shade is perfect for anyone with warm or neutral undertones to their skin.
The brown tones at the roots are very subtle and transition beautifully down to a gorgeous blend of brown and copper. The basic shape is a long, angled bob with face flattering waves flowing down to highly textured, tapered tips! Make your presence unforgettable with this high-fashion stunner!
2. Light auburn with raspberry face-frame balayage – trendy everyday hairstyles for medium-length hair in amazing colors
This easy-care hairstyle is artfully tousled to give a relaxed, casual look that will stay attractive the whole day through! Pretty waves break-up the straight cut and add interesting texture above the wilder, tapered tips.
The lower lengths have a subtle, blonde balayage-ombre, which makes fine hair appear thicker. And the center-piece of this hairstyle is the stunning raspberry-pink 'wings', which frame the face in a very eye-catching look! This is a great way to rock the current trend for a center-part!
3. Sophisticated black & white lob with bangs – trendy everyday hairstyles for medium-length hair in amazing colors
This lovely, everday hairstyle is suitable for long, thin faces. The long, straight across bangs effectively 'shorten' the face by covering the whole forehead. And the side-volume is placed on either side of the face, to give the impression of a wider shape.
Trendy ash-blonde color also makes hair appear more voluminous and there are hints of beige and darker gray in there to create fabulous color depth. Bright-white blonde in the fringe draws attention to the eyes and the high-fashion, asymmetrical brunette swathe of hair adds loads of Boho style to a sophisticated look!
4. Vintage waves on messy long haircut in grunge shades – trendy everyday hairstyles for medium-length hair in amazing colors
This fabulous mix of glamor and grunge is another trendy example of the mix and match fashion look! Long hair has attractive, vintage waves softening and flattering the face, before the lower lengths are tousled up for a wilder finish.
And the colors are grungy, cool shades that blend brown and gray up top, which gradually becomes espresso-coffee brown ombré. And adding beautiful texture and color depth, the cool blonde balayage finishes off a dramatic, fashionable cut and color triumph!
5. Chic windswept curly gray bob with blonde balayage
Here's a great look for naturally curly hair or to wear after your hair has been permed. It's a universally flattering, chin-length bob with lots of extra volume and exciting movement. The color is made-up of several shades of gray all beautifully blended to create the look of thicker hair.
And with such fabulous modern waves, the asymmetrical slant flatters a wide range of different face shapes. Height on top lengthens a low forehead, or round face shape. And volume at the sides is a great way to add width to a narrow face.
6. Center-part blonde lob with spiky tips
Here's a glamorous blonde lob hairstyle that's a lot more trendy than long blonde hair. Mid-length lobs are more sophisticated and along with windswept waves and spiky tips, create a much more modern look. Cool beige blonde shades alternate to create lots of texture and suit skin with neutral or warm undertones.
The center part is a big trend right now and suits women with oval faces best. And with a little quiff on either side of the parting, you can create flattering face-framing waves that draw attention to your eyes and lips.
7. Soft apricot & amber blonde wavy lob
Isn't this a lovely feminine look bringing together so many soft golden shades to make a really romantic image? The strong asymmetry is a great way to shorten a long face or break the symmetry of a round face shape. And the length of this lob, just brushing the collar bone, is also perfect for anyone with fine hair.
The soft golden tones are slightly darker at the roots, but in a very subtle way. And they become lighter in a pretty ombré shade down to the tips. Overall, this is a hugely flattering shade of mid-blonde that's suitable for those of us who aren't in our 20's anymore!
8. Boho black & blonde stripey half-up hairstyle
This is a super, 'alternative scene' hairstyle that shows off broad stripes of blonde and black hair in a quirky half-up style. It's really eye-catching and an original take on this popular color choice.
I love the way the blonde stripes stand out so well in the hair caught up in spiky bun on top. And you can see that these stripes will make some fantastic patterns in a wide range of up, down and braided hairstyles!
9. Youthful pink balayage-ombré on simple straight bob
Sometimes fine, straight hair can seem a problem because you want an eye-catching look, but your hair just won't hold a wave or look thick and voluminous. Don't worry about that, just go with the natural attributes of fine hair and add some perky fashion color!
Fine, straight hair is wonderfully soft and silky and it looks fabulous in a simple, angled bob. This easy-care style has a quirky overlapped parting for extra texture. And soft pink ombré to bring out the rich brown in the model's eyes. Plus a casually chic, 'tucked behind the ear' vibe!
10. Precise shades of gray on straight center-part mid-length haircut
For those who love a precision cut and color, this is about as perfect as you can get! It's definitely one of the easiest styles to care for and it will stay in place all day, with no need for extra attention. The simplicity of the trendy, center-part style is given lots of extra style from the gorgeous range of gray shades.
Light ash-blonde features as a way to draw attention to the model's eyes and lips. And moving around to the back the hair is expertly highlighted with fine ash-blonde lines!
Have you spotted your new makeover look yet? Whichever one you choose, you'll love being back at the forefront of hair fashion again and feeling cute and confident!