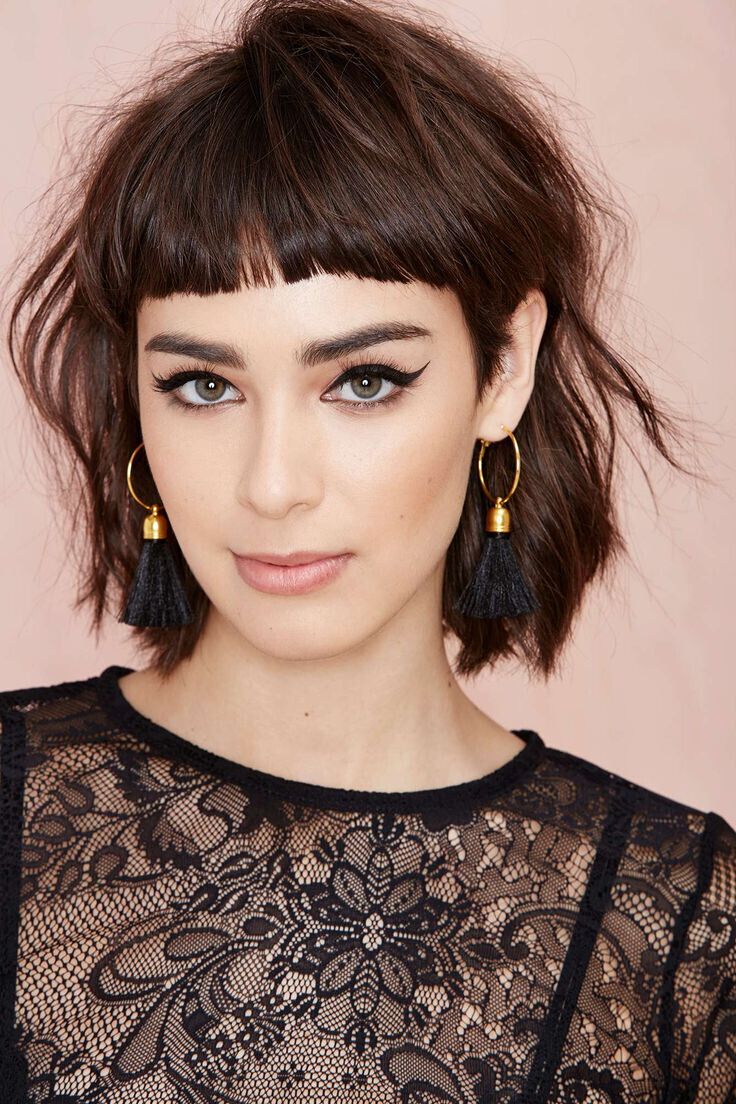 15 Amazing Short Shaggy Hairstyles!
Bored with your hair? You won't be – when you've chosen one of these fab, short shaggy hairstyles to add some contemporary-style punch to your beauty look!
Better than ever
Yes, gals – shags are back and looking better than ever with some surprising 21st century twists. The trend for short hair is set to be with us for quite a while, because after years of long, straight cuts, the young hair designers have presented us with a huge selection of new looks.
And about time, too; I was getting bored with writing about straight long hair!
Blonde Straight Short Hairstyle /Via
Amazing volume
Short shaggy styles are leaving their mark on all types of short cuts from the spiky, layered pixie, through the futuristic choppy bob to the razor-cut shaggy hairstyles that create amazing volume in hair without being girly-curly!
Cut to fit
Round faces look far less full when framed by an uneven, angled shaggy hairstyle that minimises the curves. And a short shaggy haircut with those trademark flicked out sides will create the cheekbone width that long faces need to correct the shape. Naturally curly hair looks instantly contemporary-casual if you add a few shaggy layers at the front.
A shaggy pixie cut emphasizes Cuoco's contoured cheeks. /Via
Fine hair
If you have straight, fine hair this is a great style to choose! The problem with fine textured hair is always to get more volume and avoid that plastered to the head look. With plenty of layers and a short shaggy hairstyle, you'll find that you can get a funky, 'big' silhouette just by adding some styling product and rough-drying your hair.
Shaggy Pixie Haircut /Via
And on fine hair, textured tips will give a fluffy kitten look that is just adorable.
Coarse hair
Thick, coarse hair is easier to control when shaped and thinned to create a flattering shag and the best news is you don't need to spend hours doing your hair with heat tools, which are so damaging to the condition of longer hair!
In a shaggy cut, coarse thick hair looks really edgy with heavily textured tips creating a burst of sharp tips around the head. Or if you're transitioning from chemically straightened hair to 'natural' hair, a razored short shaggy hairstyle will put you in the fashion forefront instantly!
Messy, Spikey  Shaggy Pixie Hairstyle /Via
Open up a low forehead with easy to achieve shaggy volume on the top and a brushed up quiff, one of the hottest trends for this season.
Fresh look
If you're not sure about having a super-cool short shag, ask your stylist for advice about the best shape for your hair texture and face.   And you can start with a few choppy layers at the sides, or a shaggy fringe first to see how fresh and contemporary a totally trendy shag will look.
So don't wear a boring haircut! Choose the perfect short shaggy hairstyle for you from this amazing gallery of fresh, funky, fluffy, spikey and elegant new hair designs!
Cute Short Shaggy Hairstyles /Via
Medium Bob Haircut with Blunt Bangs /Via
Medium Shaggy Bob Haircut /Via
Easy Pixie Haircut – Summer Hairstyle Ideas /Via
Chic Long Pixie Hair Cut /Via
Pretty Red Short Haircut for Girls /Via
Crazy shaggy cut. Platinum blonde with red highlight at the bang for fun. Washes out to a sweet pink! /Via
Sleek Shaggy Bob Cut /Via
Messy Short Bob Hair Styles /Via
Short Hair Style Ideas for Women /Via
Blonde Haircut for Women and Girls /Via