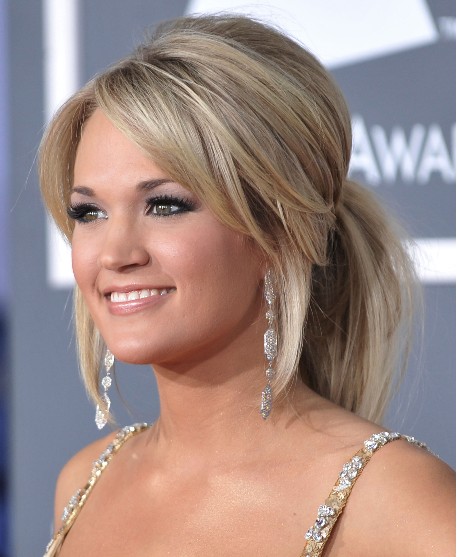 Carrie Underwood Long Hairstyles
Carrie Underwood Long hairstyles photos for women with long hair looking for a beautiful new hairstyle. Try on Carrie Underwood hairstyles.
Carrie Underwood Long Wavy Hairstyles
Carrie polished her look with blond ringlets. This Carrie Underwood long hairstyle looks quite cool and charming. Short jagged and razored layers are cut up through the sides and back to create the attractive hairstyle. This is a splendid and fabulous look for a night out on the town. apply some hairspray to keep the waves bouncy and shinning.
Carrie Underwood Ponytail Hairstyles
Carrie Underwood looked darling at the Country Awards wearing a one-shouldered lilac dress. She neatly swept her hair to one side in curled ponytail hairstyles.
Carrie Underwood Side Part Hairstyles
Carrie polished her look with blond ringlets.
Prom Hairstyles
Carrie looked stunning and attractive at the Sony BMG post-Grammy party with the splendid and fabulous half-up, half-down hairstyle. Long shaped layers were cut around her top and sides to add height and to enhance her wave. The hairstyle works excellently on medium to thick hair kinds.
Long Staright Hairstyles
The charming and splendid layers can offer much style and volume. The middle part in the hairstyle can contour the flattering face perfectly. The hairstyle is suitable for women with the round face shapes and it is simple to create and maintain. Apply a small amount of hairspray to the hair so as to keep it shine and smooth.
Long Layered Wavy Hairstyles
Carrie Underwood showed off her radiant long layered tresses while attending the CMT Artist of the Year event.
Long Curly Hairstyles
Carrie rocked the stage in perfect blond long curly hairstyles.
Easy Ponytail Hairstyles
Carrie Underwood loose long ponytail hairstyles still looks polished and styled and the color looks amazing with her golden gown.
Celebrity Long Wavy Hairstyles
Blonde Long Layered Hairstyles
Carrie Underwood topped off her look with loose blond curls.
Carrie Underwood Long Straight Hairstyles
Carrie Underwood Side Part Hairstyles
Carrie looks so young and fresh with her blonde curls partly pulled back, highlighting her features even more.