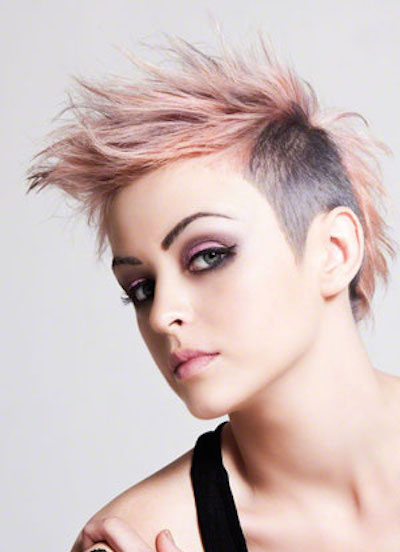 20 Funky Short Hairstyle You Will Love
Our day to day routines can be plain enough. That doesn't mean that your sense of style has to be. Make yourself feel alive with a hot new look, or that accessory that you've been eyeing for the last month. But, if clothing is not your thing, you can always turn to your hair. Different hairstyles, colours and cuts are a great way to play up your individual style. Are you a long haired beauty, or a short haired stunner? The choice is yours. For those of you with short hair, here is some inspiration to add some "spunk" into your day to day life.
1. Pink Spunk
Nothing says funky like this radical undercut. The pink hair is bold accent!
2. Intense Side Sweep
It's dark, edgy and incredibly mysterious. Sound like you? Give it a try.
3. Edgy Undercut
This stunning undercut is glamorous and risky.
4. Rough on the Edges
This razor chopped pixie is just the thing you need to add some real edge to your look.
5. Swept in the Wind
Gorgeous and light, this look proves that funky doesn't always have to be intense.
6. A Blunt Hint of Colour
This blunt cut, with a splash of colour, is exotic and tres chic.
7. Spiked Perfection: Short Layered Hairstyle for Black Women
You can't say "funky" without any spikes showing up. This spiky cut is everything we dreamed and more!
8. Dark Volume
Ginnifer Goodwin once again glows. This voluminous cut is stunning in every way.
9. Blunt and Blue
Another bold take on adding colour! Combined with this ragged cut? Perfection.
10. Separate Directions
Go against the mould and go against your part with this wacky do!
11. For Risk Takers Only
Or, if your feeling really wild, this is always an "out there" option.
12. Forwards Mohawk
A chic take on the traditional mohawk, this look is definitely high fashion.
13. Wild and Young
Or, simply let your locks go where they may!
14. In All Directions: Messy Pixie Hair Cut
Throw caution to the wind! Being funky is about going against the norm.
15. Blunt Chop
For a more subtle look, try out this ultra hot staircase cut!
16. The Undercut Sweep
But, these days, it's really all about that undercut. This sweeping version of it is edgy, with a touch of feminine softness.
17. Blunt Bangs Pixie
Blunt bangs are an easy way to turn an ordinary pixie, into a risky one.
18. The Curly Hawk
Gorgeous and undeniably unique, this cut is for all your curly haired beauties.
19. Curly Part
Chic and dangerous is what this look says, but soft and sweet are what those finger curls are.
20. Splash of Colour: Cute Short Bob Haircut with Bangs
A more subtle take on the "splash of colour," but equally effective!