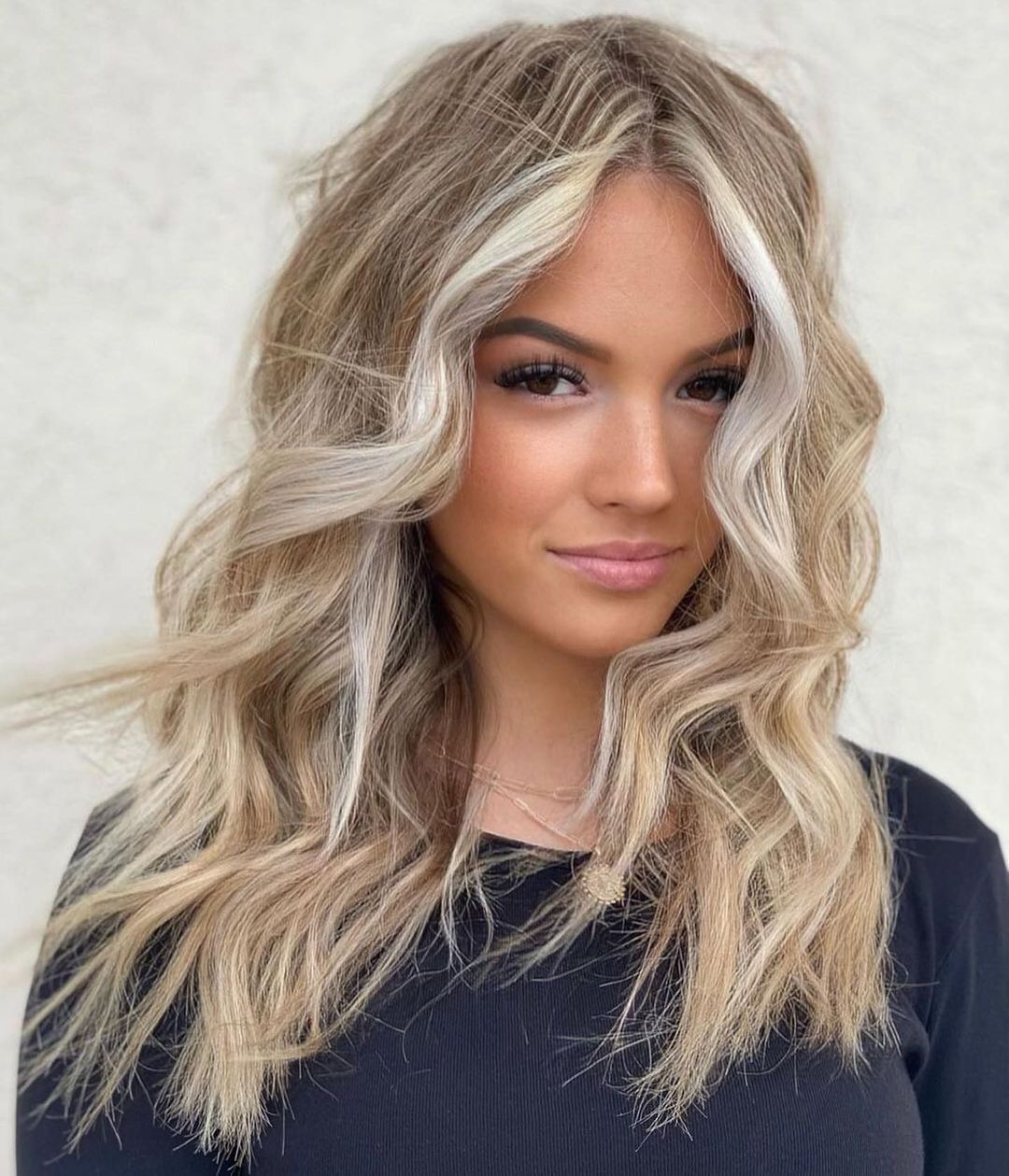 15 Ombre-Balayage Medium Long Haircuts & Eye-Catching Hair Color Trends
Cute, stylish long hairstyles only stay cute as long as you're up-to-date with the latest fashion. Yes, ladies, it's time for a new season cut and color update. The latest trends in balayage-ombré will thrill you with their face-flattering designs. And you'll see how a vintage green shade is effortlessly chic!
Above all, we're moving into new balayage techniques that add broad sections of color. Added in an asymmetric way, wide sections of color are perfect for wearing on trendy, shaggy and tousled haircuts.
All shades of orange are still our favorites. But colorists are experimenting with fabulous, new, ash-blonde shades. And there are exciting ways to liven up brunette hair with vivid or gentle color – like bright yellow or soft golden-beige.
So whether you need an easy-style, daily haircut or a striking, dramatic look we've got all the cutest long hairstyles ready for you to choose from today!
The styles and colors of ombré-balayage on medium-long haircuts are infinitely more exciting now, don't you think? And the range of medium-long hairstyles ideas just keeps growing and growing! So don't get left behind – take a look at this batch of original new haircuts and colors! There are no rules now – so anything goes, girls!
1. Eye-catching green highlights on auburn hair – ombre balayage medium long haircuts
We've often featured hairstyles with highlights that bring out the color of your eyes, but this is something much more unusual! Green face-framing highlights that match the model's green eyes are fantastically trendy.
And this is something new to try if you have green, blue, aqua or violet eye-color. The rest of this style is simple and flattering, with soft waves and a center part. Because you only need one spectacular feature at a time!
2. Soft beige balayage-ombré on light-brown hair – ombre balayage medium long haircuts
If you're fed -up with having non-descript, mousey blonde hair, this is a classy way to move from being unnoticed to center-stage! Leaving roots in a neutral light-brown shade, that gradually transitions to honey- and white-blonde balayage sections, gives the impression of deeper waves.
And it looks as if lots of light is being reflected from your gorgeous, healthy hair! What a super way to go blonde with a natural vibe.
3. Gorgeous bronde with vertical highlights on lob haircut – ombre balayage medium long haircuts
Bronde is another classy way to add extra interest and a lighter color to your brunette base color. In particular, fine, blonde vertical highlights cover up gray strands like magic. And that's important, because gray will show up very clearly on a simple, straight style.
With a slightly off-centre parting, this is a trendy, lob style that suits several different face shapes. And as the hair-color design brings out the brown in the model's eyes, she can wear this flattering look with a very natural make-up, too!
4. Silver-gray roots & matching ombré on center-part hairstyle – ombre balayage medium long haircuts
Oooh! I like this new idea – do you? Matching ash-blonde roots to an ash-blonde reverse ombré is a lovely symmetrical idea. And as this is a symmetrical long hairstyle with a center part, it makes a fabulous new look!
It's meant to look as if the light is catching those two areas and it works really well! The intervening color is a neutral gray-brown shade, that goes perfectly with the model's unusual green eyes.
5. Coral-blonde with raspberry-pink balayage-ombré
I was going to say this is no style for a 'shrinking violet', timid type – but maybe it is with the mix of violet, raspberry, deep pink, copper and light beige balayage! LOL! It's certainly an eye-catching, funky look that will look great for an 'alternate scene' look.
The unusual coral-blonde main color, looks fabulous against the cool pink and purple balayage. And once again, the colorist has brilliantly complemented the bright blue of the model's lovely eyes!
6. Intense yellow balayage on long gray wavey haircut
Yellow is one of this season's trendiest colors and I love how the colorist have used it in this original, new hair color design. The roots are a mousey brown color, but from the top of the head, the color starts to radiate out in brilliant golden-beige, silver, and gray.
And jumping out from the pale colors, the vivid, egg-yolk yellow, balayage creates an amazing display! Everywhere you look, there's a surprising new color right down to pastel blue at the textured tips!
7. Glam silver-ash-blonde hair color on long waves
Here's a super-sophisticated new lob hairstyle in sexy silver. The gorgeous, soft waves are contrasted by trendy straightened sections with wispy tips. And the waves have been defined and lightly tousled to add texture, movement and density to the model's hair.
The long layers drape around the face from a center-part, that creates flattering face framing waves. And several shades of gray create brightness and shadows that's very appealing!
 8. Lovely lemon vertical highlights on ash-blonde straight long haircut
I don't know how the stylist has done it, but they have created actual extra volume in the yellow strands for real, 3-D texture. And that's the first time I've seen that! In addition, the roots change from lavender-white to a neutral shade.
And the lemon highlights gradually change to a cooler, dusty yellow as they move down the head. The full yellow ombré is a spectacular look and leaving one straight strand framing the face, softens the profile beautifully!
9. Cute long waves in beige with flattering white blonde face-frame
Here's a very appealing look of windswept medium-golden-beige waves, with lovely white-blonde face-framing balayage! It's a blend of several shades of beige from neutral to warm shades that's very fashionable and attractive.
And whatever color eyes you have, you can be sure they'll be brought right into focus by bright, white balayage like this. These colors look fabulous on skin with warm or neutral undertones!
10.Beautiful burgundy roots with pewter-blue ombré
If you're the type of gal who flops down into the stylist's chair and says, 'I'm bored with my hair! What can I do to liven it up?' I hope your stylist will guide you towards a super, trendsetting look just like this! It isn't blonde or brunette and it isn't an ordinary fantasy color look either!
It's totally new and original and the colors are perfect match for this season's fashion colors. The roots are a strong, saturated ox-blood shade that gently transitions to a vivid steel-blue and ends with green tones at the tips!
11.Blonde face-frame balayage on mid-copper lob – cute stylish long hairstyles
Now that red-heads are the hottest hair-colors in town, you may be ready to add an extra twist for the new season. I've not seen lovely copper colors highlighted with soft, beige-blonde face framing strands before, but as you can see, they are a great way to add texture and accentuate eye-color.
This is an easy, everyday style with gentle waves, and a slightly off-center parting. The off-centre part suits a face shape between oval and round. And warm copper and beige-blonde flatter skin with warm or neutral undertones!
12. Beautiful beige-copper balayage – cute stylish long hairstyles
I adore this copper-beige balayage color – it's so soft. And the colorist has done a great job applying the highlights on the front and sides. They add so much texture, movement and depth to natural brown hair and create a sophisticated look, especially for an important social occasion!
The center part is flattering for oval faces and those gorgeous, face-framing waves accentuate the eyes and lips perfectly. And long layers with soft waves contrasted by textured, tapered tips create understated glamor for young faces!
13. Burnt-orange ombré on long brunette hairstyle
Fiery-red ombré adds excitement and drama to long, brunette hair. And this is accentuated when the finish is large waves that look just like flickering flames! An off-center part suits face shapes between oval and round.
And this simple cut is easy to style, but not easy to hide! So if you love being noticed in a good way, get this vivid, messy look and burn your way into someone's heart!
14. Boho vintage green on long tousled wavy hairstyle
Looking for something Boho or alternative scene style? This vintage-green hairstyle is perfect for anyone who loves quirky hair-fashions. Known as 'yellow-green', this shade is fresh and optimistic – so it gives you a positive vibe right away!
The centre-part is styled in modern curtain bangs, which creates two sets of curvy lines framing the face and softening the lines. And beautiful waves move down to trendy, straight tips with lighter shades of green balayage. It's a cute party style that will make you the center of attention, too!
15. Glorious half brown/half golden-yellow on extra-long straight hairstyle
Add drama and high-fashion fun to extra-long, straight hair with this dual, hair-color design. This fabulous, golden-yellow color is deftly blended to create different yellow tones within the broad section. And the natural, medium-brown brunette hair is perfectly complemented by the vivid, trend-setting yellow.
Instead of half/half symmetry, this color design has totally up-to-the-minute asymmetric color sections! It's a shame we don't have a front view. But I know this will look fantastic in braided and half-up styles, too. It's a very striking, new idea to try!
So what's your next makeover ombré-balayage color design going to be? The new season is already upon us, so pick a few fotos and get on the phone to your favorite colorist today!