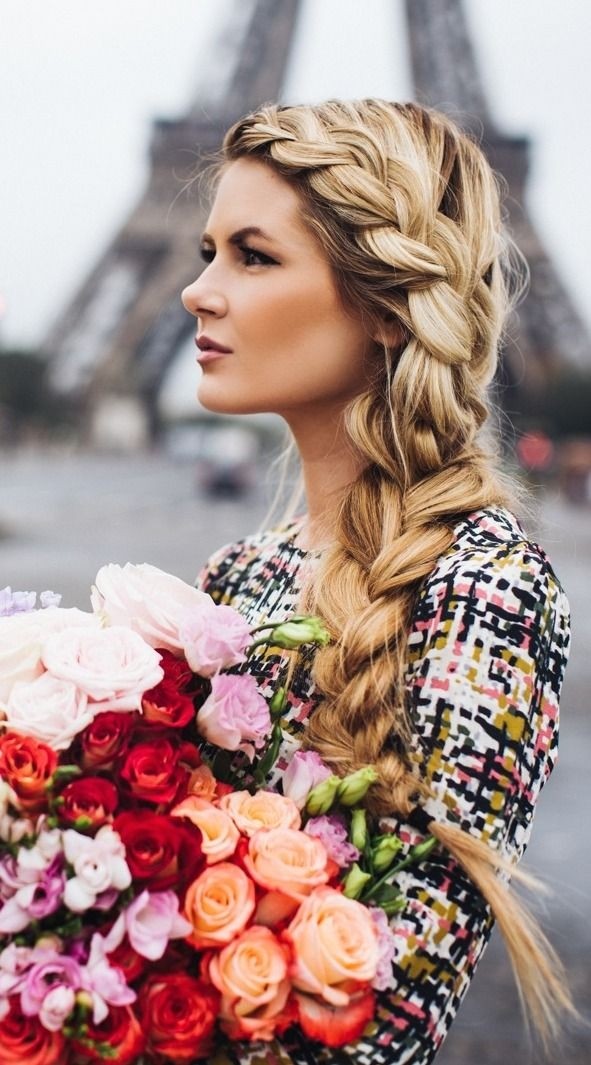 Pretty Side-Braid Hairstyles
The popularity of side-braid hairstyles is just going from strength-to-strength! And that's no surprise as the young hair-designers are constantly coming up with new and imaginative twists on the look!
Loose Side Braid: Braided Hairstyles Ideas /Via
Highlighting patterns
Highlights and different coloured extensions adding streaks of copper, gold or rose-gold produce some fabulous patterns in your plait creating a very eye-catching look. I've seen some wonderful rainbow-colour highlights in side plaits from sea-green, indigo and purple on dark hair, to lavender and faded pink on fair hair!
Pretty Loose Side Braid: Braided Hairstyles for Long Hair /Tumblr
New braiding styles
Last year's side-braid hairstyles were messy and very loosely plaited, for a sort of country-maid look. However, this year messy is 'out' and the new plaited styles are completely fresh and different.
Summer Hairstyles with Braid: Long Hair /Via
Wide side-braids
One of the most original new braiding styles is the flat, wide braid, which is easy to achieve once you've seen the photos in our latest side-braid hairstyles Inspiration Gallery below. The plaiting is medium-loose and then pulled out gently at the sides to make the weaving look flatter and wider.
The look is still casual and relaxed for a look that's great for Boho everyday styling and can be made intricate and amazing in aninside-out braid, for evening wear.
Soft Side Braid for Long Hair: Braided Hairstyles Ideas /Via
So if you're ready to see these exciting new styles, just cast your eyes over our amazing, up-to-the-minute Inspiration Gallery of the hottest side braid hairstyles this season!
Cute Side Braid /Via
Curly Side Braid Hairstyle Tutorial for Long Hair /Via
Casual Chic, Slightly-Messy Side Braid for Long Hair /Pinterest
Perfect Side Braid: Long Hairstyles for Fall and Winter /Via