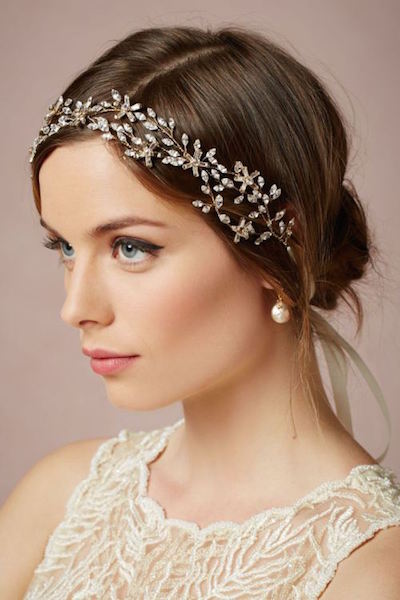 20 Stunning Wedding Hairstyles for Short Hair
Summer is the hottest season when it comes to weddings. Whether you're the bride, maid of honour, or a simple guest, a wedding is an occasion for elegance and style. As stores are filling up with beautiful summer dresses, you have something else to consider: your hair. Just because it's short, doesn't mean you can't do anything with it. There are lots of stunning and fun ways to play up your short locks. It just takes a little creativity.
1. Flowered Hairstyles for Short Hair: Wedding Hair Style with Braid
Nothing says summer like flowers, and this adorable look is a creative play on that summer feeling!
2. Adorable Pixie: Easy Short Hairstyle for Bridesmaid
A cute pixie cut like this works on it's own!
3. Messy Bob
The same goes for this playfully elegant bob!
4. Flower Band
This adorable flower band is both cute and youthful.
5. Flower Crown for Short Bob Hair
I mean, come on, who says that only the flower girl should get to have flowers? Right?
6. Twisted Rope Braid: Updo Hairstyle Ideas
Simple and gorgeous, this look is sure to stun.
7. Volume Wins: Wedding Hairstyles with Bangs
This voluminous do gives the illusion of an up do without actually having one!
8. Twisted Hair
This gorgeously twisted hair has a level of elegance while remaining casual.
9. Jewelled Headband
A headband like this one is beautifully intricate.
10. Simple Clip
A simple clip such as this one can have the same effect!
11. Glam Band
Basically, when it comes to short hair, it's all about the amazing accessories.
12. Flower Bun
A pretty flower can dress up any look.
13. Elaborate Headband
Words can't describe the beauty and simplicity of this look.
14. Another Fancy Headband
Are you feeling a common theme? Yes. Headbands are lifesavers.
15. Pinned Curls
These curls are glamorous and perfect for a large and formal wedding.
16. 20s Inspired
An homage to the past, this look is reminiscent of the roaring 20s.
17. Feather Clip
This feather clip is chic and provocative. Perfect for making a statement!
18. Classy Headband
Sweet and simple, this is the perfect look for any outdoor wedding.
19. Pearl Clip
This subtle clip offers just enough to pull her outfit together.
20. Simple Rose
When in doubt, you can't go wrong with a rose.