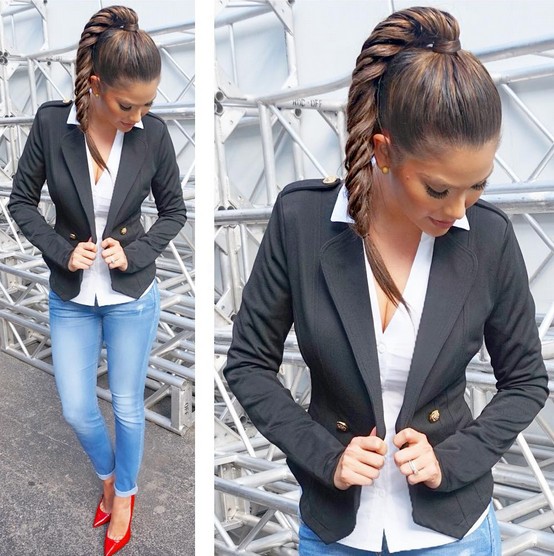 18 Super-Trendy Quick and Easy Hairstyles for School!
Having a trendy, quick and easy hairstyle for school is essential, as we all remember from our own schooldays. It must be totally up-to-date, but also simple enough to re-do after a fast game of netball or tennis leaves you hot and messy, as you head for the showers.
The most popular hair length for girls is still long, and the style casual, but bob cuts are gaining ground this season, especially the angled bob and the super-cool asymmetric fringe!
Fresh, modern and practical
So how do you keep your long hair looking fresh, modern and in place throughout the day? Here's some useful style and cut advice and a gallery of inspirational pictures, to keep you up-to-the minute with the latest quick and easy hairstyles for school!
Quick Dutch Braid for Long Hair
Blunt cuts
The best way to fulfil all of the requirements above is to use the cut at the ends of your hair to show the latest hair fashion. For example, you can get the ends cut in a blunt, straight line and this will give you a strong look, which can be useful if you want to make a round face look slimmer.
Choppy and edgy
Or if you like to be the trend-setter amongst your school pals why not wear your hair in edgy, choppy layers, which are probably the opposite of the pretty-girl look your mother wants you to wear!
Not sure if you want to go choppy all-over? Try a choppy fringe for a start and ask the stylist to leave it with an uneven finish at the tips.
Choppy and Edgy Hairstyle Ideas for Medium Hair
Face framing short strands
Or no matter how long your hair is, you can always have some shorter layers cut to frame your face in a very attractive twist. Side layers can have heavily textured tips that are tapered and sharp, if your hair is thick or coarse. And on fine hair, textured tips can be used to make a pretty, wispy and romantic look.
Cute Medium Bob Haircut for Straight Hair
Updo's
Updo's have always been popular for quick and easy styles for school and some schools insist that girls tie their hair back in some way to look neat. However, you can choose lots of different styles to echo what's hot in hair fashion now.
Super-Trendy Quick and Easy Bun Updos
Half-up half-down trend
For example, half-up half-down styles are extremely fashionable at the moment and you can add a puff of teased volume on top, to jazz it up a little without breaking the rules, too!
Two Looped Ponytails
Top trends
And if you don't want to keep your hair long, the most popular contemporary styles are focussed on short and medium angled bobs, reverse bobs and the adorable pixie cut which are all super-trendy quick and easy styles for school wear!
Amazing Ponytail Hairstyles
Quick and Easy Hairstyle Ideas for School
Spiral Staircase Ponytail Hairstyle
Wavy Hairstyles with Dark Brown Hair
Loose Side Braid Hairstyles
Trendy Quick and Easy Hairstyles for School
French Braided Hairstyle
Cute, Easy Braid Hairstyle
Ombre Wavy Hairstyle
Ombre, Short Bob Haircut
Super-Trendy Quick and Easy Short Hairstyles
Long Bob Haircut with Blunt Bangs
Messy Long Hair Style