10 Latest Pixie Haircut for Women – Ideas With a Difference!
The great feature of this season's selection of the popular pixie haircut for women is how much style and personality you can pack into it! Each one of these new pixie haircuts has a decidedly different cut and color variation, so you can update to a fashionable 'new' you.  And that's what we all want for our new season hairstyles, isn't it!
Wheat-blonde pixie haircut for women with fine-medium hair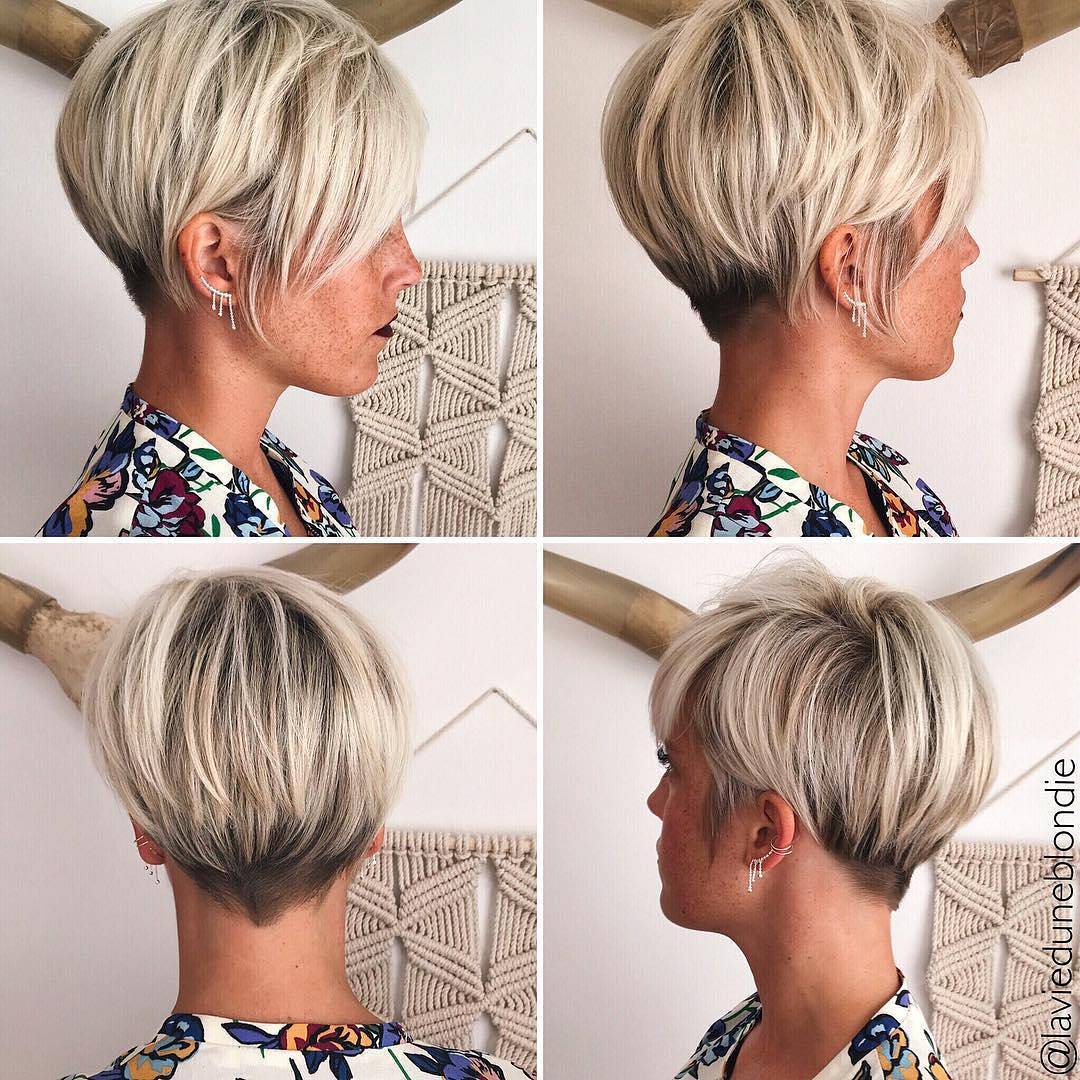 Here's a smart pixie hairstyle that's also very feminine and suitable for fine and medium hair texture.  Long layers make fine hair appear thicker and fashionable wheat-blonde, contrasted with dark roots, also creates the impression of denser hair! This style is suitable for an oval or long face, as there's no layered height on top. The long, slanted fringe cuts across a long face, visually reducing its length.  Long side points add extra style to this fresh, easy-care pixie haircut.
Trendy shaved/waved pixie haircut for women ready for anything!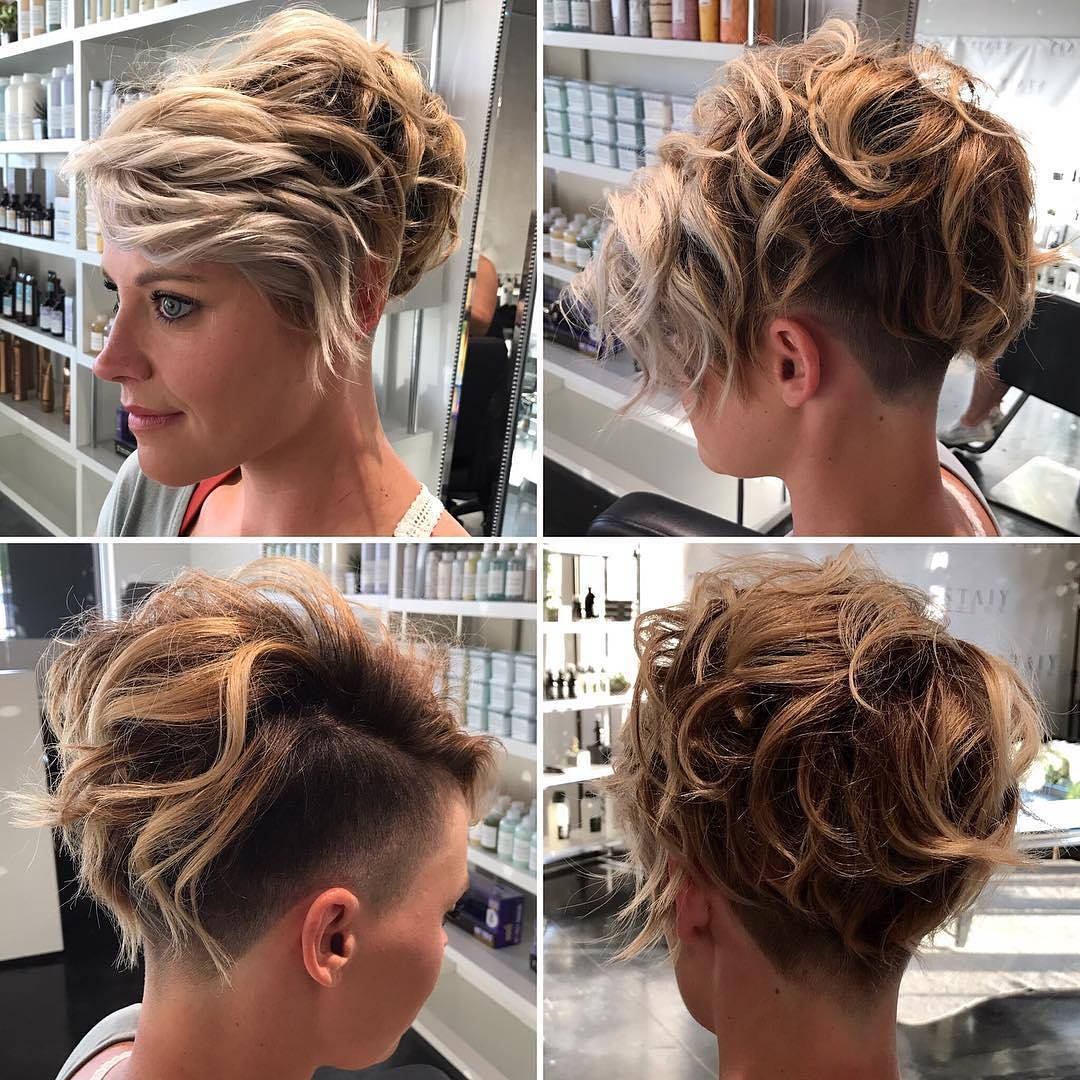 The shaved under-cut has travelled a long way since its 'punk' beginnings in the 1970's!  Back then it symbolized the rejection of conventional ideas on female beauty – as women fought hard for equal rights. But now it's a super-trendy way to show you're both sassy and attractive.  This asymmetrical pixie cut has dark, buzzed roots on one side contrasted with soft blonde waves highlighting blue eyes on the longer side.  Loose pin-curls on golden-brown ombré decorate the lovely crown height. This multi-faceted, pixie cut-and-color captures all the 'sugar-and-spice' of being a woman in a fabulous, fusion design!
Boho ash-blonde with blue & sea-green pixie haircut for women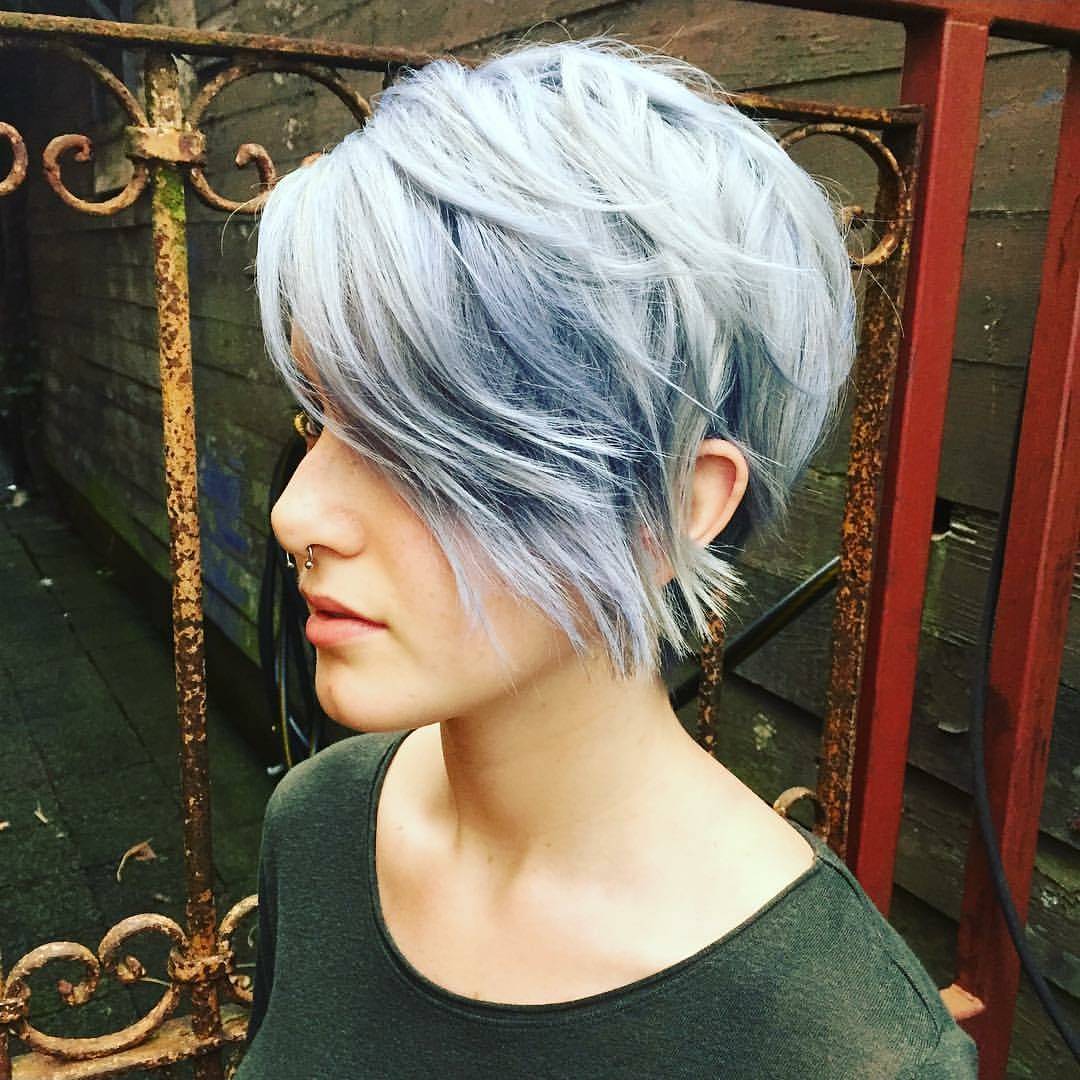 Easy-care, long pixie-cuts like this show the amazing versatility of short, straight cuts!  It's a very trendy, long, boho pixie haircut with a long, asymmetrical fringe adding a flirty, peek-a-boo touch.    You'll need a light, natural hair color for this degree of bleaching.  And skin with cool undertones looks great against the fabulous, soft blue, lavender and green balayage.  The overall look is casual and undone, with an aura of futuristic, urban decay.  And it's styled in a different way, showing the top of one ear.  The ends are heavily tapered with a razor-cut finish highlighting the purple tones. And textured tips for a 'choppy' finish, make fine and medium hair look thicker.  Suits many face shapes and all ages.
Naturally stylish pixie haircut for women with heart faces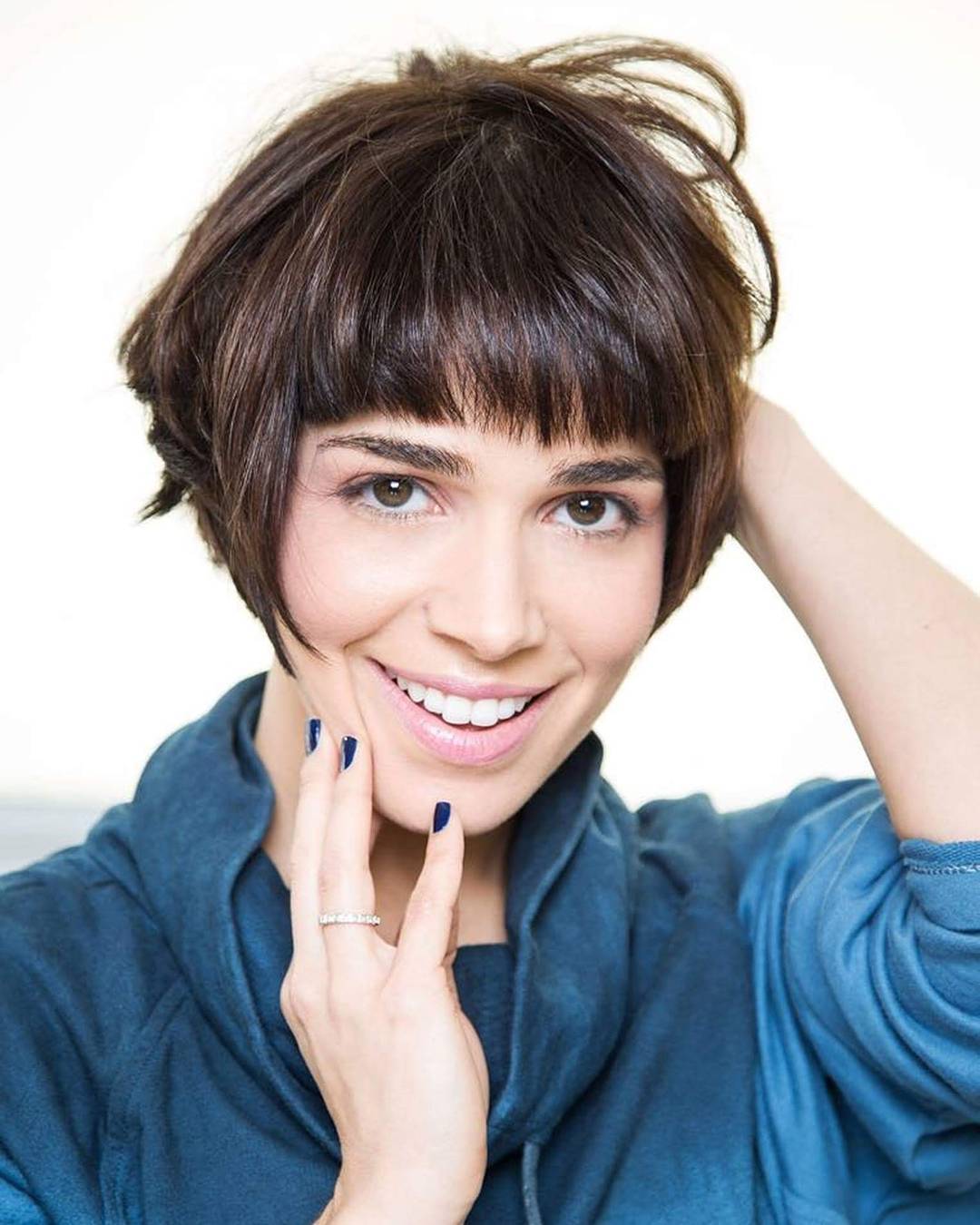 This natural look pixie hairstyle is a look that focuses attention on all the facial features in a very flattering way.  Did you notice the model's chin? No? Well, that shows how well this style removes attention from a long or pointed chin, making it especially suitable for heart-shaped faces!  The short, straight-across fringe highlights shapely eye-brows and warm, brown eyes.  It's a sporty look you can wash and wear, with easy-style, tapered shape at the sides styled gently forwards. This simple look can be worn casually tousled or smooth in an elegant pixie haircut for professional meetings and evening wear.  It's a modern, youthful look for fine, medium or thick straight hair and all ages!
Pert & flirty pearlized blonde pixie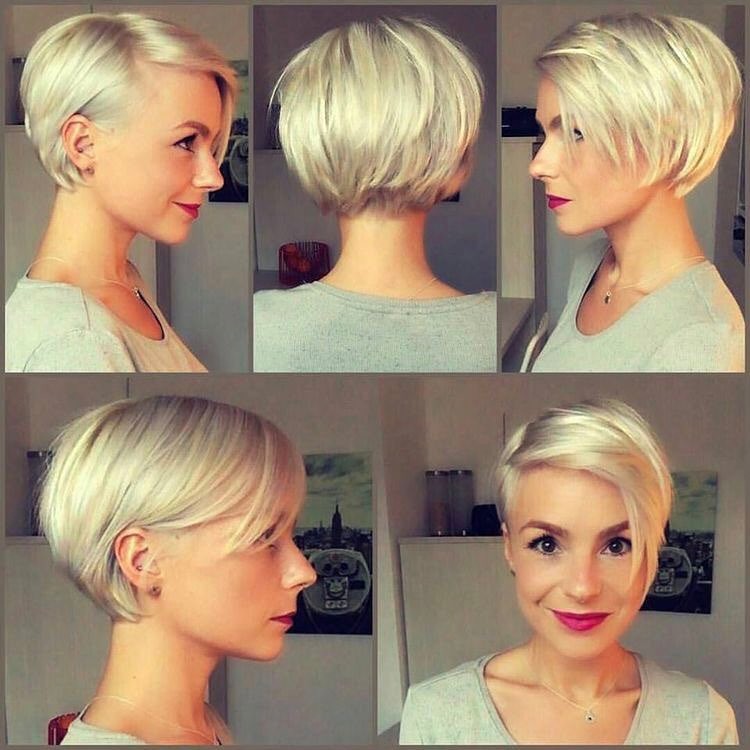 I love having all the views of a new hairstyle to see the full effect of the front, profiles and back, don't you?   This pixie haircut is very sexy, combining the latest, pale-blonde, pearlized hair colors with a flirty, long, side-swept fringe.  For fine to medium hair, long layers on short haircuts help add thickness to hair framing the face.  And the layered texture on the longer side and back makes those dual-highlights really gleam!  This contemporary, short bob is suitable for young and mature women.   And you can ask your stylist to adjust the parting to flatter most face shapes, for this cute modern 'classic'!
Sexy warm beige & brown long pixie hairstyle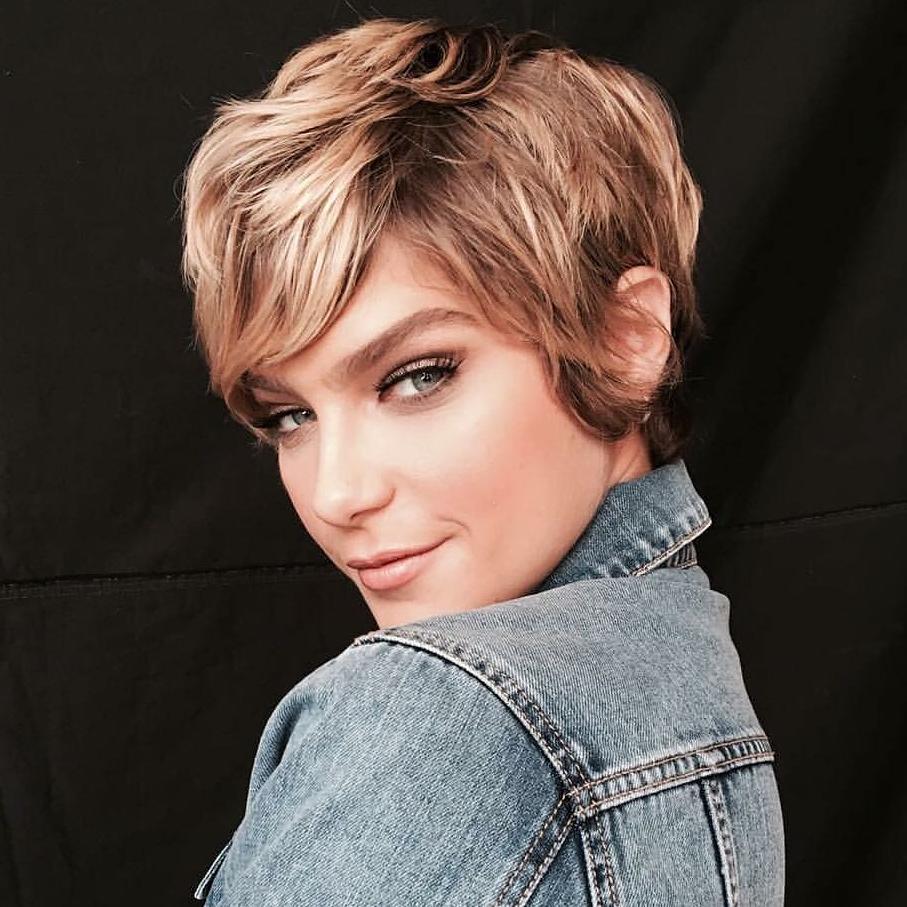 This pixie combines a trendy forward styled cut with the latest soft shades of warm beige-blonde and muted copper.  The result is an alluring new colour that looks marvellous with green, gray and brown eyes!  And this pixie cut is styled to show the ear below the blurred parting, adding a super-trendy and sexy vibe.  With a side-parting shaped to follow the contours of a pair of well-shaped brows, this casual pixie cut is a very classy look, too!
Dramatic boho black & gray razor-cut pixie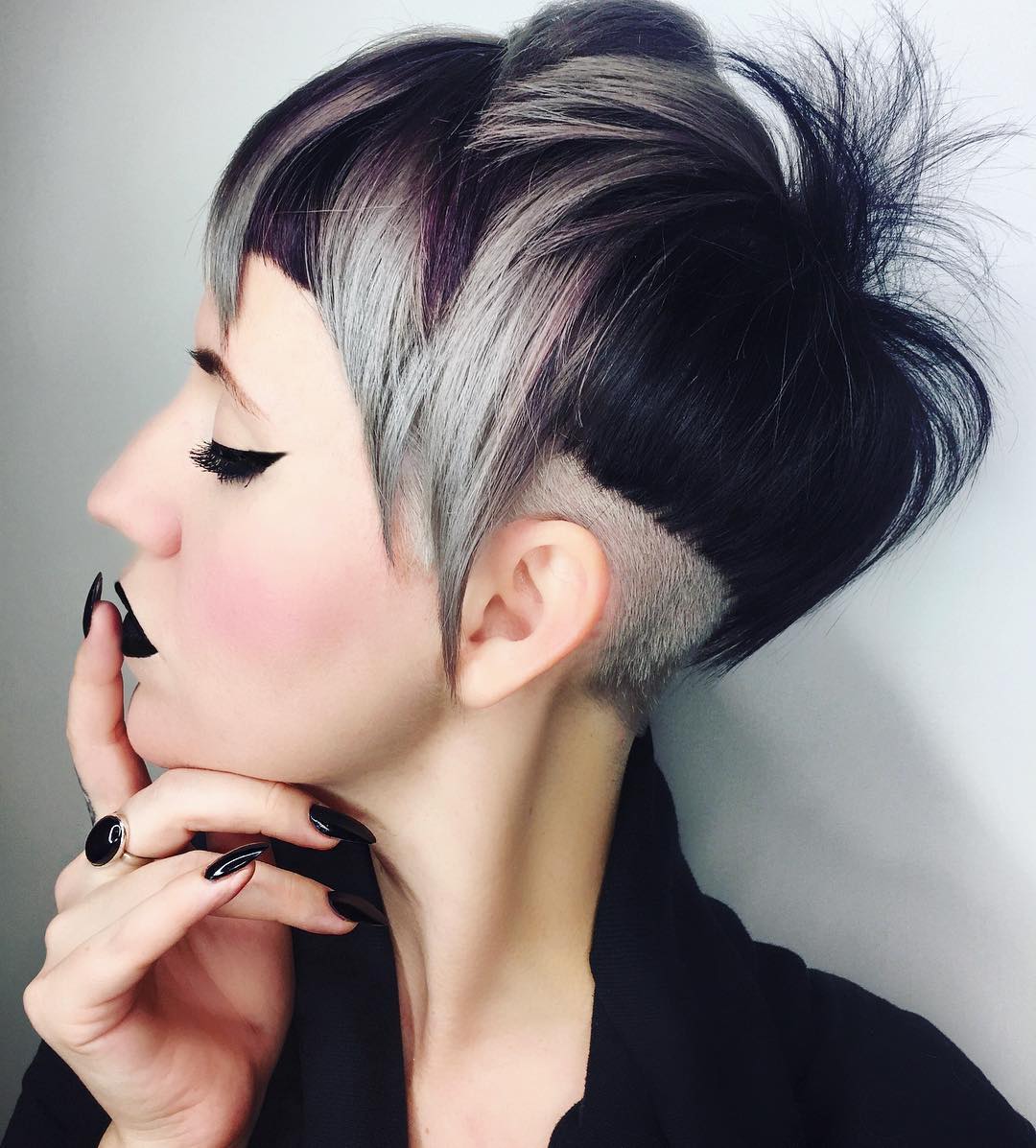 Here's a fabulous statement pixie profile, which projects a very 'arty' image. The geometric line encircles the head, with a cheeky little V-point above the nape.  And breaking that line, sliced disconnected layers drape artistically onto the forehead and the side.  I love how the colorist has softened the closely buzzed sections with dove-gray, which creates a highly stylish colour complement to black.  And there's a touch of rich color from purple gloss on the roots around the sides and forehead. It's a basin-cut – but definitely with a difference!
Classic bouffant pixie for thick hair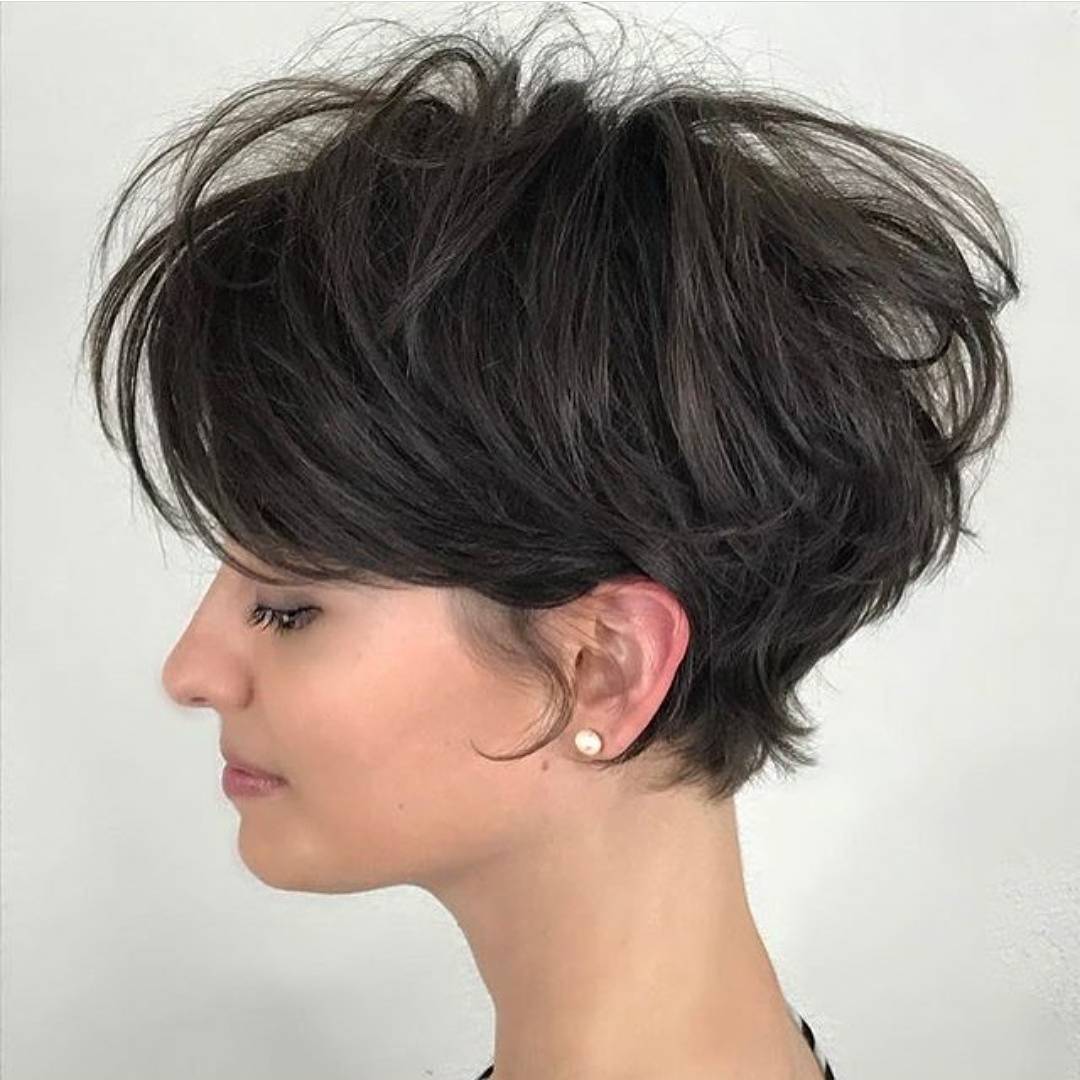 What a great profile shot for this bouffant pixie cut!  It shows how straight hair can also be curvy and attractive for a smart, contemporary hairstyle.  The look is natural, but the cut is very skilled, bringing out lots of texture and movement.  The long side-swept fringe is beautifully balanced by expertly layered volume at mid-back.  And details like the side pin-curl and the flicked up movement at the nape, add lots of femininity and style.  With a tousled finish and casual, 'pushed behind the ears vibe', this is a sophisticated twist on the pixie cut.
Wonderfully windswept short bob in ivory-blonde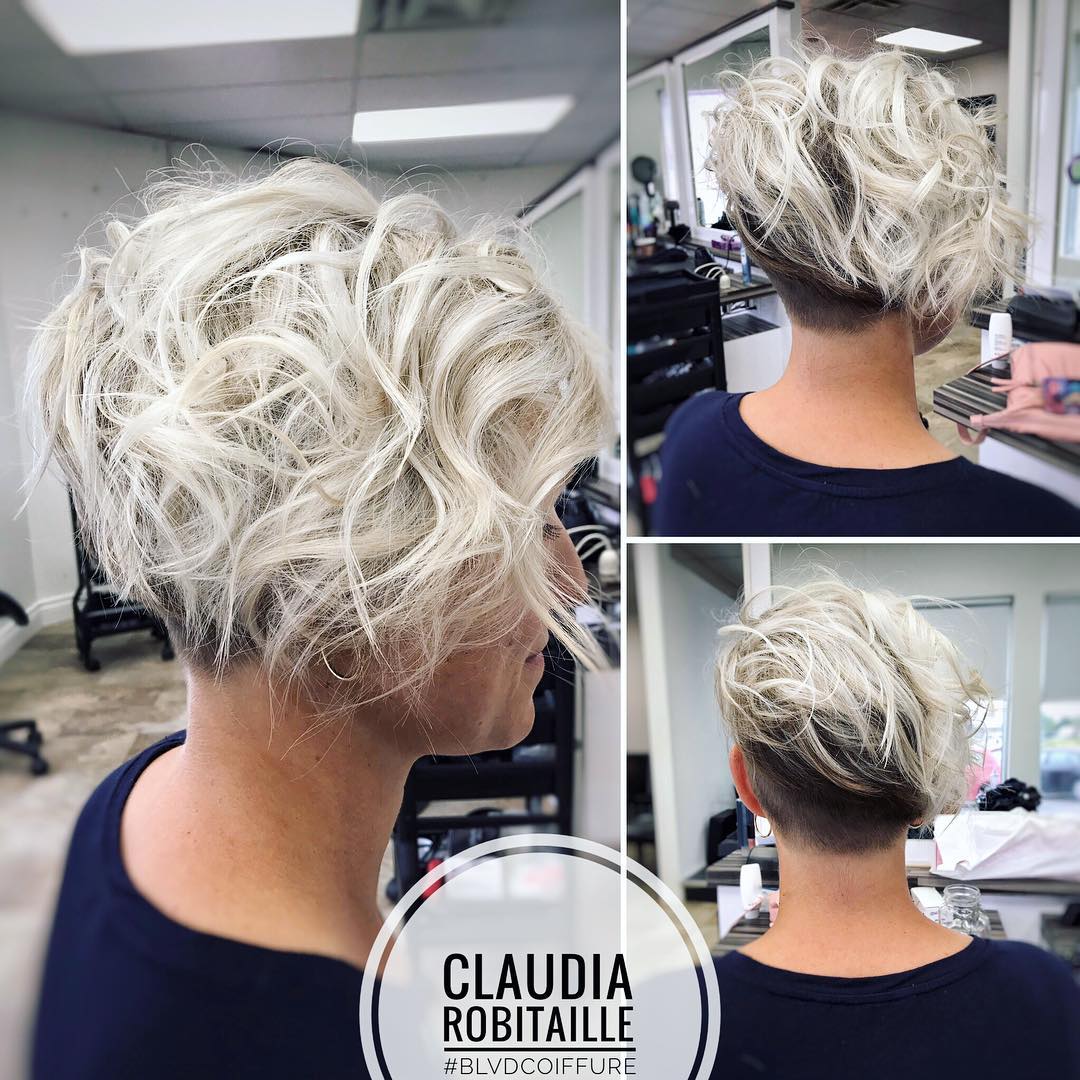 Here's how to take asymmetry and a tousled finish right to the limit!  There's so much flow and movement around the head in an amazing and different take on the long pixie haircut.  Windswept waves are great for making fine hair appear thicker and a strong colour contrast, from black roots to white blonde, adds density, too.  There's even more creative contrast between the strong line of a buzzed back and the unstructured waves above.  This is a high-fashion style that definitely grabs attention!
Romantic pixie haircut in soft beige-blonde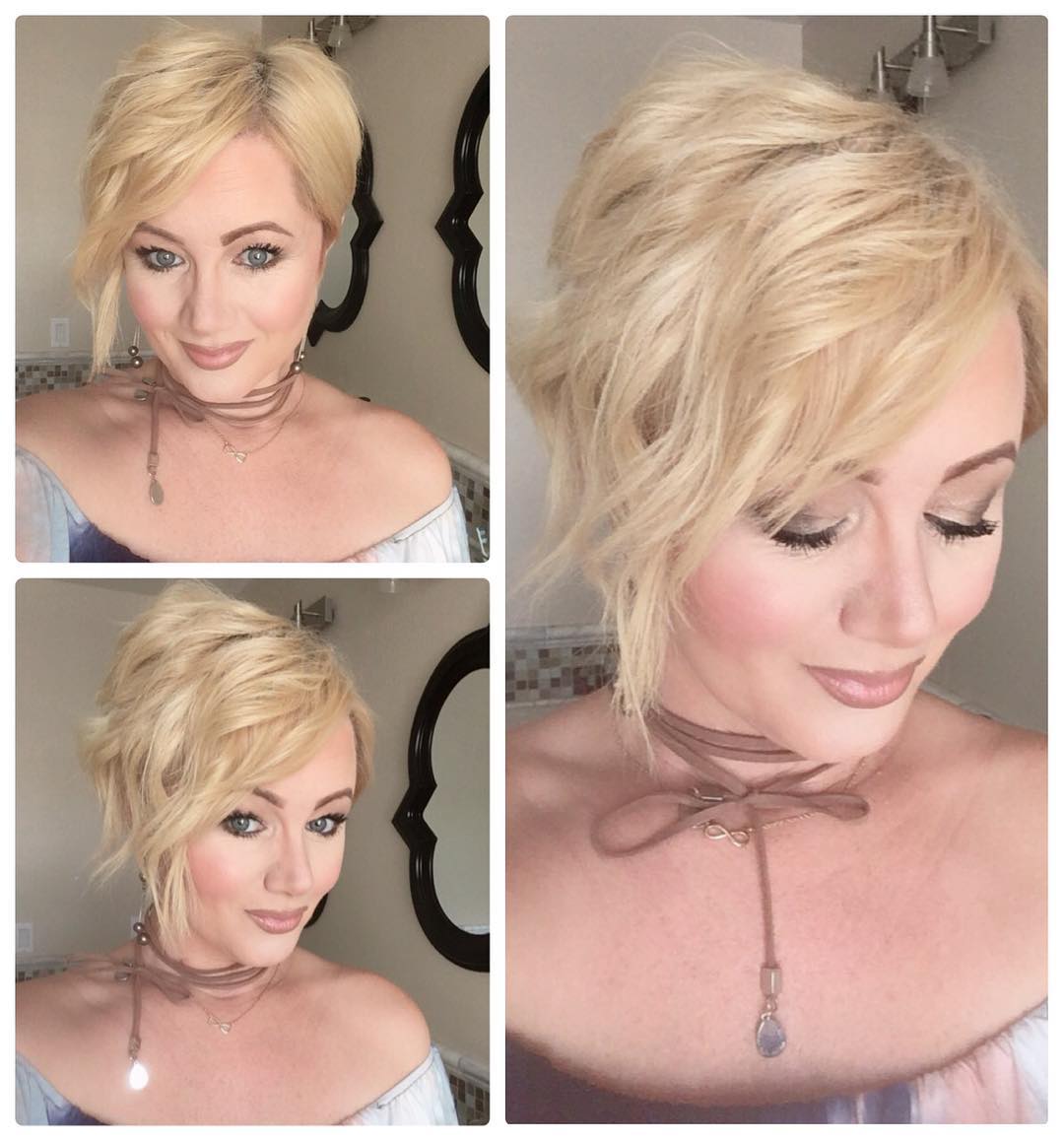 Although this is a short haircut, the steep angle down from the back to chin-length, gives the impression of longer hair.  It's a great haircut for fine hair, as casual waves on light layers make it easy to get extra volume.  The soft, beige-blonde color has gently tinted mid-beige roots adding density.  And you can see how the cut and colour both draw attention to the model's pretty blue eyes!  The long side-swept fringe is a good choice for balancing a long, round or heart face.