30 Trendy Short Hairstyles for Thick Hair
Thanks to celebrities like Kim Kardashian and Kylie Jenner opting for the crop and embracing short hair, it'a undeniable that short hair has become increasingly and increasingly popular over the past few months. Indeed, it appears that almost everyone is cropping their hair to embrace a shorter style and we simply couldn't be more delighted with this decision. Short hair is sassy, stylish and oh so cute. To celebrate the curve in the fashion trend, we've gathered 30 totally trendy short haircuts into one fantastic post. The best way to get control of wayward, thick hair is to cut if off and get it beautifully shaped in one of the latest short hairstyles for thick hair!
Thick hair has so many advantages,especially that it has loads of natural volume, so stop fighting your hair and choose a new, easy-style haircut from our fabulous Inspiration Gallery today!
Curved Red Bob with Fringe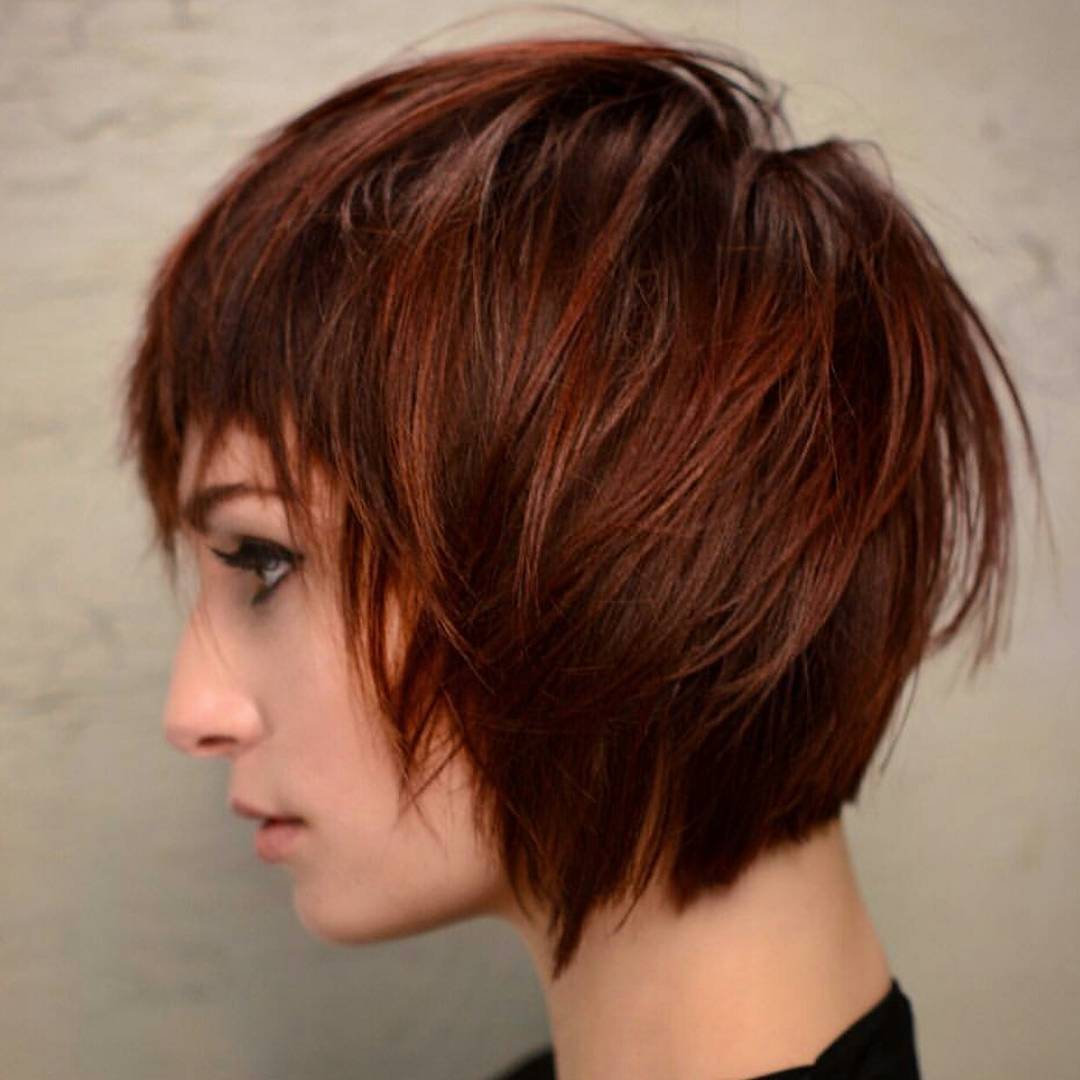 We're starting this gallery off incredibly strong with a stunning curved bob which is full of sass. Chop your hair into a classic bob which falls around the jaw level. Add lots of choppy layers throughout the top of the head to create an incredible curved silhouette. Finish the style with a choppy fringe and dye a vibrant shade of red for extra style.
Two Tone Blue Bob with Straight Hair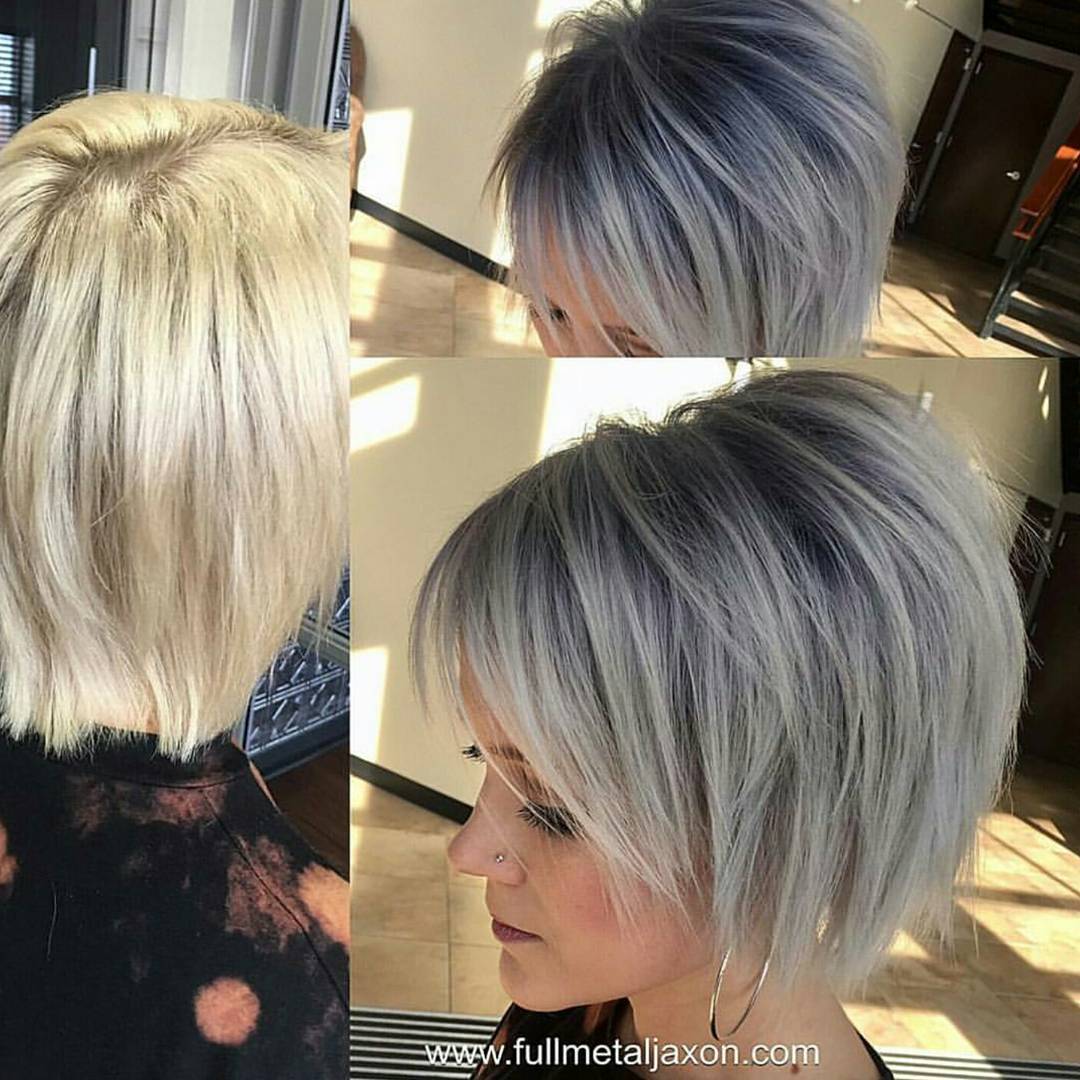 Blue is such a gorgeous colour but especially when combined with an incredibly sassy bob style! Chop your hair into a rough and textured jaw length bob with a deep side parting. Add lots of shorter layers throughout the top. Dye the roots a deep metallic blue shade and blend using the balayage colour transition outwards towards a lighter, icy blue to finish.
Golden Blonde Bob with Waves – Blunt Short Haircut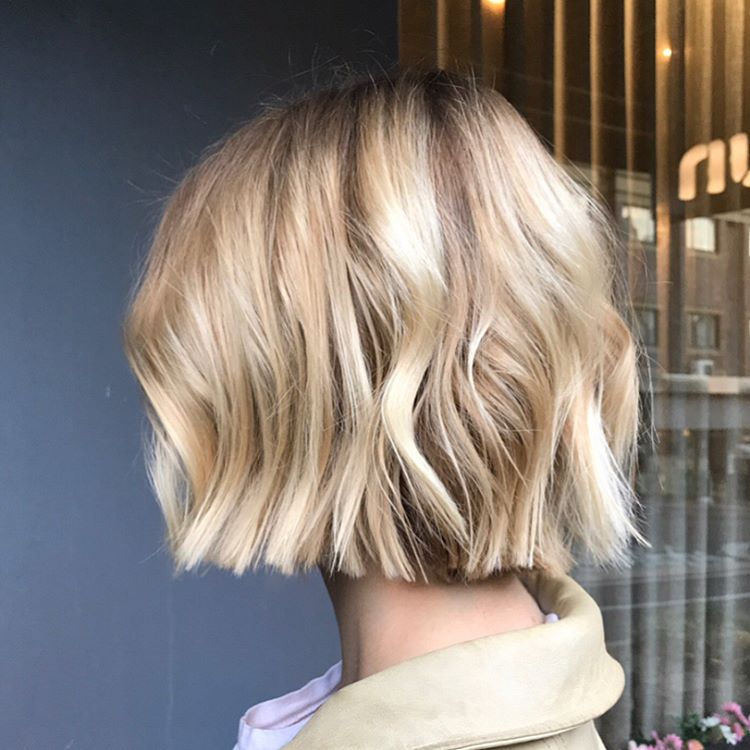 Blunt bobs are our favourite kind of bobs and we absolutely cannot get enough of this edgy and contemporary style. Start by chopping your hair a few inches below the ear level. Make sure the ends are completely blunt. Dye your hair a bright blonde and add a lovely loose wave throughout the ends of the hair.
Asymmetrical Brown Pixie Hair Cut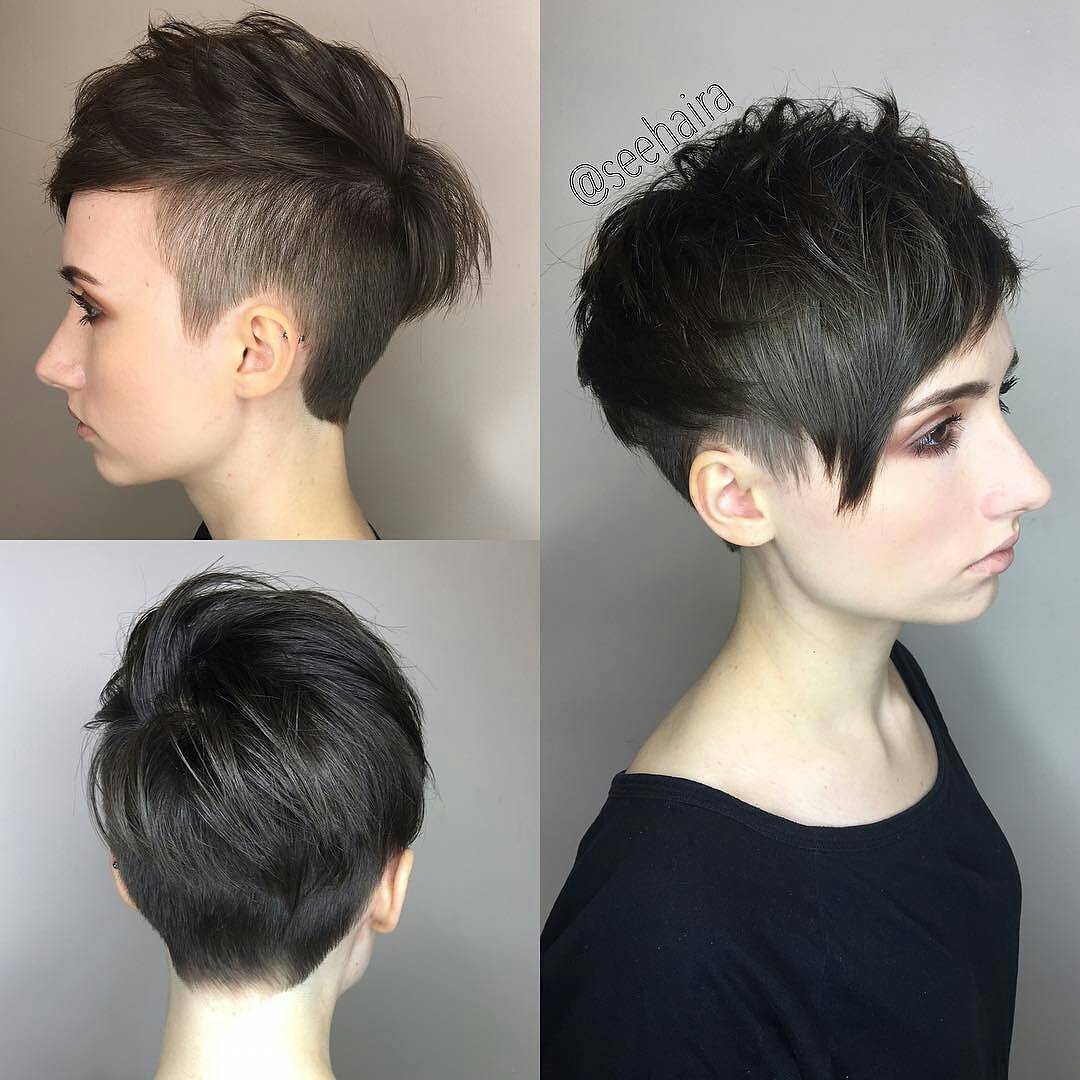 Asymmetrical bobs are edgy and oh so cool, which is why we can't get enough of this incredible cut and it had to make this amazing gallery! Opt for a pixie cut but keep one side shaved close to the head. Leave the other side longer so that it forms an amazing sweeping fringe section. Add lots of shorter layers throughout for a fun and textured finish. We particularly love the gorgeous dark brown shade of this bob!
Pink Bob with Choppy Layers – Pastel Balayage Hairstyle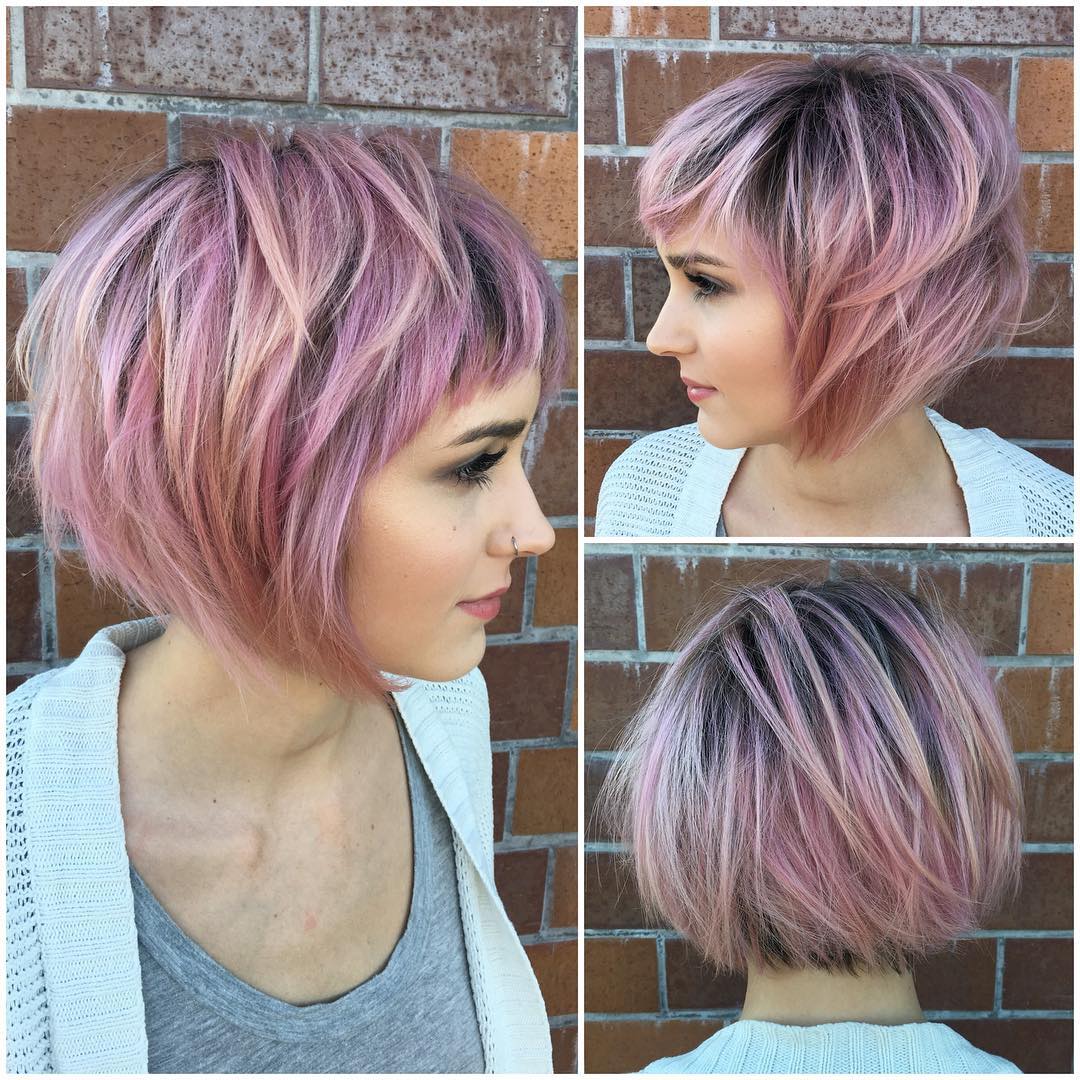 There is so much we love about this stunning hairstyle that we don't quite know where to start! Steal the style by chopping your locks into a graduated bob. Keep the layers shorter at the back of the head and slightly longer towards the front of the face. Finish with lots of short layers to create an incredible curved shape and finish with blunt fringe. Dye your favourite shade of bubblegum pink for an amazing end result!
Hot Pink Pixie Crop with Sweeping Fringe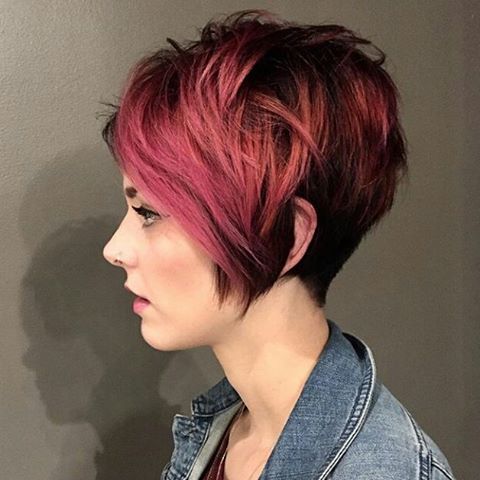 Pixie cuts are some of our most favourite short hairstyles – and we particularly love this one which is full of bright pink colours. Start with a classic pixie cut and deep side parting which finishes in an incredible sweeping fringe. Add lots of short layers throughout the top of the hair to create a bouncy and textured end result.
White Blonde Pixie Crop with Long Fringe
Another gorgeous pixie cut to add to the collection! This stunning blonde bob is full to the brim of choppy layers that we just can't get enough of. Ask for a pixie cut and add lots of lovely layers throughout. Be sure to choose a side parting and create a wonderful sweeping fringe section. Dye it a gorgeous shade of platinum blonde for bags of fun.