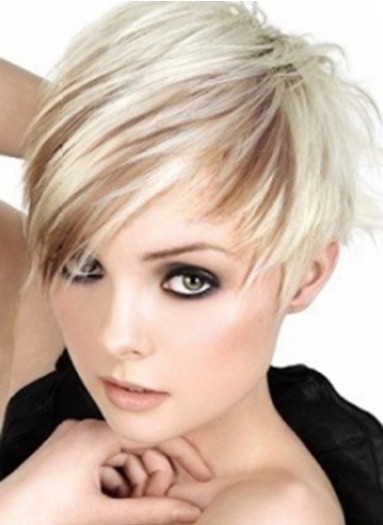 Asymmetrical Pixie Haircut: Short Hair
The splendid platinum blonde crop with side-swept bangs is created sleek and slicked down. The choppy layers make the whole hairstyle look more voluminous and full of life. The chic and ultra-voguish style can earn you many admiring glances.
The pixie asymmetrical haircut is ideal for people with fine to medium hair. The silky hairstyle is great for people who search for a fabulous and cool hairstyle that is simple to style with product.
Styling Steps
Separate a 3-inch-wide section of hair and use the fine-tooth side of your comb to hold the rest of the hair back. Hold the thinning shears diagonally above the section and trim the hair with the shears pointed downward. Shape your bangs with the shears.
Start by parting your hair on your preferred side and singling out a 2-inch-wide section of hair in the front. Trim the hair at the back of your head slightly shorter than the front and sides. The top section should be at least 2 inches thick and no longer than 4 inches long. Leave the hair at the back and at the side longer than the front one.
Create various layers to add texture and shape to the whole look. Leave the top area relatively smooth and straight and create layers.