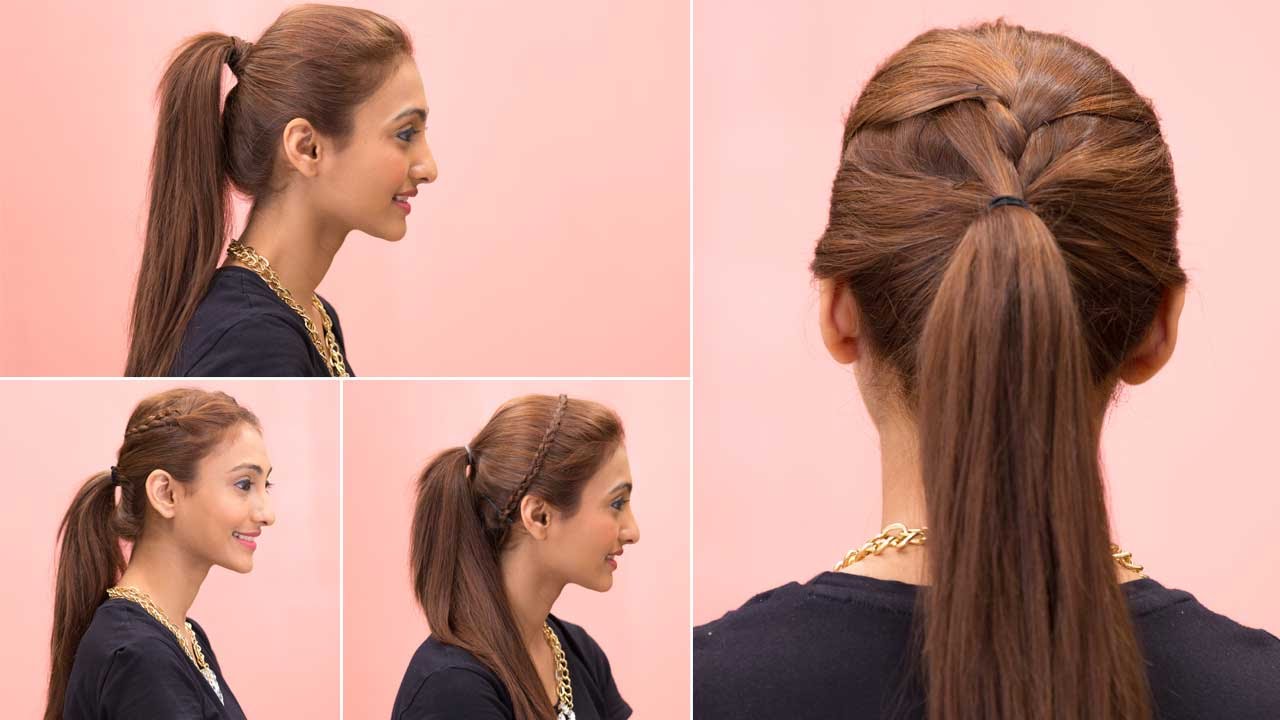 10 Ponytail Hairstyles – Pretty, Posh, Playful & Vintage Looks You'll Love
Ponytail hairstyles can be as plain or as fancy as you like, because they are always in fashion.  However, if you like to wear the trendiest ponytail hairstyles, you need to take a look at today's gallery of new ponytail ideas. This hairstyle may be one of the oldest hairstyles for women, but we still love to add our own up-to-the-minute personal touch!
4 cute details for everyday ponytail hairstyles
This set of images shows 4 ways to add individuality to your favorite look.  First style it with a little extra puffy volume at the front and back, or add pretty circlet braids at the sides.  A braided headband is another fashionable detail that's easy to add. And the flat braid above the fastener in the large right-hand image also adds an attractive twist!  And the muted copper hair color is very trendy right now, too!
Super-chic Swinging Sixties ponytail hairstyles for parties
In the trendy 1960's real-hair, hair-pieces were worn by all young women for evening wear! They were easily attached via a small comb at the crown and had built-in crown height as show above.  The braid adds texture and covers the join between your hair and the hair-piece. This image shows an authentic vintage ponytail hairstyle – complete with false eyelashes, brown and white eye-shadow and trendy, dangly earrings! You can get more styles of vintage fashion here.
'Special-day' pony hairstyles with braids & curls
This lovely look shows how a talented stylist can transform long hair into a beautiful, semi-formal ponytail for a special event.  The trendy flat, wide braid adds pretty texture along the sides, especially on fine hair.  The low-set ponytail combines lovely fish-tail braiding with casual, loose curled sections.  Gentle highlighting accentuates the details in a gorgeous style for a young woman or girl attending a wedding or party!
Pretty teen ponytail hairstyles with waves
This pretty, wavy ponytail is a teen 'party look' that's special, but casual enough to be comfortable to wear.  There's a little extra height at the crown for a touch of sophistication and attractive texture from looped sections.  A centre-part allows loose ringlet strands to frame the face at the front and rippling waves complete this cute, party ponytail idea!
Sophisticated casual beige-blonde ponytail hairstyles
Long hair in the latest beige-blonde shades is always an eye-catching and 'expensive' look!  So the artful messy finish cannot disguise that this is definitely a 'posh' ponytail.  Loosely looped sides and playful bubble puffs show off the beautiful colors in a sophisticated, casual ponytail.  This ponytail pretends to be a casual everyday look, but it's also a gorgeous, high maintenance hairstyle!
Classic ponytail hairstyles with modern twist
This classic high ponytail is a great way to transform your everyday pony into a more formal style for a prom or party!  Adding height at the crown always creates an extra touch of style and the eye-catching beige-blonde ombré makes a stunning ponytail! There's a nice contrast between dark-blonde hair around the head and the brightly colored pony.  This minimalist style shows how to ramp up the impact with strong, simple lines and fabulous hair colors!
High-fashion triple color ponytail hairstyles
Here's a lavish ponytail hairstyle suitable for evening wear and glitzy parties.  It's color design is clever and original using blonde on coffee-brown to create a lovely 3-D highlight on trendy head braids.  The back is a gorgeous, full-volumed ponytail in warm beige cascading down loosely in contrast to the neat braids.  It's a real show-stopper with urban-chic 'nose-rings' decorating one side!
Edgy ash-blonde ponytail with messy braids
This is urban hair-styling offering an edgier image, with a harsh contrast between black roots and all-over blonde.  Nevertheless, this is a high-fashion ash-blonde shade that creates beautiful 3-D patterns in the fish-tail head braid!  The braid starts at the crown and continues as a tapered detail in the messy ponytail below.  It's a strong and original look!
Trend-setting copper & ash-blonde ponytail on black hair
And if you love Boho style, this is a great hair color idea to try on your ponytail hairstyles!  Soft copper balayage makes delightful patterns in the head braids before cascading from the high ponytail.  The pony is also a highly contemporary color design of warm copper- and cool ash-blonde.  This trend-setting style is full of style and color contrasts that add up to a fabulous new look!
Hippy casual ponytail with blue cord braids
Here's a cute new idea with a relaxed, hippy vibe that's perfect for summer holidays and teen parties!  Adding matching or mis-matched colored cord to your ponytail hairstyles is a cheap and simple ponytail idea you can do at home.  This royal blue shade creates adorable patterns in the model's bright blonde pony.  Whatever hair color you have can be livened up with a few head braids in your favorite colored cord!